Gettin Sketchy – How to Draw a Cape Buffalo with Ball Point Pen – Season 2 Episode 7
This episode aired live on YouTube on September 30, 2020.
In this timed drawing exercise, we take a look at drawing a Cape Buffalo with ball point pens. To increase the challenge, we'll work only with ink and draw the image without a graphite under drawing. Fortunately, ball point pens are rather forgiving compared to traditional inking techniques.
Drawing with Ball Point Pens
Ball point pens are literally everywhere. You probably have a few laying around in a drawer. But just because this common medium is so accessible to just about anyone doesn't mean that it can't be used to create impressive works of art. Today, there are a number of artists using this medium to create highly realistic drawings, especially on a large scale.
Unlike traditional technical drawing pens and nib pens, ball point pens can be used to create gradations of value and tone by adjusting the pressure placed on the pen. Traditional inking tools typically rely on techniques such as hatching, cross hatching, and stippling to create subtle changes in tone. This unique characteristic makes ball point pens an excellent medium for sketching and planning ideas in a sketchbook. As a bonus, most of us have used a ball point pen at some point in our lives which means this medium is already quite familiar.
Traditional inking techniques are also used with ball point pen drawings even though lighter pressure results in lighter tones. This means that combined with traditional techniques, this medium is quite versatile.
But, even though this medium possesses many positive characteristics, it's not perfect. For one, ball point pens are not consistent when applied to the surface. It's not uncommon for splotches of ink to be a part of the drawing.
Here's a look at the completed drawing…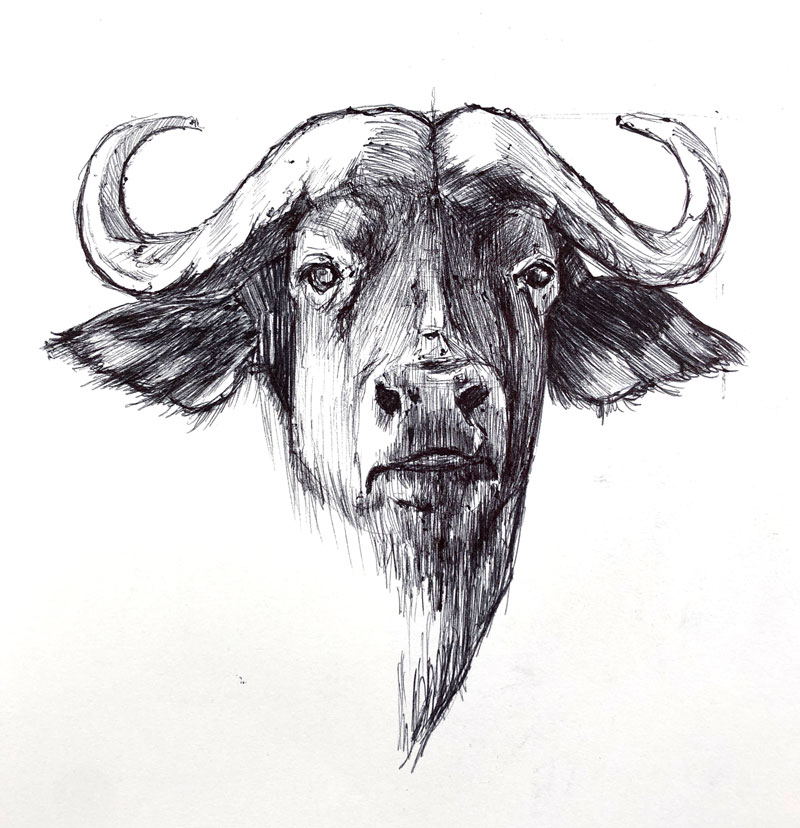 Accuracy In a Ball Point Pen Drawing
As I mentioned before, this drawing was created with only ball point pens. Since graphite was not used, accuracy in the early stages was important. If a graphite under drawing was to be used, I could erased remaining pencil lines after the ink was applied. But since no graphite was to be used, I didn't have this option.
In most cases, I like to begin drawings using a construction technique. When this technique is used, looser shapes are drawn initially. These shapes are pieced together to create the overall shape of the subject. However, since only ball point pens were used, I had to take a different approach.
See Also: Drawing Basics: Construction
In this case, I relied on sighting and measuring to ensure accuracy. Sighting and measuring is a process of making comparisons between subjects, shapes, and negative spaces using a common measuring tool. In most cases, this tool is simply a pencil, pen, or paint brush. For this drawing, I simply used the ball point pen as my measuring tool.
On a separate computer screen, I had the reference image of the Cape Buffalo visible from drawing table. I held my arm outstretched and held the pen up using my finger and thumb to find measurements. Using these measurements, I was able to position the important elements of the buffalo in place on the drawing paper.
We cover this approach to ensuring accuracy in the course "25 Days to Better Drawings". This specific lesson is Lesson 19.
Drawing with a ball point pen is slightly different from drawing with traditional pen and ink forms, but there are many similarities.
If you're interesting in continuing with pen and ink, here are a few good places to start…
Photo Reference
The reference photo for this exercise comes from Pixabay.com. This reference was edited by cropping and the color and contrast were adjusted. Here's a look at the photo reference…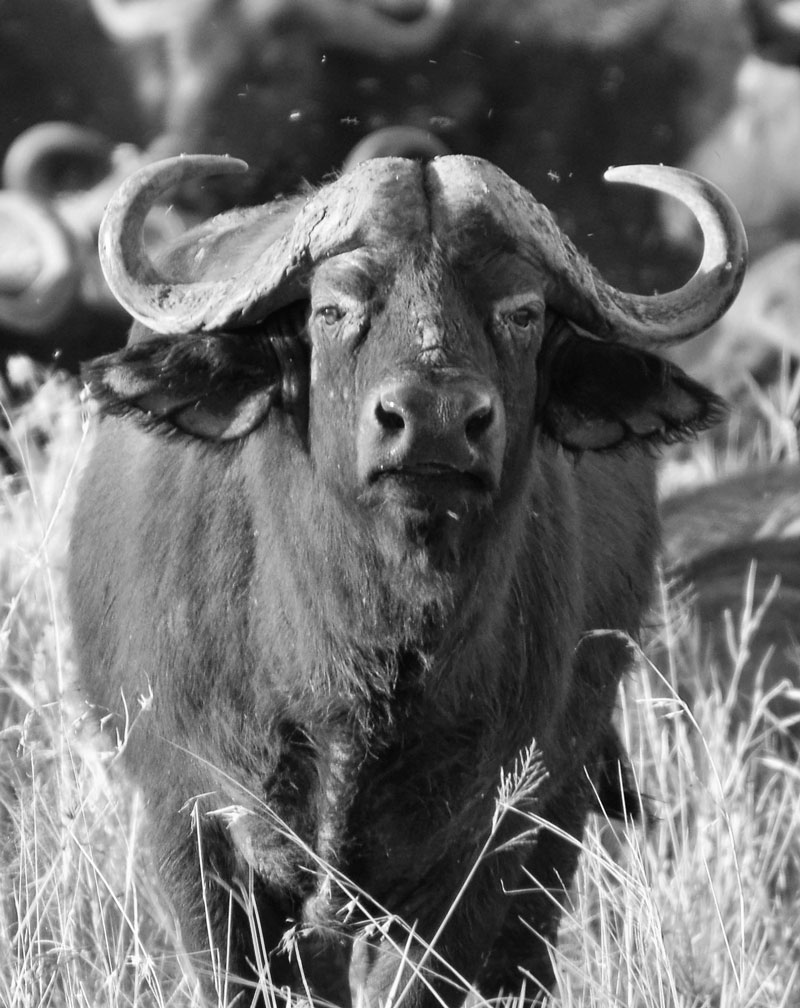 Timed Drawing Exercises Will Improve Your Drawing Skills
It doesn't really matter what medium you use to practice drawing. As we see here, common writing tools like a ball point pen can be used for effective drawing practice. What matters most is that you simply take the time to practice.
Timed drawing exercises like this one can be quite effective. When we restrict the amount of time we devote to a sketch, we are more likely to set time aside to actually do it. Just a little bit of practice everyday (even just 45 minutes) can lead to substantial improvement in your drawing skills.
Like This Lesson?
If so, join over 36,000 others that receive our newsletter with new drawing and painting lessons. Plus, check out three of our course videos and ebooks for free.
More Lessons You'll Love…