CONTACT US
Hi, and thanks for reaching out! Fill out the form below to send us an email. Remember, you can request tutorials, write a review, make suggestions, or just send me a message.
I do receive quite a large number of emails and I try to respond to all them in a reasonable amount of time.
Before contacting, please check out a few of these FAQs...
These videos may help...
This series of videos highlights logging in, navigating the website, downloading ebooks and videos, and how to use the membership program...
Issue: I'm Having Trouble Reseting My Password
The following video illustrates the steps for reseting your password...
Issue: Not Receiving Password Reset Email
Some email providers decide to block automated emails like the one that you request when you try to reset your password. You may first check your SPAM or Promotions folder and see if the email is there.
If you still do not see the email to reset your password, you may need to "whitelist" emails from the domain "thevirtualinstructor.com". 
Of course, we'll be glad to reset your password manually for you as well. Just let us know using the form below and we'll be glad to help!
Issue: Not Receiving Free Preview Email
Some email providers decide to block automated emails like the one that you request when you sign up for the free preview. To fix this issue, you'll need to "whitelist" emails from the domain "thevirtualinstructor.com". Alternatively, be sure that you are entering the correct email address when signing up for the preview.
Issue: I Cannot Find the Ebooks
The download links for the ebooks are found under each video for each module page within the course.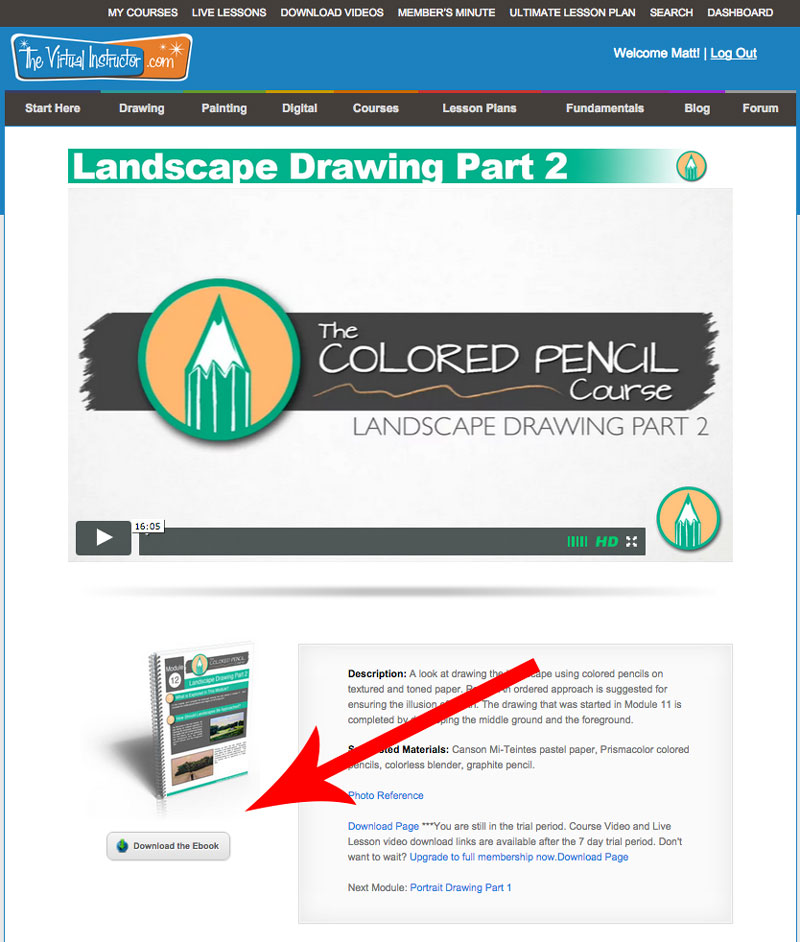 Issue: Video is Slow to Load or Choppy
All videos are presented in High Definition by default. If your internet connection is unstable or slower, you may experience "buffering". You can disable High Definition streaming by scrolling over the player and clicking the "HD" icon.  This will turn High Definition off and the video will play without buffering.
Issue: Video Shows a Black Screen
Check to make sure that you are not on a shared connection, like at a library or a school.  TheVirtualInstructor.com uses video servers at Vimeo.com. If your shared connection has blocked Vimeo.com, then you are likely to see a black screen. If this is the case, speak with your system administrator and request that Vimeo.com be unblocked. 
Issue: My Password Does Not Work on The Forum
The forum is free and runs on a completely different database, therefore your membership account is not tied to the forum at all. You'll need to create a new account on the forum and accept the terms and conditions to post your comments and art. 
Issue: How Do I Download Videos
Video downloads are available after the trial period, when full membership has been established. To download videos please refer to this guide...
How to Download Videos
Issue: I Need to Cancel My Subscription
How to Cancel Your Recurring Payment
Your membership is a subscription that automatically bills your account.  You can cancel this automatic payment at any time by following these directions.  You will still have access to the membership section for your entire term period after your last payment.  (It is your responsibility to cancel recurring payments.)
If You Paid Through PayPal...
How to cancel...
1. Go to PayPal.com and log in to your account.
2. Click the Profile icon next to "Log Out" near the top of the page.
3. Click  Preapproved Payments.
4. Find payments to "matthew fussell", "matt@mattfussell.com", or "Membership at TheVirtualInstructor.com" and click on the link.
5. Click the "Cancel" link under subscription details.
For more information on canceling PayPal subscription payments please visit this page.
If You Paid with a Credit Card (Not through PayPal)...
To cancel your recurring payments that were made using a credit card (not through PayPal) follow this link and click on the cancellation button. Be sure that you are logged in before accessing this page.
Send Us a Line
---
Please fill out the form completely. A "*" means that the field is required.
If you are contacting about your account, be sure to include your username.
Be sure that your return email address is correct. If it is not, then I cannot respond to your message.
I receive 100s of emails a day and I read every one of them. I respond to as many as possible personally. Messages regarding your account or technical issues do receive priority.