The Pen and Ink Experience
AN EXPLORATION IN INK
Become a member and get ALL of our courses and much, much more.
---
Just interested in this course?This course includes:
8 HD videos • 7 eBooks • Over 2 hours of instruction • 100% money back guarantee • Certificate of completion
READY TO BECOME A BETTER PEN AND INK ARTIST?
When I first started drawing, I naturally began with pencils. But after drawing with pencils for a while, I quickly progressed to drawing with pen and ink. I instantly fell in love with this medium. The strength of the marks, the contrast, the precision - all of it appealed to me. As my love grew, I discovered that success with pen and ink begins with a strong understanding of "line" and how to use it to communicate in your drawings. When I was introduced to ink wash a few years after that, I learned that ink is quite versatile, and can be used in expressive ways as well. Along the way, I picked up a few tips and techniques for applying ink that are fundamental to your success.
I share them all with you in this course designed for artists just getting started with pen and ink. DO YOU KNOW THE FUNDAMENTALS OF DRAWING WITH INK?
When I first started with pen and ink, I thought I knew what I was doing. I learned quickly that I loved the medium, but I wasn't sure how to use it properly. But once I had a grasp of the fundamentals, my drawings improved dramatically.
ASK YOURSELF...
Do you know the tools, materials, and surfaces that are used by professionals?
Are you wanting to create pen and ink drawings that communicate light and form?
Want to know how to create smooth transitions of value with layered ink wash applications?
Are you wanting to create realistic textures using just a pen?
Do you know how to create the illusion of form using the concept of "cross contour lines"?
Want to make marks with confidence?
Are you convinced that you have to be "talented" in order to get professional results?
Are you ready to take your skills to the next level?
THE COURSE...
"The Pen and Ink Experience" is a comprehensive drawing course designed to guide absolute beginners to a level of producing professional quality pen and ink drawings through concise and "easy to digest" modules that include HD videos and Ebooks. Designed for beginners, this course lays the foundation required for success with pen and ink drawing.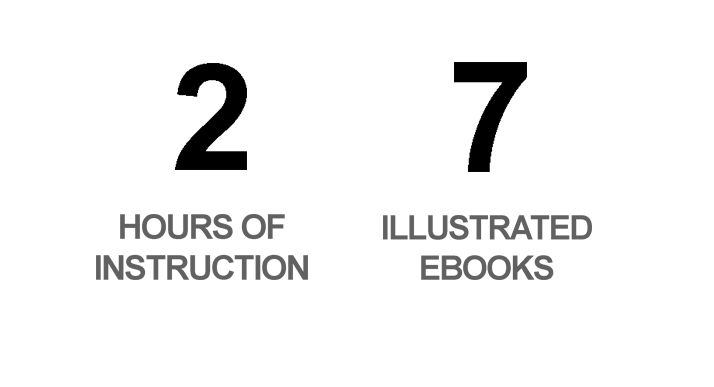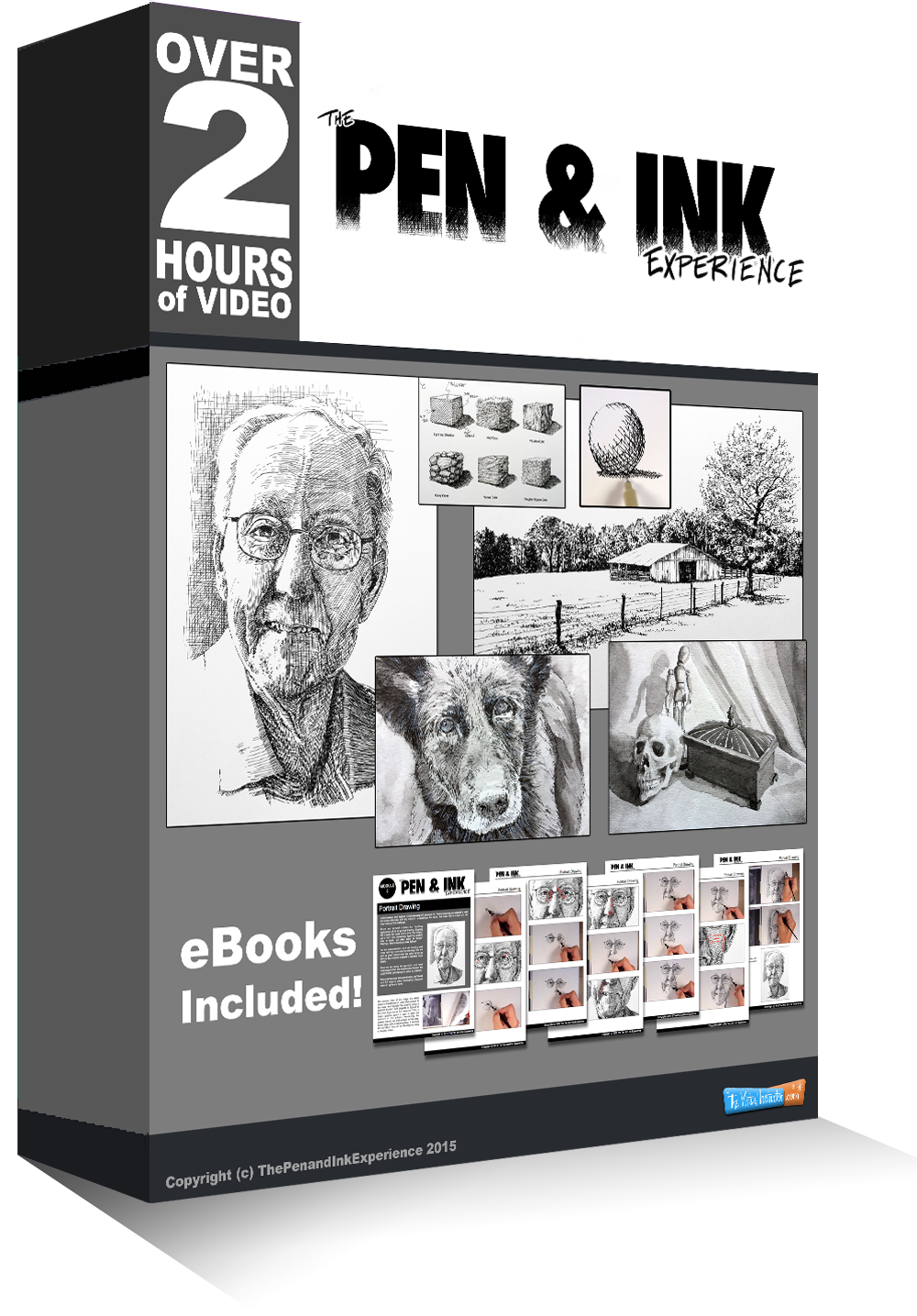 8 HIGH DEFINITION VIDEOS
Every step, every technique, every mark in brilliant clarity.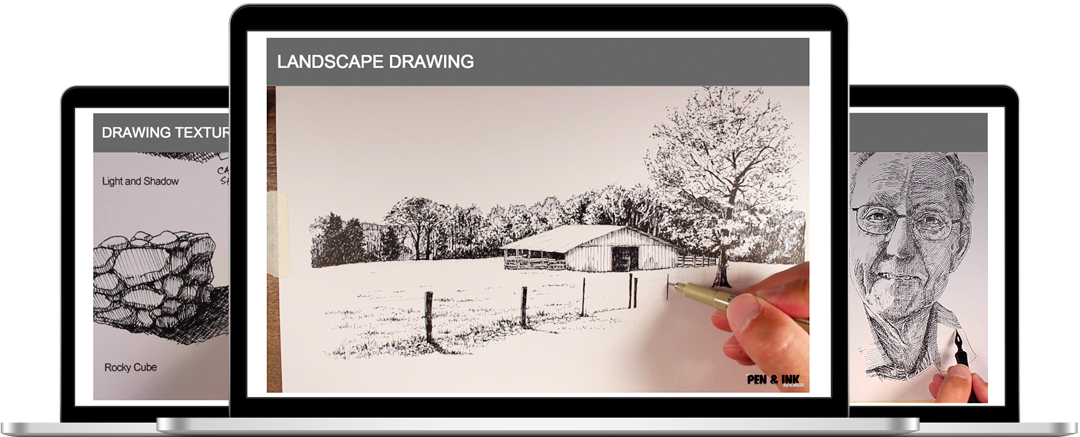 LEARNING SIMPLIFIED WITH EBOOKS
Not all of us prefer to learn from watching videos. Some of us prefer to learn from books as well as videos, so ebooks are included as well. This course has been developed to accelerate learning by teaching to many different learning styles. Each course module includes an illustrated ebook that corresponds with the video. Every step and concept is clearly illustrated and described in each ebook.

The 7 ebooks combine for a total of 51 pages.

COURSE MODULES
Here's what you can expect to learn in this course...
MODULE 1 – Introduction, materials, surfaces, and tools. Dip pens, technical pens, and painting with brushes.

MODULE 2 – Line and value. Various techniques for adding value and shading with a pen.

MODULE 3 – Drawing textures. How to create the illusion of simulated textures through various mark-making techniques.

MODULE 4 – Landscape drawing. How to use various techniques to create the illusion of depth.

MODULE 5 – Portrait drawing. How to use cross contour lines and shading techniques to communicate the form of your subject.
MODULE 6 – Ink wash. How to apply multiple layered "washes" of ink to develop value and the illusion of form.

MODULE 7 – Mixing methods. How to combine ink wash with pen applications to create a looser, more expressive image.

MODULE 8 – Conclusion. A review of the concepts learned and a plan for moving forward.
HOW OUR COURSES ARE DIFFERENT
"The Pen and Ink Experience" is not an ordinary drawing course that simply illustrates one technique or medium through one or two demonstrations. Instead it is truly comprehensive, covering many techniques and subjects through many completed drawings. Combined with the ebooks, there's simply not another learning experience like it.

Every demo above is included.
Learn from ALL of our lessons.
Members get every course, live lesson, ebook, critique and lesson plan.
"The Pen and Ink Experience" is included with membership, but if you are interested in the stand alone version of this course, it can be purchased here.