Gettin Sketchy – Draw an Autumn Leaf with PanPastel and Colored Pencils – Season 2 Episode 9
This episode aired live on YouTube on October 14, 2020.
In this timed drawing exercise, we take a look at combining PanPastel with colored pencils to create a colorful drawing of an Autumn leaf. PanPastel allows us to layer colors quickly and provides a nice base for colored pencil applications. The colored pencils provide us with precision and additional depth in color.
Layering Colors
With most color media, layering plays an important role in developing depth and realism. And although this specific drawing was created as a timed "sketch", we were still able to build up quite a bit of depth in a very short period of time. This depth was achieved due to the combination of media that was used and the surface in which it was applied.
While colored pencils provide the artist with a high level of control and precision, they can be time-consuming to use. In order to build up the required depth in color, several layered applications are usually required.
PanPastel, on the other hand, can be quickly layered on the surface but lack much precision or control. Several layers can be applied in a very short period of time. This results in substantial depth in color without much effort.
It's easy to see how the combination of these two mediums results in depth of color without sacrificing precision and detail. The drawing that we have created here is small and was developed in a very short period of time but if you slow down a bit, the results could be quite impressive.
Here's a look at the drawing of the leaf completed with PanPastels and colored pencils on PastelMat paper…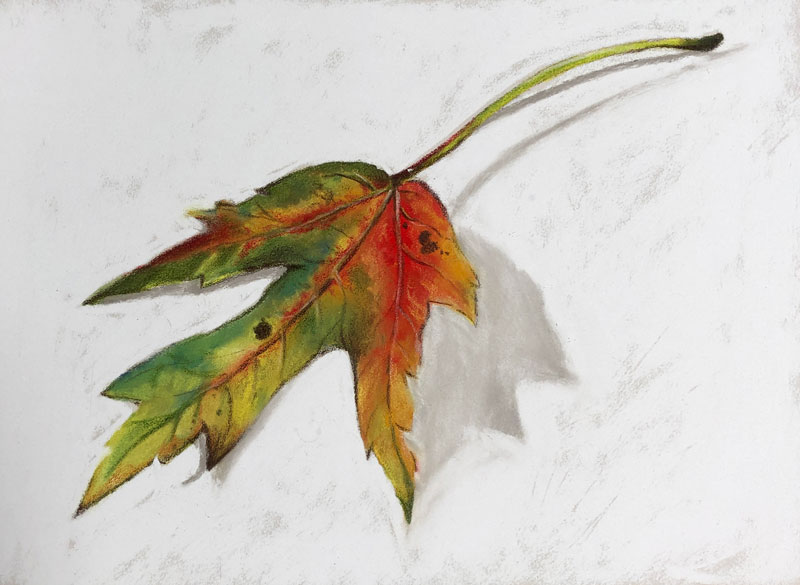 The Drawing Surface Matters
For any drawing, the surface that you work on makes a difference in the final appearance. Many times, we are so anxious to begin making marks that we overlook the surface in which we work upon. Keep in mind that the drawing surface is the foundation of your work and how it interacts with the media that we use greatly affects the results that you can achieve.
See also: All About Drawing Papers
For this drawing, PastelMat paper was the paper of choice. This unique paper features a distinct tooth (texture) that accepts both pastels and colored pencils. This made it a perfect surface for our combination of PanPastel and colored pencils. Produced in many different colors and shades, this wonderful surface has a texture that is similar to fine sandpaper. This rigid texture helps to lock the dusty pastel material in place, while providing enough tooth for multiple layers of both pastel and colored pencil material. This paper is expensive compared to other pastel papers, but well worth the price.
More on the Drawing Materials Used – PanPastel and Colored Pencils
The mediums and surface used in this timed drawing exercise may be a bit exotic to those of you that are new to drawing. Perhaps you've never heard of PanPastel or PastelMat paper. The colored pencils that were used for this drawing are oil-based which is also different from the more common, wax-based colored pencils.
See also: Oil-Based vs. Wax-Based Colored Pencils
Although the names of these mediums may be unfamiliar to some, their behavior is not so foreign.
Here are the materials used for this drawing…(Some of the following links are affiliate links which means we make a small commission if you purchase at no additional cost to you.)
PanPastel is simply a form of traditional soft pastel. While soft pastels are produced in sticks, PanPastels are produced as small pans (like watercolor). Special applicators, resembling makeup applicators, are used to apply the color to the surface. This makes the process of applying PanPastel similar to painting with a brush. The material is soft as it is applied and easily blended.
See also: Landscape with PanPastel
The colored pencils applied over the top of the PanPastel are oil-based, Polychromos pencils by Faber-Castell. Oil-based colored pencils differ from the more common, wax-based colored pencils due to their oil-based binder. This makes them behave in a slightly different manner than their wax-based cousins. Oil-based colored pencils often require more layers to build up a solid application. While this may seem like a disadvantage, it encourages multiple layers which leads to better results.
Photo Reference
We worked from a photo reference to create this drawing. This was simply a colorful leaf I found on a morning run. When drawing simple objects like this, I like to place the object on a clean, solid surface and photograph it with one dominant light source. Here's a look at the photo reference…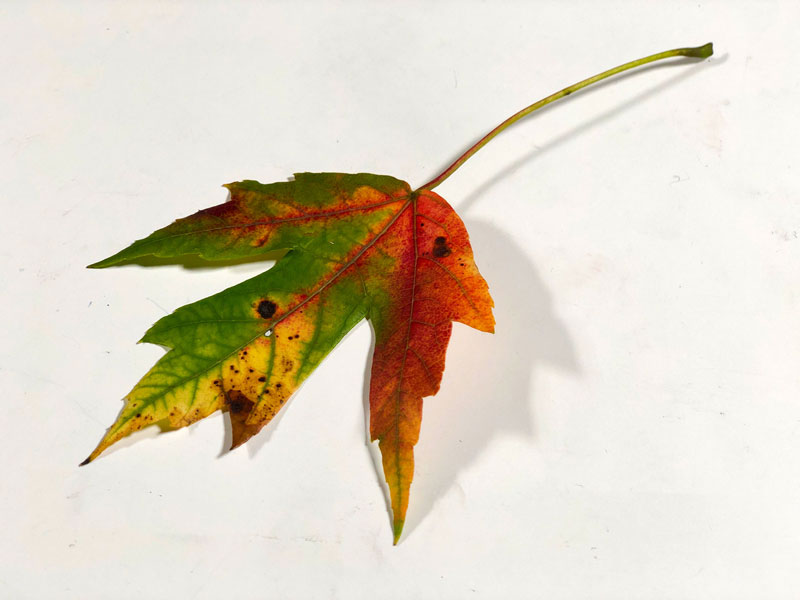 The Benefits of Combining Mediums
Not all drawing mediums can be combined with success. However, some combinations work very well together. For example, alcohol-based markers and colored pencils work extremely well together while oil pastels and soft pastels together are quite the disaster. PanPastel and colored pencils do work well together when used on the appropriate surface (one with a heavy enough tooth) and when applied in the correct order (PanPastel followed by colored pencil applications).
For those new to drawing, branching out and trying new mediums – especially expensive ones – can be intimidating. But there are often rewards waiting for us just outside of our comfort zones.
Like This Lesson?
If so, join over 36,000 others that receive our newsletter with new drawing and painting lessons. Plus, check out three of our course videos and ebooks for free.
More Lessons You'll Love…