How to Draw a Realistic Eye in Charcoal - Excerpts from Live Lesson
By Matt Fussell

The video featured on this page featured excerpts taken of an hour long live lesson that aired in the member section of this site on January 16, 2013. To see the video in real time, complete with commentary, visit the Charcoal Drawing of an Eye Live Lesson section of this site.

Get access to
ALL
of our courses today
...for just $1.
It's no secret that I love to draw eyes. In fact, this website is littered with tutorials on drawing eyes. Everybody has that favorite subject that they like to draw, and I guess mine just happens to be eyes. The tutorial featured on this page is on drawing eyes using charcoal.
In this demonstration, I am using vine charcoal, compressed charcoal (pencil form), and white compressed charcoal (also pencil form) on gray drawing paper. The tooth of the paper is relatively smooth and is about equivalent to 80 lb. drawing paper. I am working from a photo reference.
Here's a quick look at the steps involved...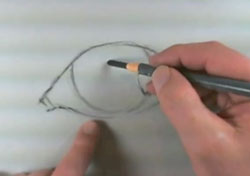 Step One -Define the contours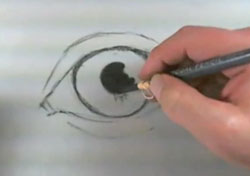 Step Two - Fill in the pupil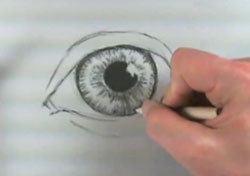 Step Three - Begin layering value
outward from the pupil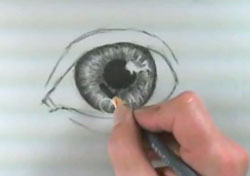 Step Four - Continue Layering
values.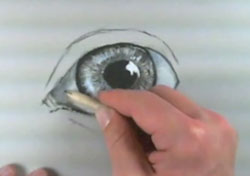 Step Five - Fill in values around the
pupil.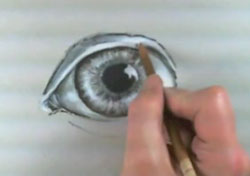 Step Six - Add value to areas around the
eye.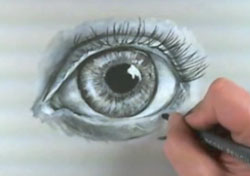 Step Seven - Add the eyelashes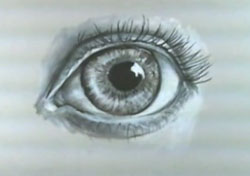 Step Eight - The completed drawing.
The following video features excerpts from the full one hour tutorial...
LIKE THIS TUTORIAL?
If so, please join over 36,000 people who receive tutorials and articles. PLUS get 3 FREE COURSE VIDEOS and EBOOKS! Just click on the button below to add your name!
Here are some more art lessons that you may like...