Creative Mixed Media
EXPLORE YOUR CREATIVITY BY COMBINING MEDIUMS
Become a member and get ALL of our courses and much, much more.
---
Just interested in this course?This course includes:
11 HD videos • 10 eBooks • Over 2 hours of instruction • 100% money back guarantee • Certificate of completion
LET'S MIX IT UP!
There's more to making art than just traditional drawing and painting! When we start mixing media, things can get really exciting! The options become almost limitless! Join me in "Creative Mixed Media" and watch your creativity blossom with possibilities! This course is centered on project-based examples and tutorials that you can do in your own home, studio, or classroom environment and each lesson is broken down into easy to follow steps that anyone can follow. READY TO GET CREATIVE?
Explore the possibilities of what you can create when mediums are mixed together. Get those creative juices flowing as we delve into a variety of mixed media processes and techniques using a broad variety of materials. Once these processes have been learned, they can easily be applied to any creation that you dream up.
ASK YOURSELF...
Do you want to learn how to ensure harmony and unity in your works even though a variety of media is used?
Want to incorporate text in your drawings and paintings to enhance expression?
Want to learn how to incorporate the process of acrylic transfer to create fun and playful imagery?
Want to challenge yourself with collage using atypical papers and surfaces?
Do you know how polymer clays can be used to create sculptural paintings?
Do you want to alter books to create sculptural works that leap from the pages?
Want to explore the process of assemblage and combine found objects to create unique sculptures?
Do you want to create your own artist trading cards using a variety of media and styles?
THE COURSE...
"Creative Mixed Media" is a video course focused on combining various art media for beginner and intermediate artists. The goal of this course is to provide the learner with a rich learning experience through "easy to digest" modules consisting of video demonstrations and accompanying ebooks. This course centers on project-based examples, featuring strategies for combining various mediums which can be applied to any work the student is wishing to create.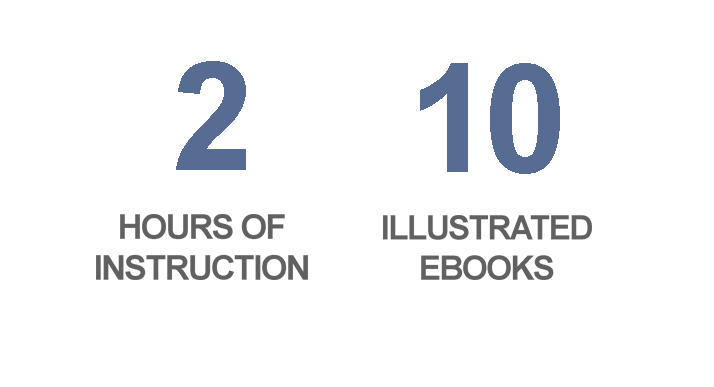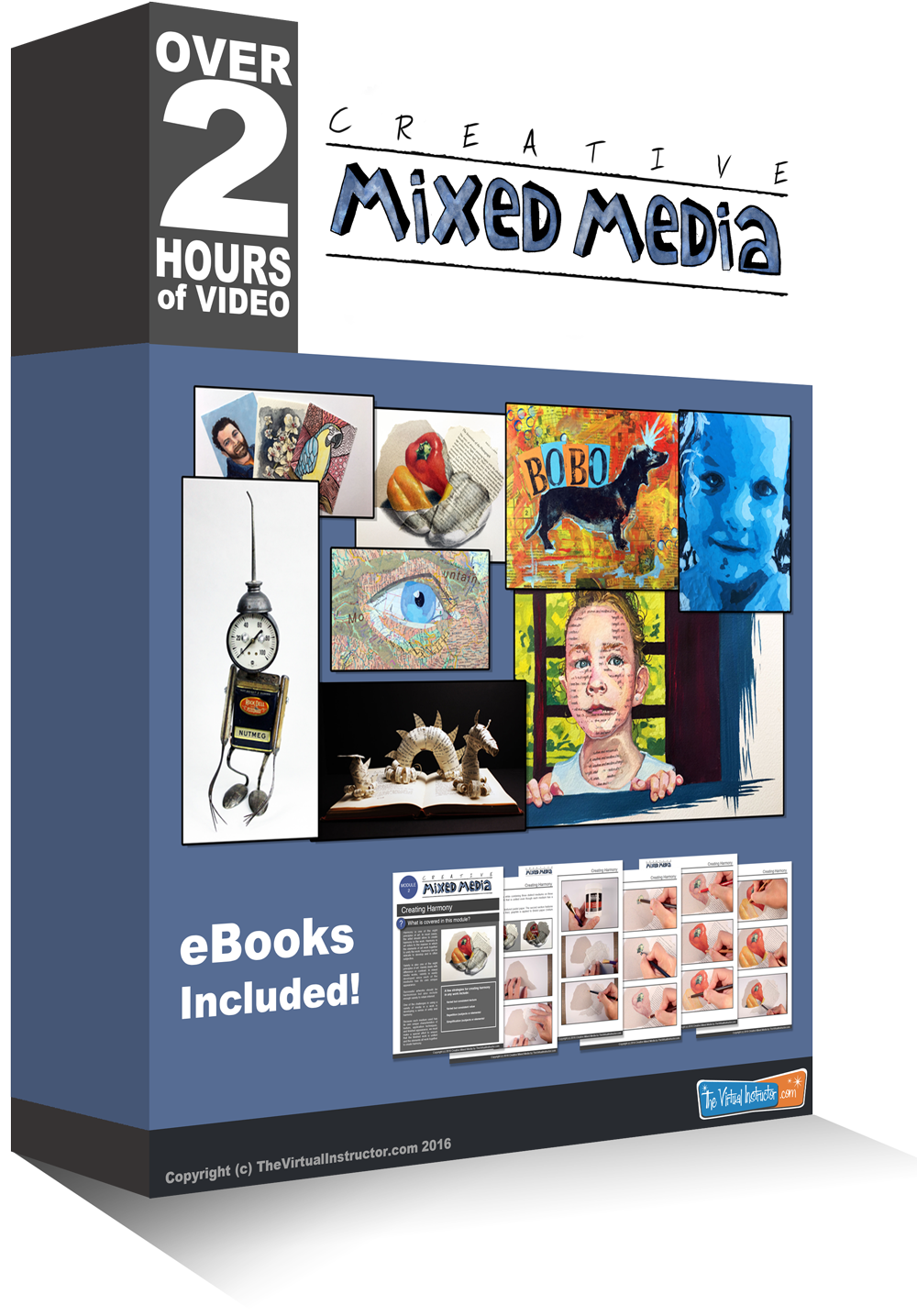 11 HIGH DEFINITION VIDEOS
Every step, every technique, every mark in brilliant clarity.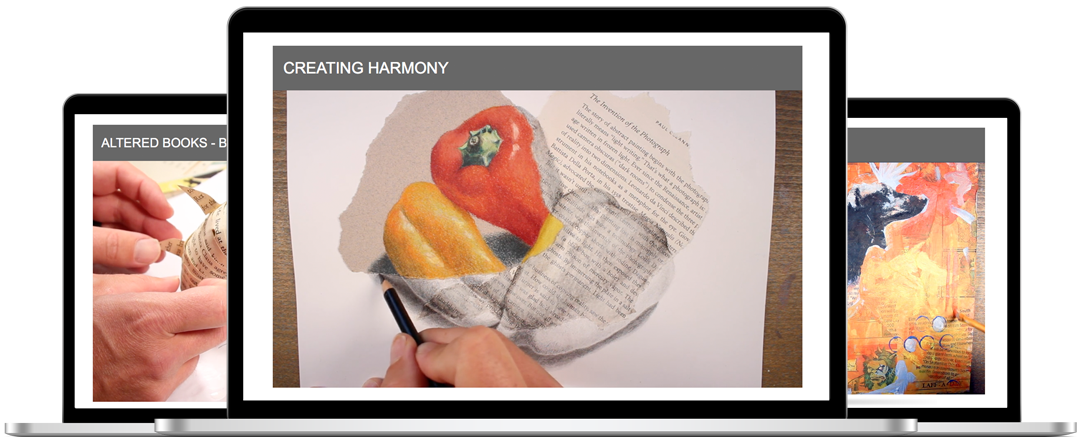 LEARNING SIMPLIFIED WITH EBOOKS
This course has been designed to accelerate learning by teaching to many different learning styles. Not all of us prefer to learn from watching videos. Some of us prefer to learn from books as well as videos. Each course module includes an illustrated ebook that corresponds with the video. Every step and concept is clearly illustrated and described in each downloadable ebook. The ebooks are a fantastic compliment to the comprehensive videos.

The 10 ebooks combine for a total of 76 pages.

COURSE MODULES
Here's what you can expect to learn in this course...
MODULE 1 – Introduction. An overview of what's covered in the course.

MODULE 2 – Creating Harmony. How to ensure harmony and unity in a mixed media work.

MODULE 3 – Expressive Portrait - Part One. How to incorporate text in an image by combining photo transfers and painting.

MODULE 4 – Expressive Portrait - Part Two. A continued look at incorporating text in imagery.

MODULE 5 – Playful Photo Transfers. How to create a whimsical image that incorporates a photo transfer and captures the personality of the subject.

MODULE 6 – Collage. A look at creating a challenging collage using atypical papers.
MODULE 7 – Assemblage. How to create a figurative sculpture using found objects from an antique store.

MODULE 8 – Polymer Clay Painting. How to create a sculptural portrait painting using polymer clays.

MODULE 9 – Altered Books - Book Sculpture. A look at creating a storytelling sculpture using antique books.

MODULE 10 – Artist Trading Cards. A look at creating 3 different artist trading cards that incorporate a variety of styles and media.

MODULE 11 – Conclusion. A look back on what was covered in the course and a plan for moving forward.
HOW OUR COURSES ARE DIFFERENT
"Creative Mixed Media" is not an ordinary drawing course that simply illustrates one technique through one or two demonstrations. Instead it is truly comprehensive covering a broad variety of techniques, processes, and media. Combined with the ebooks, there's simply not another learning experience like it.

Every demo above is included.
Learn from ALL of our lessons.
Members get every course, live lesson, ebook, critique and lesson plan.
"Creative Mixed Media" is included with membership, but if you are interested in the stand alone version of this course, it can be purchased here.