Oil Painting Master Series
GET STARTED WITH OILS
Become a member and get ALL of our courses and much, much more.
---
Just interested in this course?This course includes:
19 HD videos • 17 eBooks • 3 hours of instruction • 100% money back guarantee • Certificate of completion
WANT TO TAKE THE "GUESSWORK" OUT OF OIL PAINTING?
When I first started with oil painting, I was completely "lost". I frankly had no idea what I was doing. Even though I was in art school, my painting professors really didn't show us how to use oil paint. Instead, they assumed that we already knew how to use it! The problem was, of course – I had no clue!
I found myself having to teach myself everything.
Of course, it took a lot longer to teach myself then it would have if someone would have just taken the time to show me the properties of oil painting. I was an artist, but I struggled with oil painting, because everything was an experiment into the "unknown".
Unfortunately, I know that there are others that are experiencing the same frustrations that I did back then.
Looking back, I wish there had been some program that I could have used to just simply learn the basics.
The reality is that many painting programs make the same assumptions that my painting professors made back then - that you already know the basics. They assume that you already know how to use the different brushes, how to blend oil paint, mix warm and cool variations of colors, stretch and prime canvas, create under paintings and so on.
Recognizing a need for a oil painting program for beginners, I teamed up with my good friend – professional oil painter and teacher, Ashley Bane Hurst. We worked together to create a comprehensive video course that covered all of the basics of oil painting. WANT TO GET STARTED WITH OILS, BUT HAVE NO IDEA WHERE TO START?
ASK YOURSELF...
Want to know how to stretch canvas and prepare supports?
Want to know how to mix colors like a pro?
Do you want to know how blend smooth transitions of color and value?
Do want to know how to paint with a knife?
Want to paint in the "Old Masters" style through glazing?
Do you want to paint realistic portraits?
Want to know how toned surfaces can create dramatic effects?
Want to know to create Non-Objective paintings?
THE COURSE...
Oil Painting Master Series provides the student with an overview of the medium of oil painting. Designed for absolute beginners, the course is structured with a logical progression of modules that feature video and ebooks. Each concise lesson builds upon the last so that nothing is missed. NO assumptions of prior knowledge or experience are made.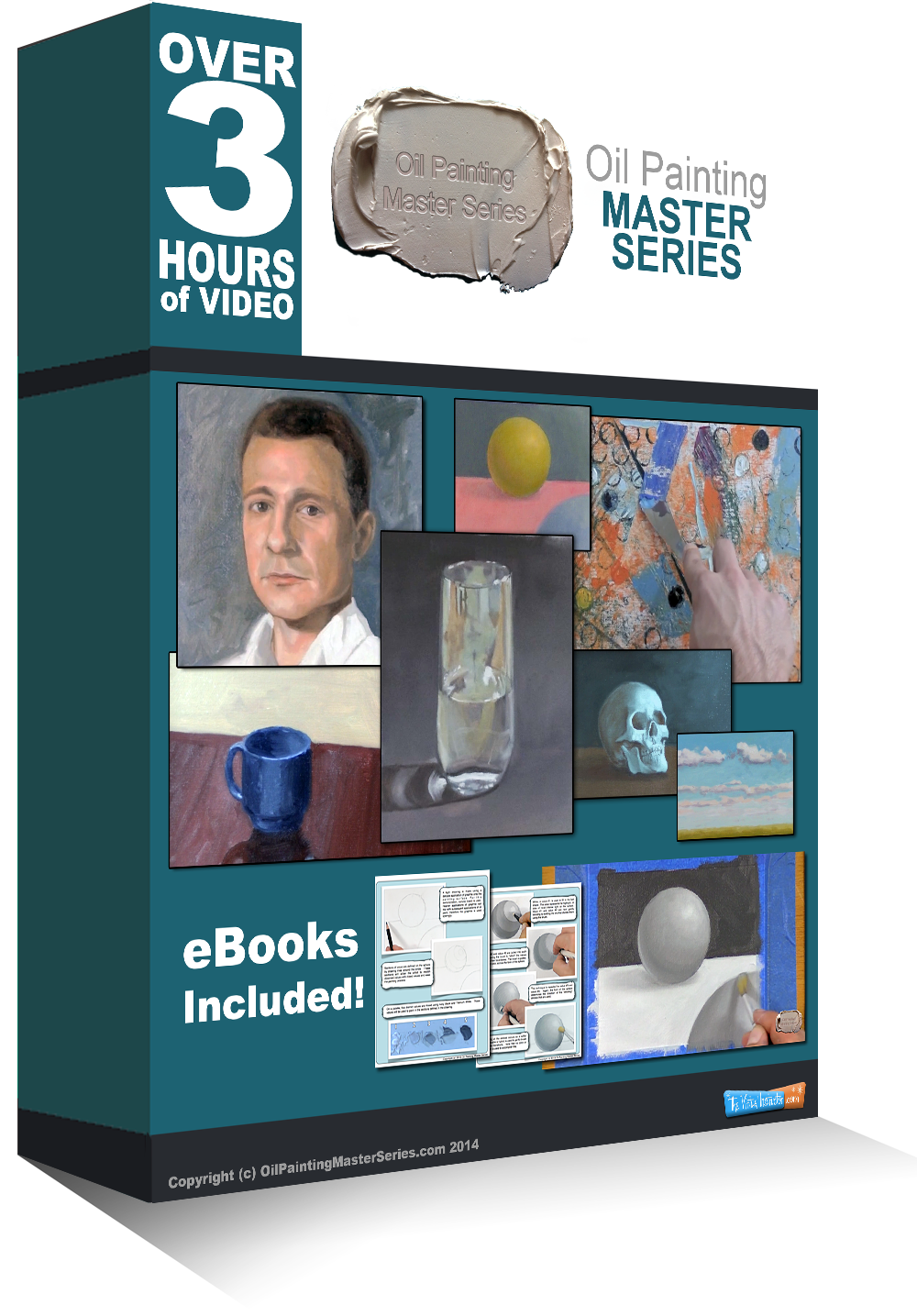 19 HIGH DEFINITION VIDEOS
Every step, every stroke, in brilliant clarity.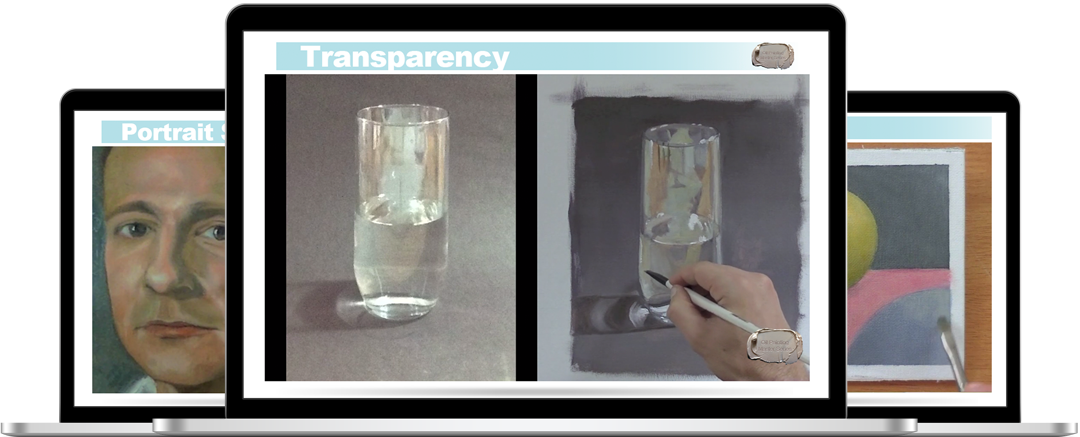 LEARNING SIMPLIFIED WITH EBOOKS
We all learn differently. Videos are great, but some prefer to learn with a book. So why not have both! This course has been developed to accelerate learning by teaching to many different learning styles. Each module includes an illustrated ebook that corresponds with the video. Every step and concept is clearly illustrated and described in each ebook.

The 17 ebooks combine for a total of 114 pages.

COURSE MODULES
Here's what you can expect to learn in this course...
MODULE 1 – Introduction to "Oil Painting Master Series".

MODULE 2 – How to choose the right materials, their properties, and how to use them in oil painting. How to prepare a support – boards, stretching, and preparing canvas.

MODULE 3 – How to layout your palette and mix complex colors. How to make your own oil paints from pure pigment.

MODULE 4 – Pre-painting fundamentals.

MODULE 5 – The secret to blending oil paint to create smooth transitions of value and color.

MODULE 6 – How to create an underpainting.

MODULE 7 – How to glaze color over an underpainting using the "Old Masters" technique.

MODULE 8 – How to paint directly using observed colors.

MODULE 9 – How to paint on a toned surface to create dramatic contrast.

MODULE 10 – How to paint folded cloth.
MODULE 11 – How to paint realistic clouds.

MODULE12 – How to paint a representational portrait Part 1.

MODULE 13 – How to paint a representational portrait Part 2.

MODULE 14 – How to paint Alla Prima (Wet into Wet).

MODULE 15 – How to use a knife to create Impasto effects in a painting.

MODULE 16 – How to paint as an Impressionist.

MODULE 17 – How to approach a Non-Traditional painting (Non-Objective, Abstract).

MODULE 18 – The secrets to creating reflection and transparency with oils.

MODULE 19 – A conclusion to "Oil Painting Master Series".
HOW OUR COURSES ARE DIFFERENT
"Oil Painting Master Series" is not an ordinary course that simply illustrates one technique through one or two demonstrations. Instead it is truly comprehensive, covering many techniques and subjects through many completed paintings. Combined with the ebooks, there's simply not another learning experience like it.

Every demo above is included (and more not pictured.)
Learn from ALL of our lessons.
Members get every course, live lesson, ebook, critique and lesson plan.
"Oil Painting Master Series" is included with membership, but if you are interested in the stand alone version of this course, it can be purchased here.