The Colored Pencil Course
USE COLORED PENCILS LIKE A PRO
Become a member and get ALL of our courses and much, much more.
---
Just interested in this course?This course includes:
22 HD videos • 21 eBooks • 5 hours of instruction • 100% money back guarantee • Certificate of completion
ARE YOU READY TO UNLEASH THE FULL POTENTIAL OF COLORED PENCILS?
I didn't exactly love colored pencils the first time I used them. I actually thought of them as a sub-standard material for making art. It wasn't until I learned the full potential of this extraordinary medium, that I fell in absolute love with them and learned that colored pencils are a serious medium.
And the best part is that these techniques can be learned by anyone – no matter your current skill level! ARE YOU MAKING THE SAME MISTAKES THAT I DID?
When I first started with colored pencils I thought that it would be super easy – just pick them up and start drawing, right? Not exactly. I made plenty of mistakes and learned from each one of them.
ASK YOURSELF...
Do your drawings look light and unfinished?
Are you struggling to produce deep, rich, and vibrant colors?
Not sure of the best surfaces for accepting colored pencils?
Are you using the right colored pencils for your application?
Not sure of how to mix and layer colors?
Are you burnishing your colors to produce a colored pencil painting?
Are you convinced that you have to be talented in order to get professional results?
Are you ready to take your skills to the next level?
LET ME SHOW YOU WHAT I'VE LEARNED...
THE COURSE...
The Colored Pencil Course is a comprehensive learning experience designed to guide absolute beginners and intermediate artists to a level of producing professional quality colored pencil drawings through concise and "easy to digest" modules that include HD videos and Ebooks.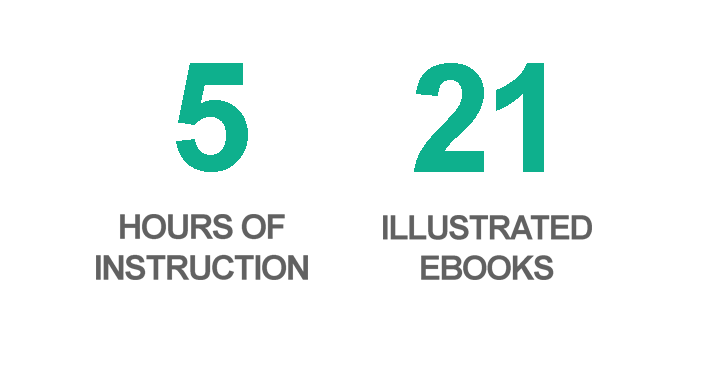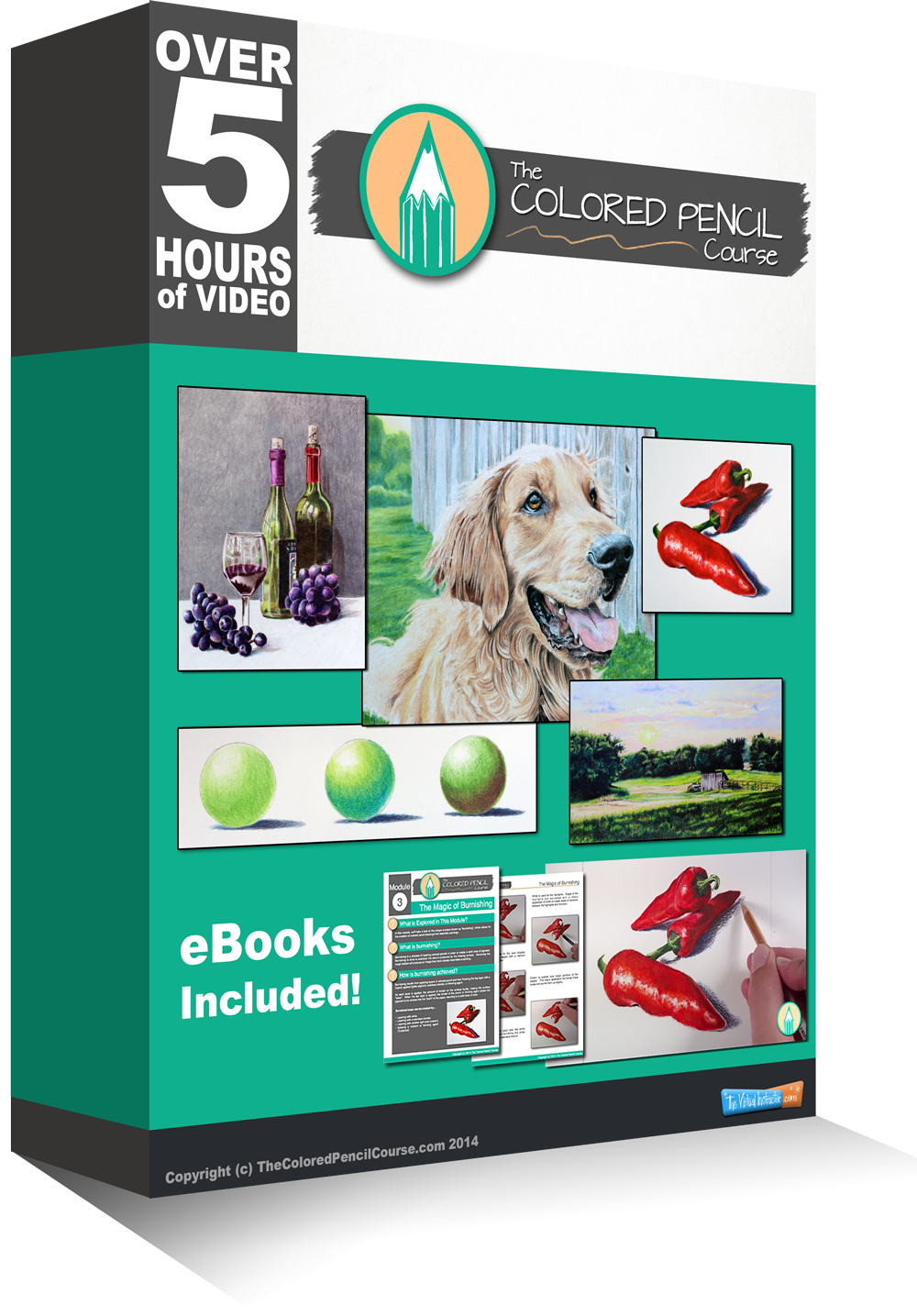 22 HIGH DEFINITION VIDEOS
Every step, every technique, every mark in brilliant clarity.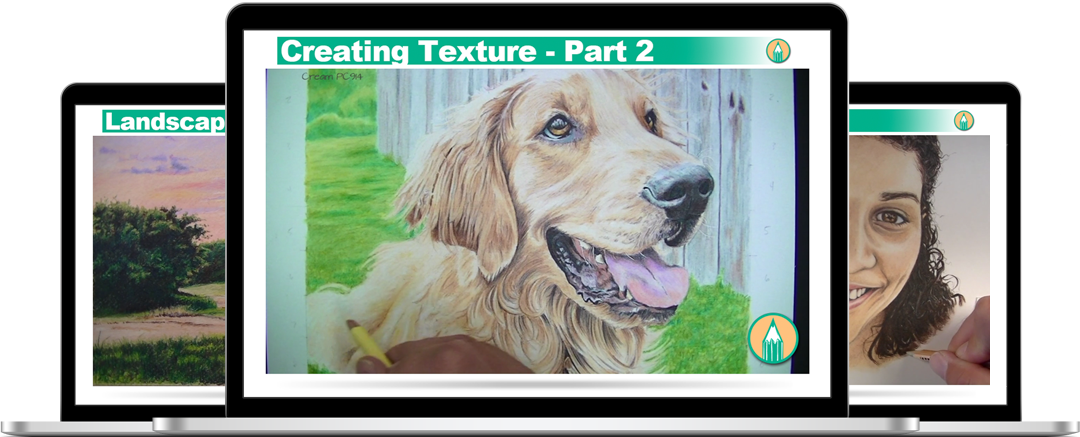 LEARNING SIMPLIFIED WITH EBOOKS
We all learn differently. Some of us prefer to learn from books as well as videos, so ebooks are included as well. This course has been developed to accelerate learning by teaching to many different learning styles. Each module includes an illustrated ebook that corresponds with the video. Every step and concept is clearly illustrated and described in each ebook.

The 21 ebooks combine for a total of 126 pages.

COURSE MODULES
Here's what you can expect to learn in this course...
MODULE 1 – Materials and tools.

MODULE 2 – Pencil pressure, application techniques, surface textures, and mixing "black".

MODULE 3 – The magic of burnishing. How to apply solid areas of color.

MODULE 4 – Value and underpainting.

MODULE 5 – Using color theory in colored pencil drawings.

MODULE 6 – Composition and still life.

MODULE 7 – Reflection and transparency.

MODULE 8 – Transferring images.

MODULE 9 – Creating texture part 1.

MODULE 10 – Creating texture part 2.

MODULE 11 – Landscape drawing part 1 – Backgrounds.
MODULE 12 – Landscape drawing part 2 – Middleground and foreground.

MODULE 13 – Portrait drawing – eyes.

MODULE 14 – Portrait drawing – the nose.

MODULE 15 – Portrait drawing – the mouth.

MODULE 16 – Portrait drawing – the face and ears.

MODULE 17 – Portrait drawing – hair.

MODULE 18 – Watercolor and colored pencils part 1.

MODULE 19 – Watercolor and colored pencils part 2.

MODULE 20 – Watercolor pencils part 1.

MODULE 21 – Watercolor pencils part 2.

MODULE 22 – Matting and framing, waxbloom.
HOW OUR COURSES ARE DIFFERENT
"The Colored Pencil Course" is not an ordinary drawing course that simply illustrates one technique or medium through one or two demonstrations. Instead it is truly comprehensive, covering many techniques and subjects through many completed drawings. Combined with the ebooks, there's simply not another learning experience like it.

Every demo above is included (and more not pictured.)
Learn from ALL of our lessons.
Members get every course, live lesson, ebook, critique and lesson plan.
"The Colored Pencil Course" is included with membership, but if you are interested in the stand alone version of this course, it can be purchased here.