Gettin Sketchy – Row Boat Drawing – Season 2 Episode 1
This episode aired live on YouTube on August 19, 2020.
In this episode, we take a quick look at Steadtler Pigment Liner drawing pens and Ashley creates a sketch of a row boat on water with graphite on drawing paper in a 45 minute timed drawing exercise.
Art Product Recommendation
The featured art product for this episode are Steadtler Pigment Liner drawing pens. These pens keep a strong tip for a longer period of time with plenty of ink to last for many drawings. The functional packaging and the higher quality sets them apart from other disposable drawing pens on the market.
You can pick up a set for yourself on Amazon here…Buy Steadtler Pigment Liner Drawing Pens
(The above link is an affiliate link which means that we make a small commission if you purchase without any additional expense to you.)
Drawing a Row Boat with Graphite – 45 Minute Timed Drawing
In this episode's timed drawing challenge, Ashley creates a sketch of a row boat with graphite within 45 minutes.
Here's a look at the completed drawing…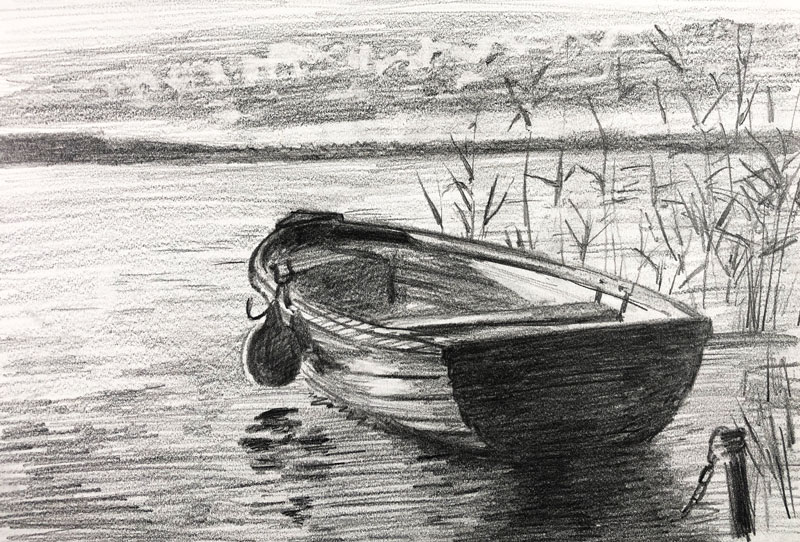 Materials for this Drawing
The materials used for this exercise are very simple. All that is required is standard drawing paper (a sketchbook is fine) and a few graphite pencils of various softness. A kneaded eraser or a rubber eraser is also helpful to have within reach.
More resources to explore…
Photo Reference
A photo reference was used to complete the drawing. This reference comes from Pixabay.com and has been altered by removing the color in Photoshop. Removing the color leaves only the values, making observation a little easier.
Here's a look at the photo reference…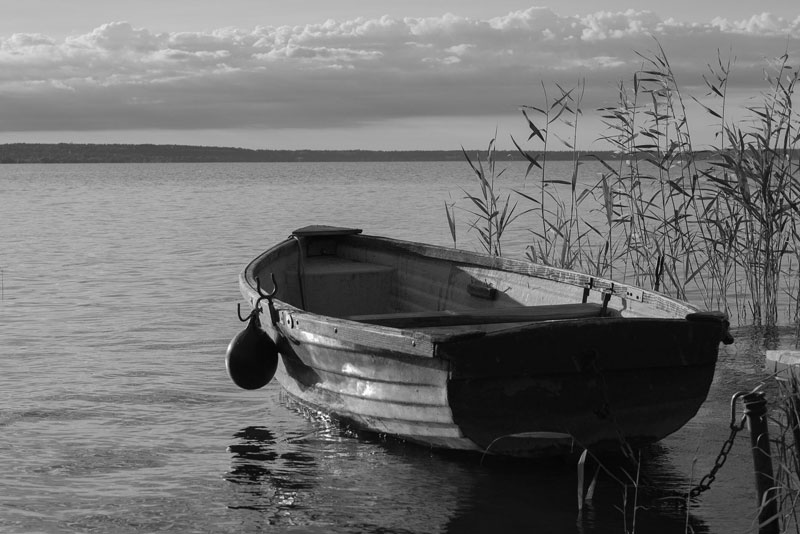 The Benefits of Sketching
Sketching is usually a quick process of drawing loosely while simplifying details. When creating a more refined drawing, an artist may work much slower and control the medium to a higher degree.
However, sketching flexes the same mental muscles that we would use if we were to create a longer, more refined drawing. Sketching is essentially a form of practice that improves the artist's observation skills which carries over when creating longer drawings.
See Also: The Difference Between Drawing and Sketching
Sketching, of course, is also beneficial in planning out your composition or preparing for a more refined drawing or painting. It is our belief that sketching from observation daily is one of the fastest and most effective ways of improving your drawing skills.
Like This Lesson?
If so, join over 36,000 others that receive our newsletter with new drawing and painting lessons. Plus, check out three of our course videos and ebooks for free.
More Lessons You'll Love…