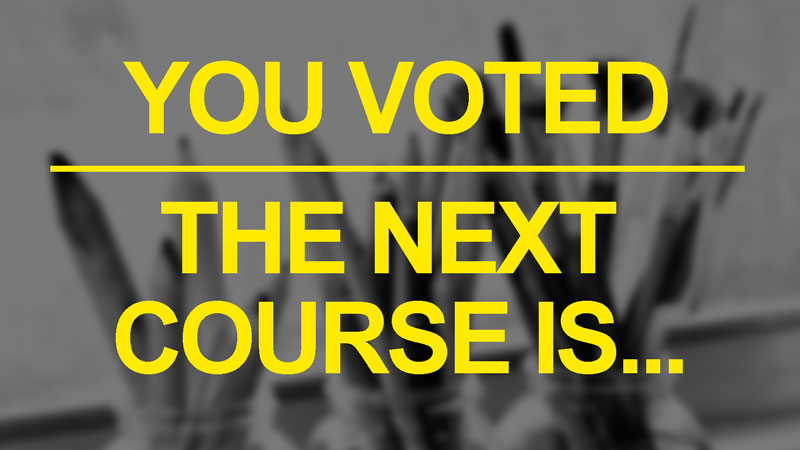 One of our primary goals at TheVirtualInstructor.com is to bring you the highest quality art instruction. But beyond this, we also strive to cover a diverse spectrum of media, techniques, and subject matter. When we design our courses, we consider the student and how effective learning takes place. For this reason, we structure our courses in a logical order and simplify concepts so that anyone can learn. We also aim to design courses that exceed your expectations and reflect what you want to learn.
At the conclusion of each course that is created for you, I reach out and ask you what you'd like to see developed next. Students are able to vote on course options by participating in a simple survey.
When the survey is complete, the results are analyzed and work begins creating the next course in which you have voted on.
Each course that is developed is lovingly designed and structured to maximize learning. Each course module includes a video and an accompanying ebook that is released to members every week or two until the entire course is complete. Each course that is created is archived and becomes a part of the ever-growing library of courses for members. There are currently 12 courses available covering the following topics…
Voting for the next course ended on July 5, 2018 and we have a clear winner. Thanks to all that voted!
And now for the results…
Here are the options that were offered…
Option #1 – "Oil Pastels"
Option #2 – "The Charcoal Drawing Course"
Option #3 – "Line and Wash – Drawing with Ink and Painting with Watercolor"
Option #4 – "Animals with Pastels"
Option #5 – "Landscape Painting with Acrylics"
Option #6 – "Landscape Painting with Oils"
Option #7 – "Procreate – A Digital Drawing Adventure"
Option #8 – "Watercolor Portraits"
And here's a graphical breakdown of the results…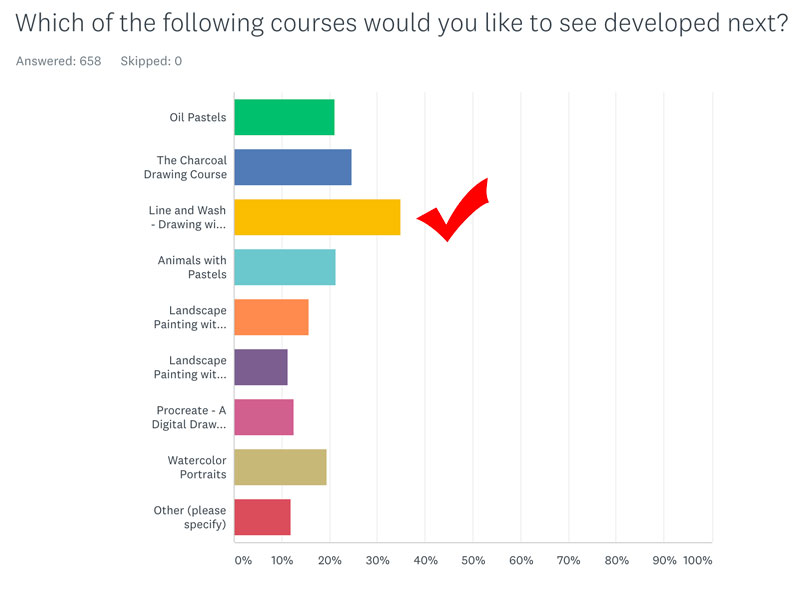 The clear winner is Option #3 – Line and Wash – Drawing with Ink and Painting with Watercolor .
So here's a preliminary look at what will covered in the next course…
"Line and Wash – Drawing with Ink and Painting with Watercolor"

Course Description: Learn how to combine line drawing and painting as we develop a number of works using ink and watercolor. Like the other courses, this course will cover a variety of concepts and subjects using this specific combination of media.
Concepts and projects that will be covered include (but are not limited to):
Materials and various surfaces for line and wash
Simple techniques for drawing with line
Handling value with line and wash
Applying watercolor over an ink drawing
Drawing landscapes with line and wash
Architectural drawing with line and wash
Still life with line and wash
Loose and controlled approaches to line and wash
Abstracting subjects
Compositional strategies
I'm excited to get started and I hope you are too. I expect to release the first modules for "Line and Wash – Drawing with Ink and Painting with Watercolor" to members by the end of August, 2018. Of course, as each set of modules are released, I'll be sure to let you know through the newsletter. If you don't currently receive the newsletter, you can sign up it for here. (It's free.)
Additionally, voters could write in an option if they didn't like the choices that were offered. I was surprised to see how many folks wrote in "pencil drawing", "watercolor", "mixed media", and "portrait drawing". (We already have courses on these subjects.) You can check out all of our courses here.
Thanks again for voting! I'm excited about the new addition to the course library and I can't wait to get started. As always, I'd love to hear what you think. Just leave your comment below…
Like This Lesson?
If so, join over 36,000 others that receive our newsletter with new drawing and painting lessons. Plus, check out three of our course videos and ebooks for free.