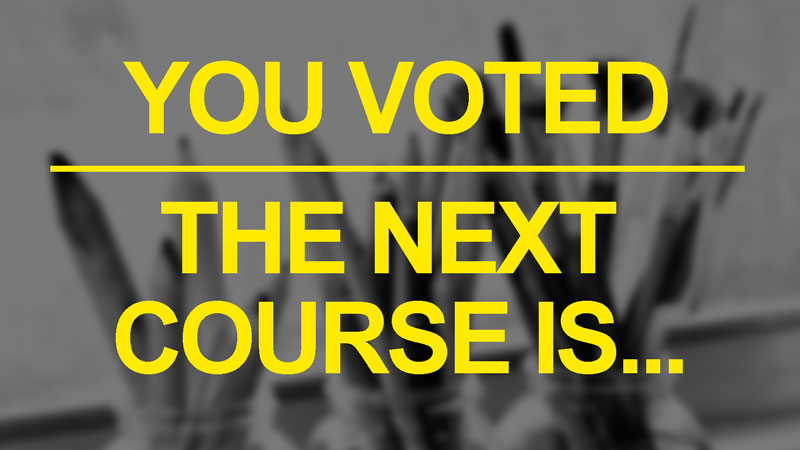 This site is designed, constructed, and lovingly crafted for you. It is my goal to serve you as student. A big part of achieving this is learning from you. I want to teach what you want to learn. For this reason, I reach out to you after each course has been developed and ask for feedback regarding which course you would like to see next. Each course that has been developed over the years has been the result of you telling me what you want to learn.
Based on your suggestions and results of previous voting, I construct a simple survey and send it your way. You guys give me your responses and I analyze the results. When the results are in, I get started developing the next course based on what you have voted for. Each module includes a video and accompanying ebook and is released to members every week or two until the entire course is complete. Each course that is created is archived and becomes a part of the ever-growing library of courses for members. There are currently 9 courses available covering the following topics…
Voting for the next course ended on February 12, 2017 and the winning course is quite clear. Thanks to all of you that voted. And now for the results…
Here are the options that were offered…
Option #1 – The Graphite Drawing Course
Option #2 – Digital Drawing and Painting
Option #3 – The Ultimate Guide to Perspective
Option #4 – The Ultimate Guide to Drawing Hands and Feet
Option #5 – Composition
And here's a graphical breakdown of the results…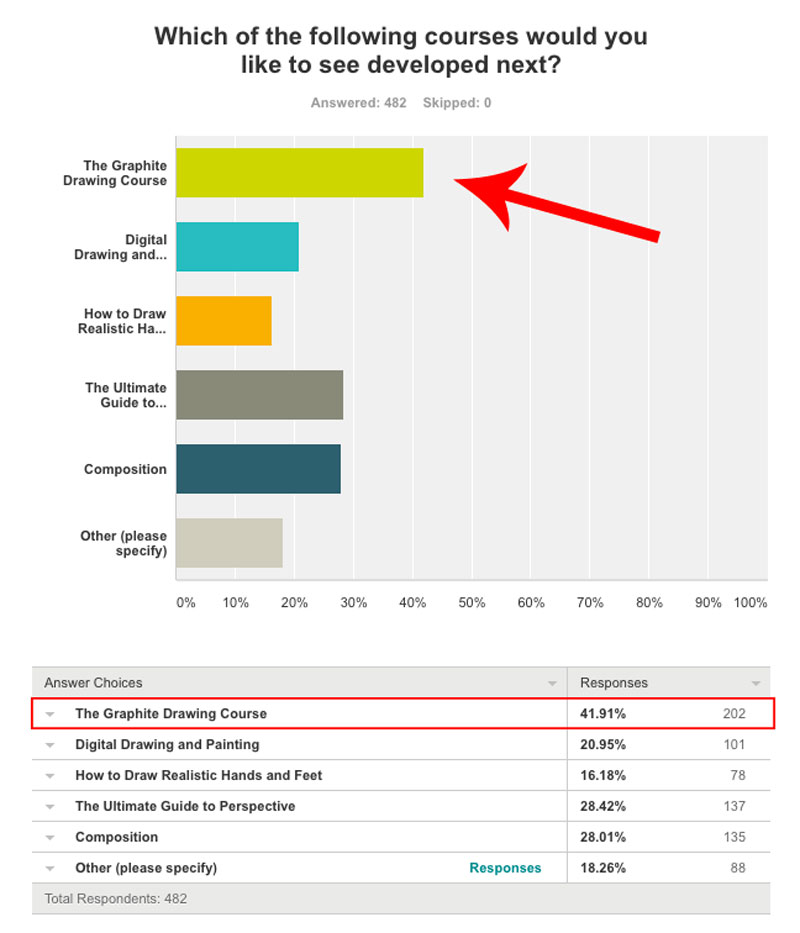 The clear winner is Option #1 – The Graphite Drawing Course.
So here's a preliminary look at what will covered in the next course…
"The Graphite Drawing Course" (Working Title)
When most of us begin drawing, the first tool we reach for is usually a graphite pencil. Graphite is capable of producing a rich range of tone and a broad variety of textures. It is a versatile medium that can be used for quick sketches or highly refined and detailed drawings. It is perhaps the most fundamental medium for drawing. We'll cover this medium extensively in this course and take a look at a variety of application techniques and subjects with graphite.
Concepts and projects that will be covered include (but are not limited to):
Basic materials and surfaces
Mark making
Blending and transitions
Creating textures
The importance of tone and value
Still life drawing
Landscape drawing
Botanical drawing
Portraiture
Figure drawing
Water-soluble graphite
Colored graphite
Drawing with powdered graphite
I'm excited to get started and I hope you are too. I expect to release the first modules for "The Graphite Course" to members by the end of March, 2017. Of course, as each module is released, I'll be sure to let you know through the newsletter. If you don't currently receive the newsletter, you can sign up it for here. (It's free.)
As a side note, voters could write in an option if they didn't like the choices that were offered. I was shocked to see how many folks wrote in "colored pencils", "pen and ink", "pastels", "portrait drawing" and "acrylics". (We already have courses on these subjects.) You can check out all of our courses here.
Thanks again for voting! I'm excited about the new addition to the course library and I can't wait to get started. As always, I'd love to hear what you think and what you'd like to see in the new course. Just leave your comment below…
Like this lesson?
If so, join over 30,0000 others that receive our newsletter with new drawing and painting lessons. Plus, check out three of our course videos and ebooks for free.