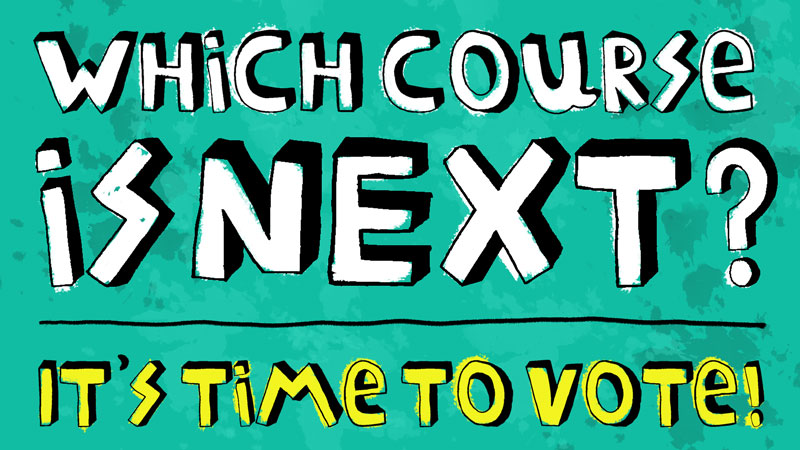 "Creative Mixed Media" is now complete, making it the ninth complete course added to our library of courses – which are all available to members. The addition of this course brings the total of course video hours up to 35 with over 1000 pages of ebooks included. (Each course includes logically sequenced modules that include videos and downloadable ebooks.)
At the conclusion of each course, I reach out to you for input on the next course that will be developed. Everyone is able to vote! When the voting results are in, I share the results with you and begin work creating the next course. As each course is created, it is simply added to the library. Members don't have to wait until the entire course is created however, since modules are released as they are completed (every week or two). (All courses are included with membership as well as all of the Live Lessons, Member's Minutes, and lesson plans. So the library of educational content just continues to grow.)
It's now time to vote…
Based on your suggestions and previous voting options, I have provided a list of possibilities for the next course. Below you'll find a listing and brief description of each of the possibilities. After reading through, be sure to click on the "vote now" button to cast your vote. Voting begins January 1, 2017 and will end on January 28, 2017 February 12, 2017. The winning course will be announced on January 30, 2017 February 14, 2017. (You may vote for more than one, if you wish.)
Course Options
Option #1 – "The Graphite Drawing Course" – While we cover quite a bit of graphite drawing in "The Secrets to Drawing" and in "Portrait Drawing The Smart Way", I though it may be nice to have an entire course devoted to the medium. This course would cover a variety of subjects all centered on application techniques for graphite drawing.
Option #2 – "Digital Drawing and Painting" – Use Adobe Photoshop to create digital drawings and paintings by following the principles of traditional practices. Learn the fundamentals of light and shadow, creating textures, and the illusion of form by applying a variety of brushes and effects.
Option #3 – "The Ultimate Guide to Perspective" – Take a journey into the world of linear perspective. Learn how to apply one-point, two-point, and three-point perspective to create the illusion of space in your drawings. Apply perspective techniques to multiple subjects including buildings, interiors, non-objective drawings, and the human figure.
Option #4 – "Composition" – Learn how to compose your drawings and paintings using a variety of strategies and techniques.
Option #5 – "The Ultimate Guide to Drawing Hands and Feet" – Some consider drawing hands and feet to be the most difficult of all subjects. However, even the most difficult subjects can be simplified and mastered by anyone. This course will focus on the basic principles of drawing hands and feet including multiple layout strategies, proportion, anatomy, and rendering realistic textures.
Don't see a course possibility that appeals to you? You can "write in" a suggestion as well through the voting process.
I'm excited to develop the next course for you! Thanks for voting! Results will be released on January 30, 2017 February 14, 2017 and new course modules will be released starting in March 2017.
As a footnote, there is a course that I've been wanting to add for a while. Lots of folks have requested it and it's not listed above. During January, while voting takes place, I'll be hard at work developing this mystery course for members.
Like this lesson?
If so, join over 30,0000 others that receive our newsletter with new drawing and painting lessons. Plus, check out three of our course videos and ebooks for free.