Gettin Sketchy – Dual Still Life Drawing – Season 2 Episode 3
This episode aired live on YouTube on September 2, 2020.
In this episode, I reveal my #5 in our countdown of our top five artists of all time. Ashley and I create timed drawings from the same photo reference but use different drawing mediums. I use graphite on Bee Paper Company's Stipple paper while Ashley uses NuPastels on black Canson Mi-Tientes pastel paper.
Art Product Recommendation
The featured art product for this episode is Stipple paper by Bee Paper Company. Other than a few test marks, this is the first time I have ever used this paper but I was quite impressed. This paper features a pronounced tooth that gives the drawing a "smokey" or atmospheric look.
You can pick up this paper for yourself on Amazon here…Buy Stipple Paper by Bee Paper Company
(The above link is an affiliate link which means that we make a small commission if you purchase without any additional expense to you.)
Drawing a Still Life with Graphite and NuPastels – 45 Minute Timed Drawing
In this episode, both Ashley and I drew the same subject but used different mediums. This exercise allows you to see two different approaches to drawing with extremely different drawing media.
Although I didn't get finished with my drawing within 45 minutes, I did really enjoy drawing on this surface. Here's a look at what I was able to complete within the time limit…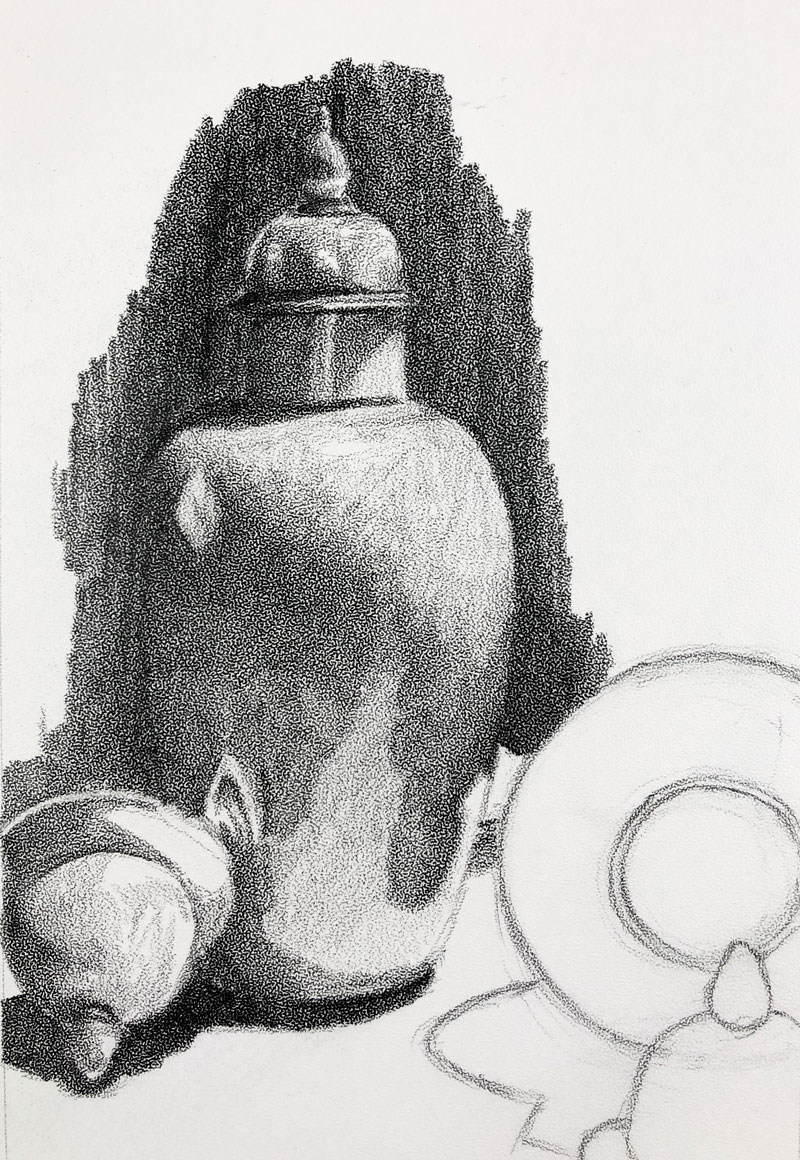 Ashley was able to get more information on the surface mostly due to the looser medium and the ability to make broader strokes. The color, mostly consisting of a primary color scheme, helps quite a bit and contrasts nicely against the black background. Here's a look at what Ashley was able to complete within 45 minutes…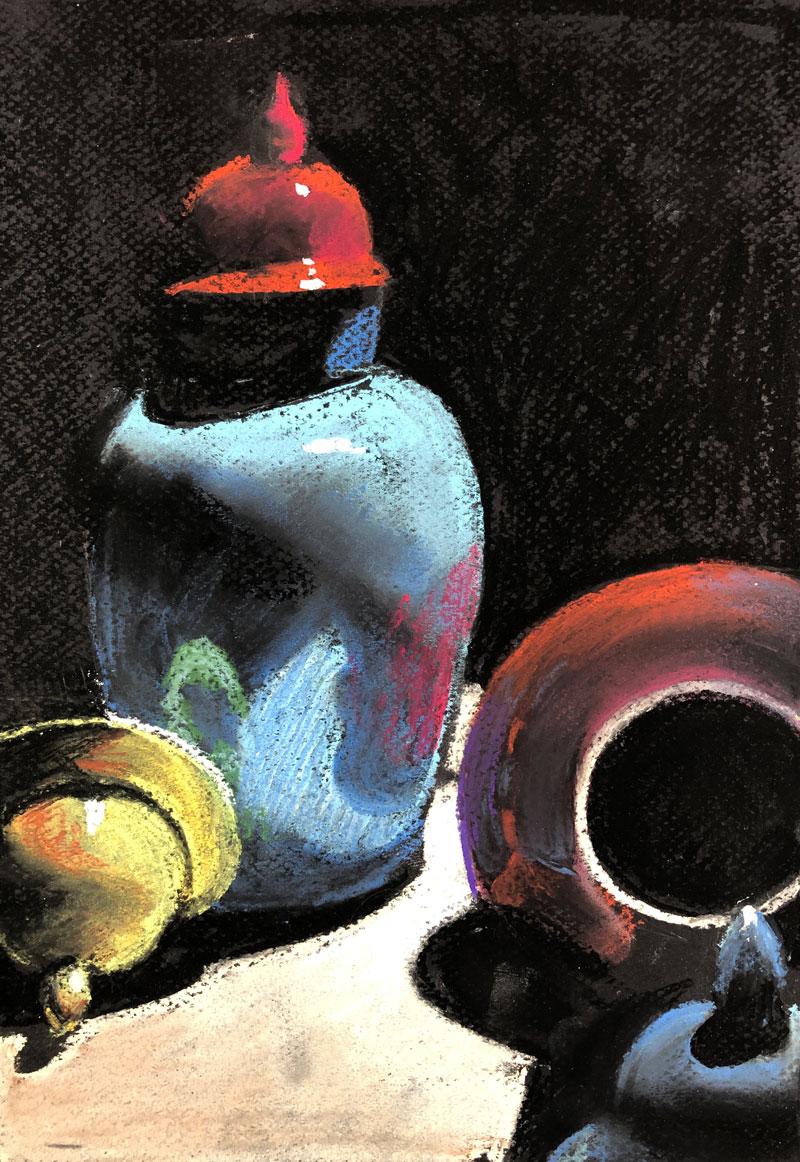 Media and Materials
Clearly, the medium that you use to create a drawing greatly impacts the approach that you take. You simply cannot approach different mediums in the same manner. This is illustrated in this exercise as Ashley and I both take completely different approaches.
Graphite drawing generally requires a more precise approach, especially when a pencil is used. Pastels, on the other hand, can be spread quickly and rely more on the relationships of values and colors to communicate the subject.
More resources to explore…
Photo Reference
The photo reference used for this drawing exercise is from Pixabay.com. If you'd like to try this timed exercise for yourself, you can use the reference included below…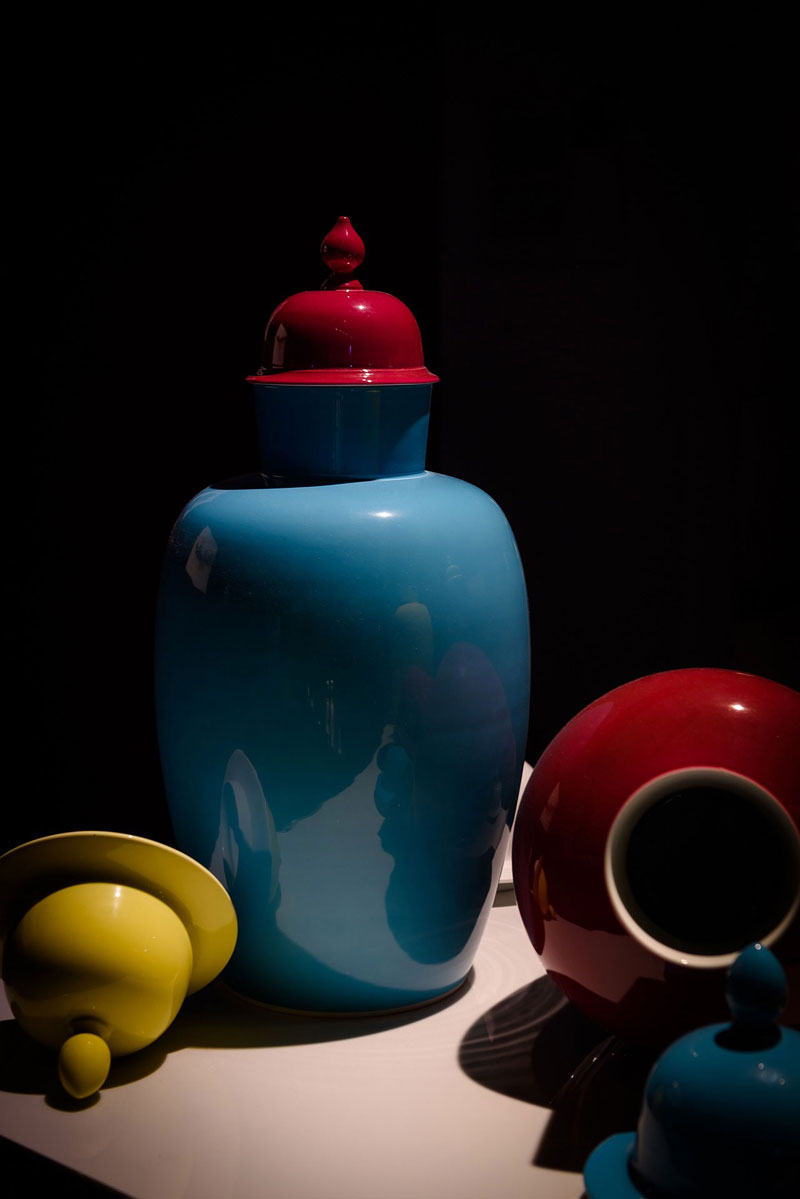 Practice Makes Perfect
Every drawing that you create doesn't need to be a polished masterpiece. Every time you create a sketch, no matter how rough or unrefined, you're honing your drawing skills. Sketching is a form of practice. The more that you sketch, the better you will get at recognizing shapes and forms in the subjects that you draw. Timed drawing provides you with a starting and stopping point, making the practice of sketching easier to "fit into your schedule". It also improves your speed and over time – your confidence.
Like This Lesson?
If so, join over 36,000 others that receive our newsletter with new drawing and painting lessons. Plus, check out three of our course videos and ebooks for free.
More Lessons You'll Love…