In this recorded
Live Lesson
series, we create a portrait of a young girl with pastels and pastel pencils. The video above is a time lapse of the entire lesson series. The complete recorded lesson series (5 hours) is available to members
here
. (Each week a new Live Lesson is broadcast to members, recorded, and archived for replay.)
Ensuring Accuracy in a Portrait Drawing
When drawing a portrait, accuracy is of upmost importance. The facial features must be positioned in the correct locations and the relationships or proportions of the those features must also be accurate. While we could draw the subject from pure observation, a quicker and more accurate method involves transferring the reference onto the drawing surface. For this method to work, the photo reference must be the same size as the finished drawing. So transferring the image is not ideal in every situation. Other means to ensure accuracy could be used if transferring the image is not possible.
These methods include:
The Traditional Grid Technique
The Triangular Grid Technique
Although not directly tied to portrait drawing, additional methods for ensuring accuracy in a drawing can be found here…7 Drawing Techniques to Ensure Accuracy
For this lesson, we transferred the image using white pastel.
After the basic contours of the image are transferred, the lines are refined through observation. Although this provides us with a nice starting point and ensures a bit of accuracy, we still have to apply pastel applications through pure observation.
Pastel Applications
In this lesson, traditional soft pastels are applied first using various "skin tones". These initial applications of color provide a base for more refined pastel pencil applications to be applied later in the process. A finger is used to blend the applications, creating smoother transitions of color and value.
After a base of color is in place, the details of the face are refined with pastel pencils. Layered applications of pastel pencils are applied, bringing the features to life.
Only after the face and arms are developed do we move on to the clothing. After establishing a base color for the dress with soft pastels, we can concentrate on the patterns which are addressed with pastel pencils.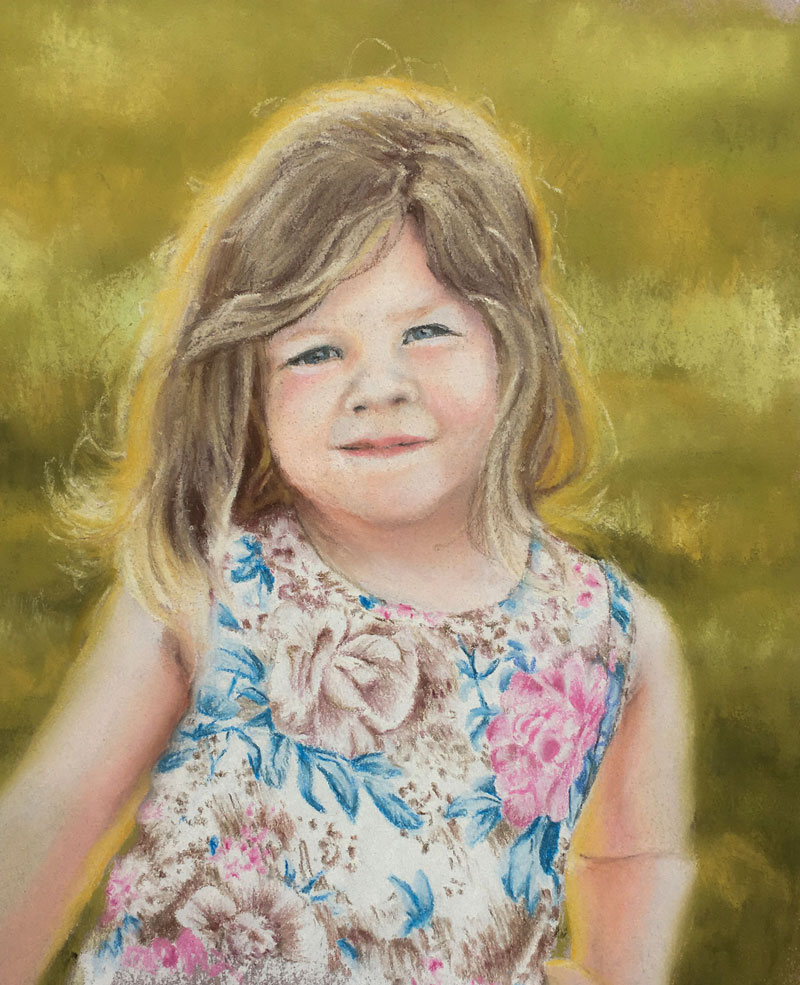 The background is addressed with various greens and yellow-greens allowing for some variance in tone and color. The contrast is increased lower on the picture plane in order to accentuate the illusion of space.

Once the background is in place, the hair of the young girl is addressed. This begins by applying darker tones as a base color with soft pastels. Lighter values are applied over the top to build up the illusion of form and to make the color of the hair match the subject.
Pastel Materials Used in This Lesson
Both traditional soft pastels and pastel pencils are used in this lesson series. Soft pastels are used mainly to provide looser base applications, while pastel pencils are used to refine details. Although sometimes confused, soft pastels differ from oil pastels. Oil pastels have a binder of oil making them similar to a crayon, while soft pastels are powdery and chalky. (Oil pastels and soft pastels actually differ greatly and are not recommended to be used together.)
(Some of the following links are affiliate links which means we earn a small commission if you purchase at no additional cost to you.)
Pastel products and surface used in this series…
A variety of surfaces can be used for pastel applications. The surface chosen is often dependent on the subject and the approach that the artist plans to take. Papers with a heavier tooth (or texture) can accept more layers of pastel applications, but often do so at the sacrifice of smooth transitions of color and detail. Smoother papers are limited as to how many layers of color can be applied, but allow for smoother transitions of color and provide a surface more suitable for details.
Canson Mí Tièntes pastel paper is a versatile paper for pastel artists and is used in this lesson series. One side of the paper is heavily textured, while the other is smoother. Both sides are suitable for multiple layers of applications. (The smoother side of the paper is used in these lessons.)
More on Drawing and Painting with Pastels…
Like This Lesson?
If so, join over 36,000 others that receive our newsletter with new drawing and painting lessons. Plus, check out three of our course videos and ebooks for free.
More Lessons You'll Love…