For extended Live Lessons, video courses, ebooks and more, check out the membership program. Click on the button below to learn more.
How to Sketch a Crab
Practice makes perfect. And although perfection cannot be achieved in any drawing that we create, we can always improve our drawings skills through practice. Sketching is an excellent way to practice your drawing skills. Although a sketch is not a finished drawing, we still use and exercise the same observational "muscles".
Gettin' Sketchy is designed to provide you with a little drawing instruction through a fun drawing challenge. If you missed the previous episodes of Gettin' Sketchy, you can check out the last three episodes here…
This sketching exercise is timed. The goal is to produce a fairly accurate sketch live within 30 minutes. This makes things a little more dramatic, but it's important to remember that finished drawings require much more time to complete. In this exercise, we couldn't complete the drawing in 30 minutes. It ended up taking a little more time (45 minutes), but that's not a problem. By setting a time goal, we at least get started and once we start, we have a good chance of finishing.
Here's the step by step process for drawing the crab…
We'll first simplify the shapes of the crab, looking for the most basic shapes.
While moving our entire arm, we'll loosely sketch the shapes that we see. In this case, we'll start with the shape of the shell and then add the shapes for the legs extending out.
Using these basic shapes as a guide, we'll draw in the contour lines (outlines). We can vary the line quality to make the drawing more interesting.
To finish things up, we'll add some quick value and shading. This creates the illusion of the light source, texture, and form.
You don't need any fancy drawing tools for some sketching practice. For this drawing, a basic sketchbook by Strathmore and a mechanical pencil by Steadtler (2B graphite) was used.
Materials
(Some of the following links are affiliate links which means we earn a small commission if you purchase at no additional cost to you.)
Check out Pixabay.com for free resources for drawing and painting. I picked up this reference from this site and edited it a little with Photoshop. I simply removed the color and cropped the image. If you want to draw along, check out the reference photo below…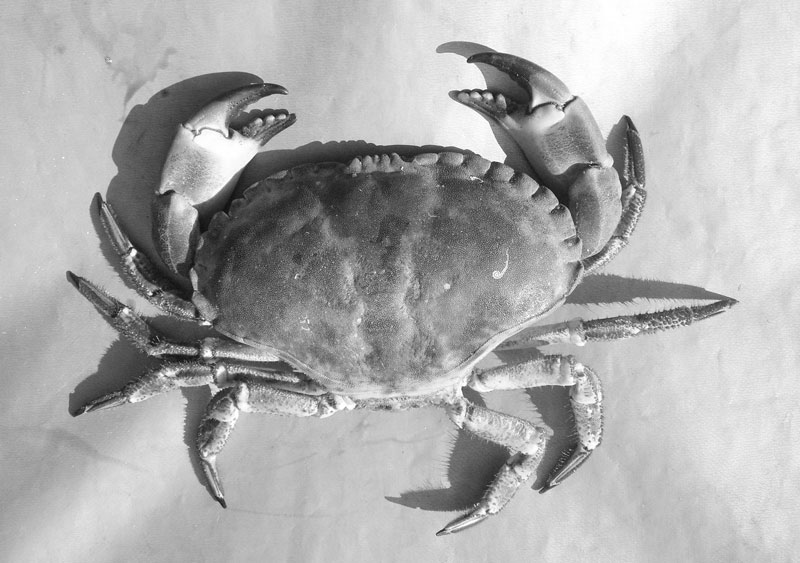 Here's a look at the finished sketch of the crab…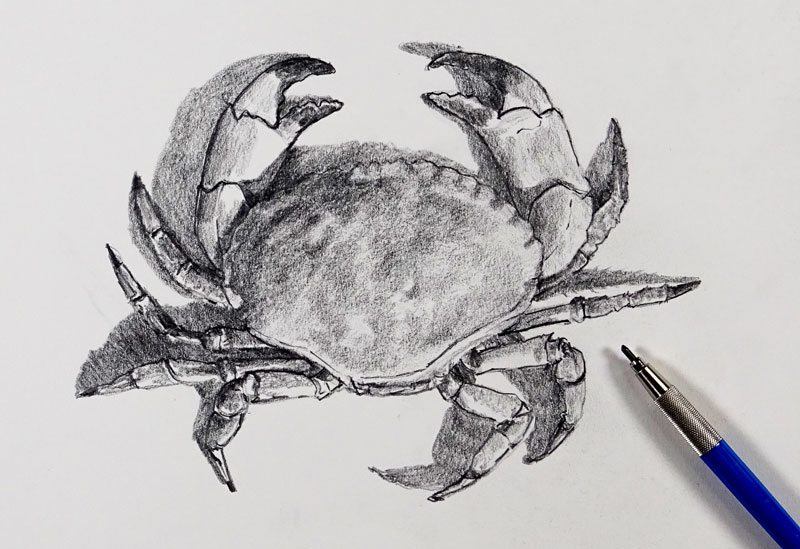 If you enjoy this kind of thing, be sure to join us live. We've made "Gettin' Sketchy" a semi-regular event. We broadcast live on YouTube (whenever possible) on Wednesday evenings somewhere between 8:00 PM EST to 8:30 PM EST.
Make sure that you're a subscriber to the YouTube channel so that you won't miss an episode. You can subscribe here.
Like This Lesson?
If so, join over 36,000 others that receive our newsletter with new drawing and painting lessons. Plus, check out three of our course videos and ebooks for free.
More Lessons You'll Love…