Name of Lesson: "Giant Junkfood"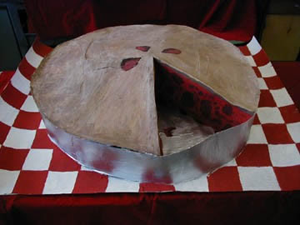 Class Level: Art 1
Overview and Purpose:  To expose students to Pop artist Claes Oldenburg.  To expand students understanding of form and it's relationship to sculpture
Materials: Poster board, tape, newspaper, wallpaper adhesive, tempera paint, white gesso, various materials
Objectives:  Students will work together in assigned teams to create a giant version of a type of food of their choosing.  They will finish the sculpture using paper mache and tempera paint.
Guided Practice: Students will work in groups to complete finished sculpture.  Teacher will walk around the room giving suggestions and helping as needed.
Review:  Students will review pop art and form.
Estimated Duration:  15 - 20 days

Back to Art Lesson Plans