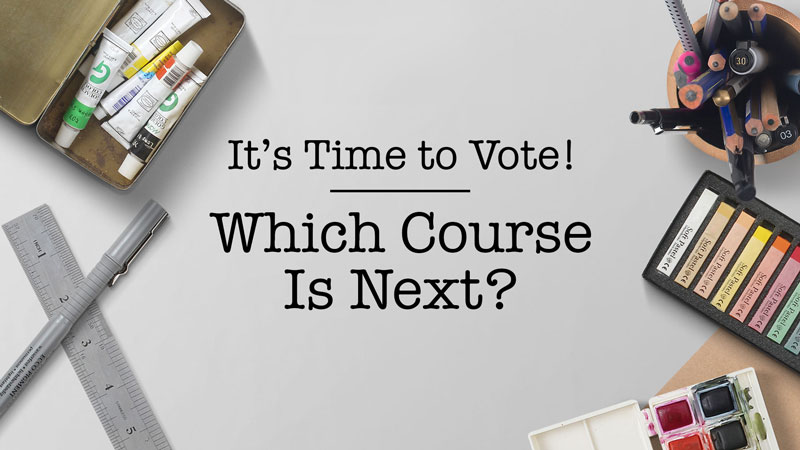 "Pencil Drawing – The Guide to Graphite" is now complete, making it the eleventh complete course added to our library of courses – which are all available to members. The addition of this course brings the total of course video hours up to 38 with well over 1000 pages of ebooks included. (Each course includes logically sequenced modules that include videos and downloadable ebooks.)
At the conclusion of each course, I reach out to you guys for input on the next course that will be developed. Everyone is able to vote! When the voting results are in, I share the results with you and begin work creating the next course. As each course is created, it is simply added to the library. Members don't have to wait until the entire course is created however, since modules are released as they are completed (every week or two). (All courses are included with membership as well as all of the Live Lessons, Member's Minutes, and lesson plans. So the library of educational content just continues to grow.)
It's now time to vote…
Based on your suggestions and previous voting options, I have provided a list of possibilities for the next course. Below you'll find a listing and a brief description of each of the possibilities. After reading through, be sure to click on the "vote now" button to cast your vote. Voting begins December 2, 2017 and will end on January 14, 2018. The winning course will be announced on January 16, 2018. (You may vote for more than one, if you wish.)
Course Options
Option #1 – "25 Days to Better Drawings" – Learn a new drawing concept and skill every day for 25 days. Each drawing concept taught includes a short drawing exercise (less than one hour) that reinforces the concept taught. Students can go through the course in sequential order and choose to have an emailed link sent to them each day of the course; or they can take the course at their leisure, taking each day as they find time. (I'm really excited about this one and this innovative approach to online learning.)
Option #2 – "The Charcoal Drawing Course" – Learn how to draw with charcoal in various forms while covering a variety of subjects and concepts. Just like our other medium-based courses, this course will provide the learner with an in-depth experience with the medium designed to encourage mastery.
Option #3 – "Line and Wash – Drawing with Ink and Painting with Watercolor" – Learn how to combine drawing and painting as we develop a number of works using ink and watercolor. Like the other courses, this course will cover a variety of concepts and subjects using this specific combination of media.
Option #4 – "The Ultimate Guide to Perspective" – Take a journey into the world of linear perspective. Learn how to apply one-point, two-point, and three-point perspective to create the illusion of space in your drawings. Apply perspective techniques to multiple subjects including buildings, interiors, non-objective drawings, and the human figure.
Option #5 – "Composition" – Learn how to compose your drawings and paintings using a variety of strategies and techniques.
Option #6 – "The Ultimate Guide to Shading" – Master texture, contrast, form, and tone as we delve deeply into shading, a fundamental skill required for drawing.
Option #7 – "Procreate – A Digital Drawing Adventure" – Grab your iPad Pro and an Apple pencil and explore the groundbreaking app, Procreate. Learn how to use this program to make digital drawings and paintings that resemble art created with traditional materials and see why this medium may be the future of art creation.
Option #8 – "The Ultimate Guide to Sighting, Measuring, and Proportion" – Learn a variety of techniques and approaches for drawing from observation. Use these techniques to ensure accuracy and improve your drawing skills.
Don't see a course possibility that appeals to you? You can "write in" a suggestion as well through the voting process.
I'm excited to develop the next course for you! Thanks for voting! Results will be released on January 16, 2018 and new course modules will be released starting in February 2018.
Like this lesson?
If so, join over 30,0000 others that receive our newsletter with new drawing and painting lessons. Plus, check out three of our course videos and ebooks for free.