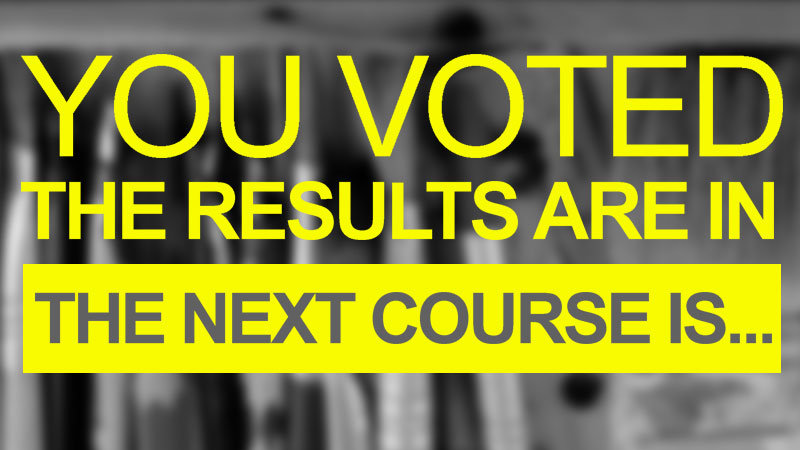 Most of you know that my goal as a teacher is to serve you as students. Part of this is teaching you what you want to learn. Each course that has been developed over the years has been the result of you telling me what you want to learn.
At the conclusion of each course that is developed, I reach out to you and ask what you want to learn next. You guys answer a simple survey with multiple options. When the results are in, I get started developing the next course, releasing course modules that include a video and ebook every week or two until the course is complete. Each course that is created is archived and becomes a part of the ever-growing library of courses for members. There are currently 8 courses available covering the following topics…
Voting for the next course ended on May 28, 2016 and we have a clear winner. Before I share the results, I want to thank all of you that voted. 1300 votes were cast and it was quite fun watching the results flood in.
Participants in the survey were given several options with the opportunity to write-in a vote. Here are the options that were presented…
Option #1 – Mixed Media
Option #2 – Digital Drawing and Painting
Option #3 – Charcoal Drawing
Option #4 – How to Draw Hands and Feet
Option #5 – The Ultimate Guide to Perspective
Option #6 – Painting with Gouache
Option #7 – Abstraction
And here's a graphical breakdown of the results…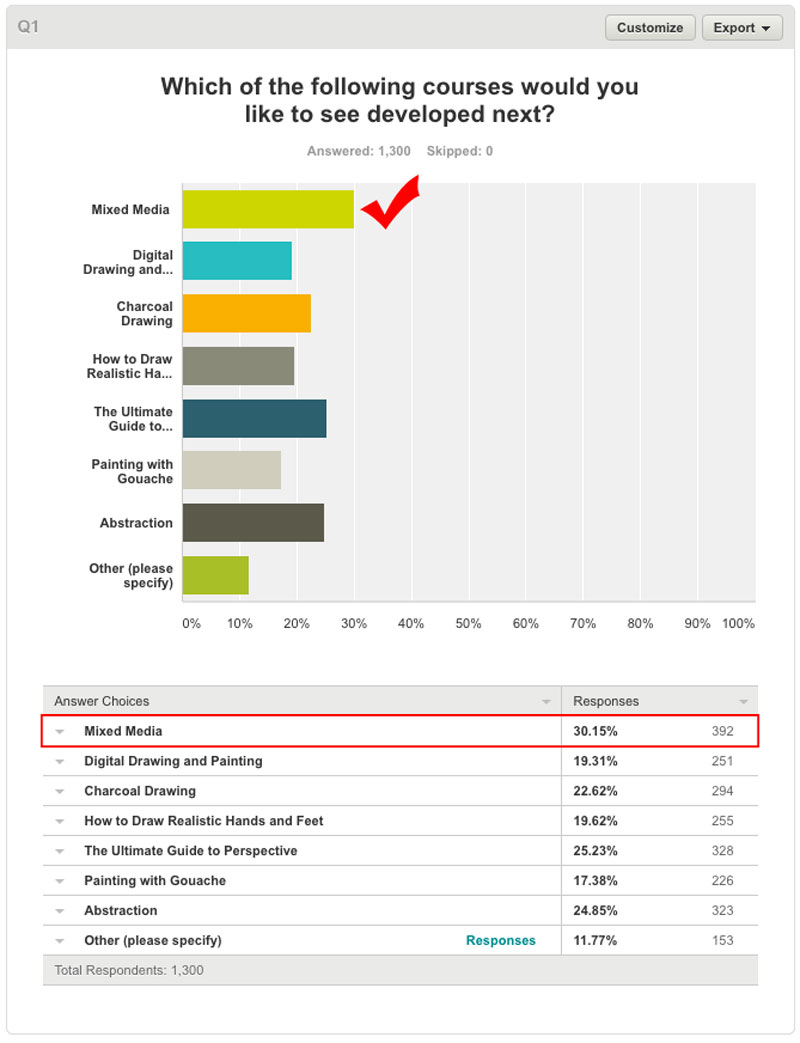 As you can see, the clear winner is Option #1 – Mixed Media.
So here's a preliminary look at what will covered in the next course…
"Creative Mixed Media"
This course will examine several approaches to creating mixed media works of art through multiple project-based examples and demonstrations.
Concepts and projects that will be covered include (but are not limited to):
Polymer clay portraits
Altered books and book sculpture
Paper collage
Fabric collage
Gel medium transfers and Decoupage
Newspaper paintings
Assemblage
Artist trading cards
I'm excited to get started and I hope you are too. I expect to release the first modules for "Creative Mixed Media" to members by the end of June, 2016. Of course, as each module is released, I'll be sure to let you know through the newsletter. If you don't currently receive the newsletter, you can sign up it for here. (It's free.)
Thanks again for voting! I'm excited about the new addition to the course library and I can't wait to get started. As always, I'd love to hear what you think and what you'd like to see in the new course. Just leave your comment below…
Like this lesson?
If so, join over 30,000 others that receive our newsletter with new drawing and painting lessons. Plus, check out three of our course videos and ebooks for free.