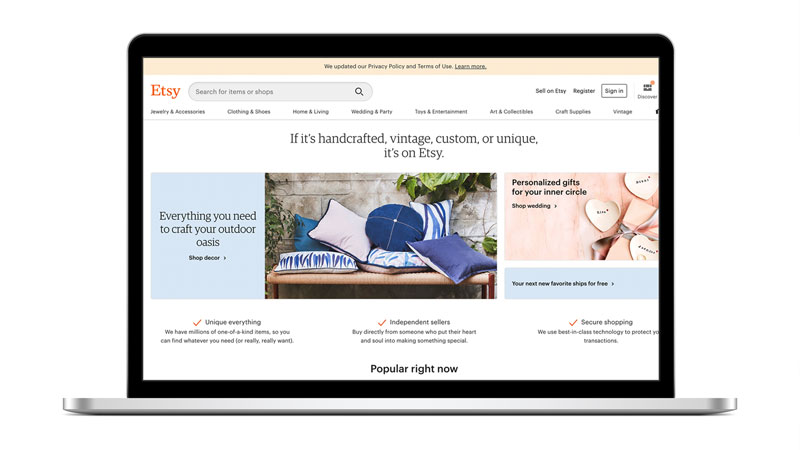 Do you sell your artwork or have you ever considered doing so? Maybe you want to sell your art, but you're not sure where to find people to buy it.
Let's face it, the old way of selling your work through a gallery or dealer is a "tough road to plow".  You have to first fall in to the graces of a dealer or gallery.  Then they have to sell the type of work that you create to their customer base of collectors.  Then, they take a cut – usually a huge one.  Some galleries will take 50% or more of the sale price. It's no wonder that people think artists starve!
---
Let's face it, the old way of selling your work through a gallery or dealer is a "tough road to plow".
---
Sure, most galleries do the marketing for you.  For most of us artists, that's the hard part anyway.  But there are so many ways to market your art today that the need for artist representation is going away.
You can sell your art in a number of ways online and if you haven't been living under a rock, then you've probably heard of one of the most popular ways to do it.  You can sell your art on Etsy!  You don't have to be a marketing genius  to make good money selling your art on this platform either. Many artists and craftspeople make a full-time living selling their work on Etsy.
Sure, like a gallery or dealer, they take a portion of your profit – but it's so low in comparison, it's definitely worth a shot.
In this post, I'll show how to set up an Etsy account, set up a shop, and post your first art work. I'll also share a few pointers on selling your work on Etsy and how you can get the word out about what you're selling.
Set Up Your Etsy Account
You'll need an Etsy account to get started, so we'll take care of this first.  Head over to Etsy and click on the "register" button in the top right corner.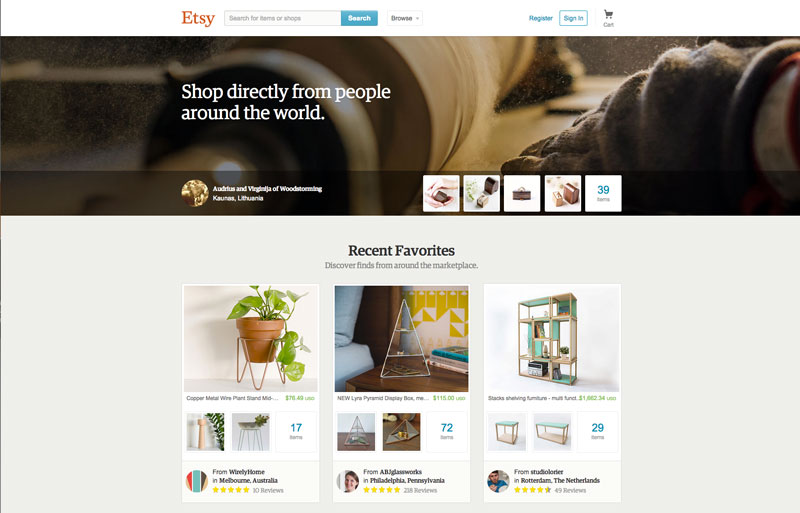 Now you'll just need to put in your name, your email, create a password, and a username.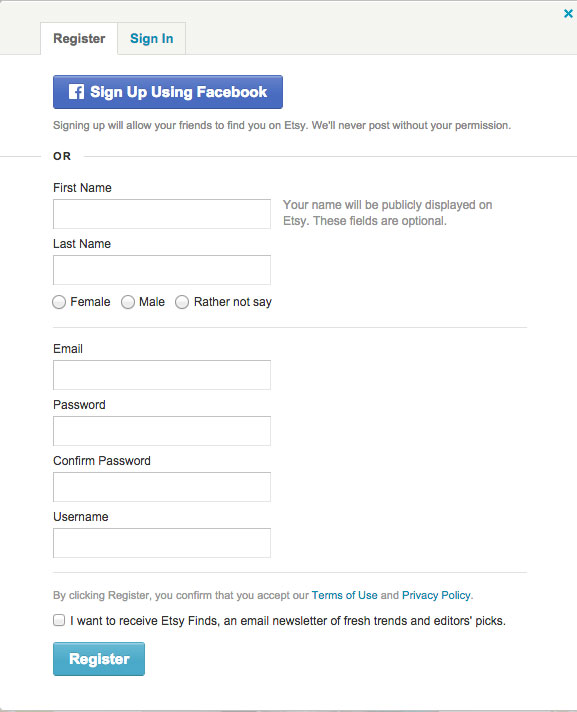 Next, you'll need to confirm your account by checking your email and clicking on the confirm button.

Once your account is confirmed, you can login.  You can go shopping if you like and see what others are selling. We are selling, so the next step is to set up our shop and our first product.
Set Up Your Shop
To set up your shop, scroll to the bottom of the page to the footer.  There, you can click on the button that says "Open a Shop".

A page will open up that tells you all of the great things about owning a shop.  You can (and should) familiarize yourself with how Etsy works.
The big things…
It costs $.20 to post an item for 4 months (or until it sells)
Etsy collects a 3.5% fee on the sale
There are no membership fees
A valid credit card or a PayPal account is required to sell
Once you are familiar, click on the "Open an Etsy Shop" button.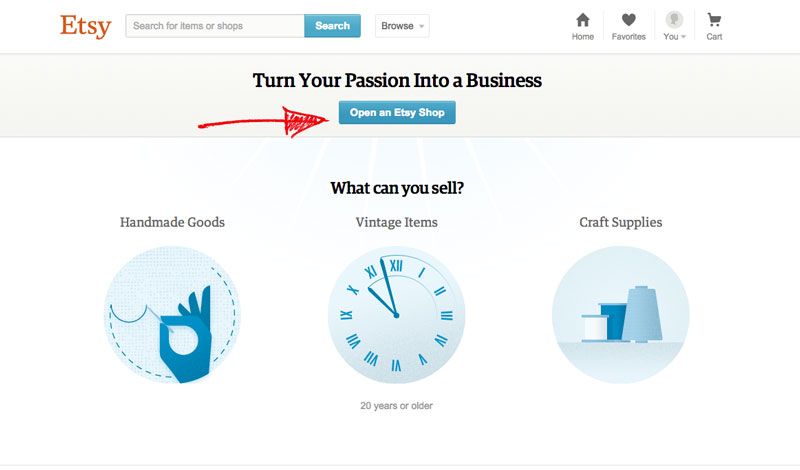 The next step is to name your Etsy shop.  Be creative with your name.  It's how your customers will identify with you.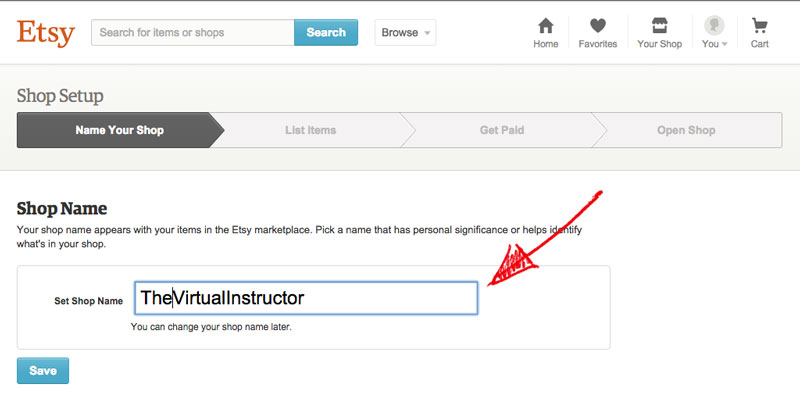 Post Your Etsy Product
Now that your shop is set, you'll need to fill it with your art.  Remember, Etsy will charge you $.20 for each item for a 4 month listing.  Click on "List a new item" to get started.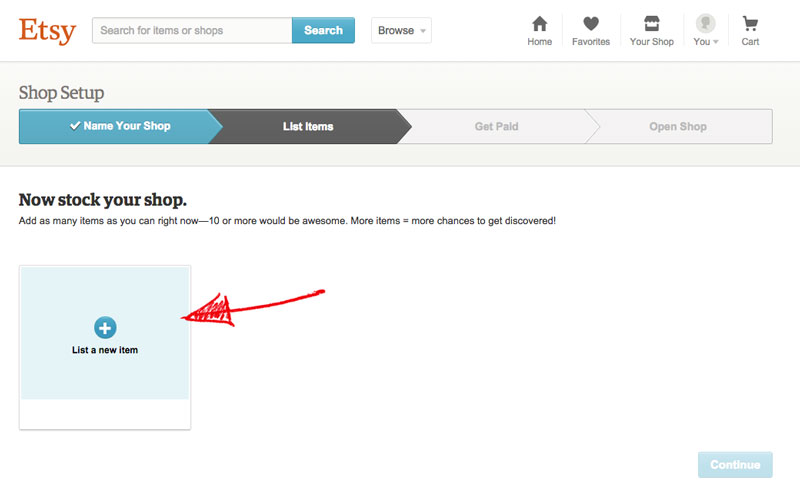 Next you'll need to enter information about the art that you are wishing to sell.  Be as detailed as possible in your listing and let your customer know exactly what they will be getting.
The first few sections are pretty straight forward.  You'll designate the who made it, what it is, and when you made it.
It's important to point out here that if you wish to be commissioned to create a work, you can indicate that here.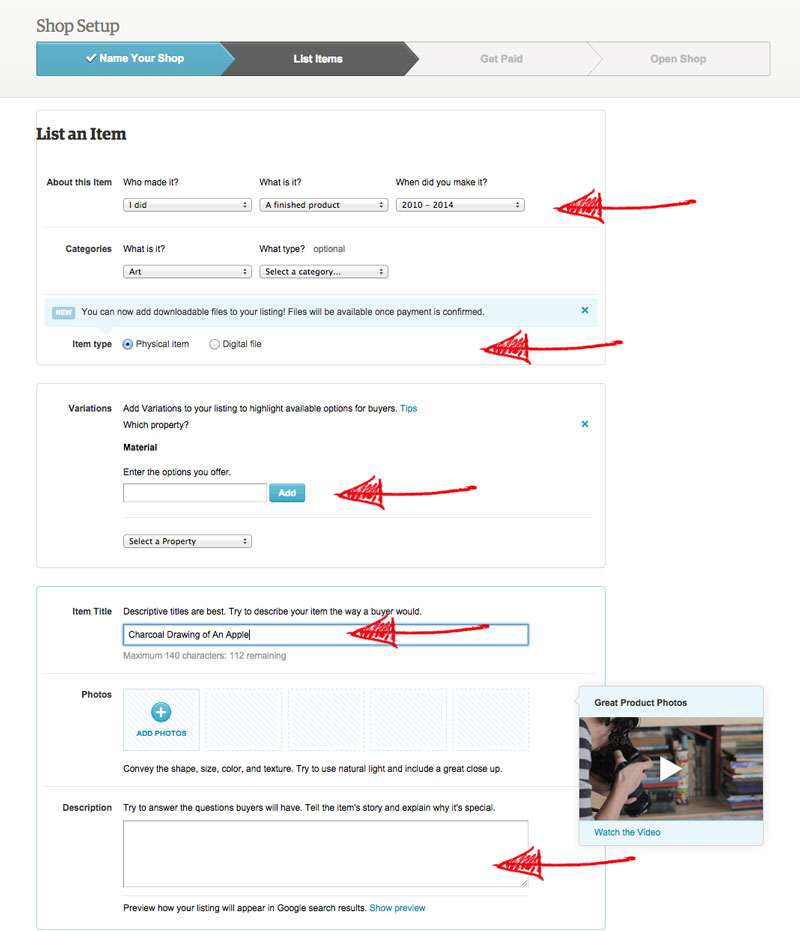 You'll describe what material (medium) in which the art was created.  Give the art a descriptive title (one that customers will be searching for) and a description.
Use as many words that you think people will be searching for in your description. This will increase the likelihood of your art being found on Etsy.
You'll also need to upload a photo of your work.  Make sure that your photo is presented well.  If you need some help with photographing your art, you can check out this post.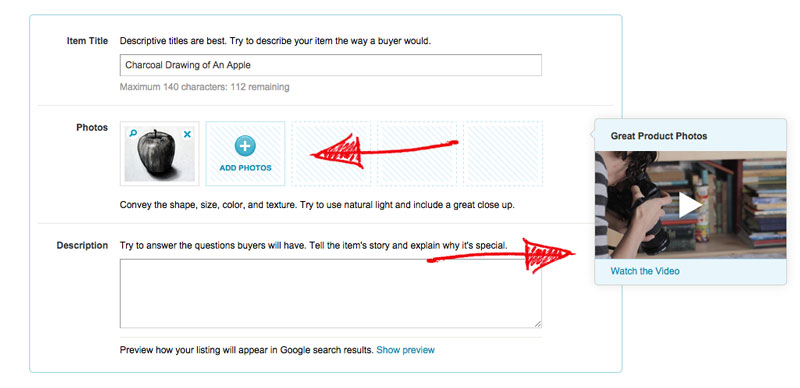 Etsy also provides a handy video on photographing your "product".
Now you can preview your listing on Etsy.  This gives you an idea of what your customers will see when they click on your art.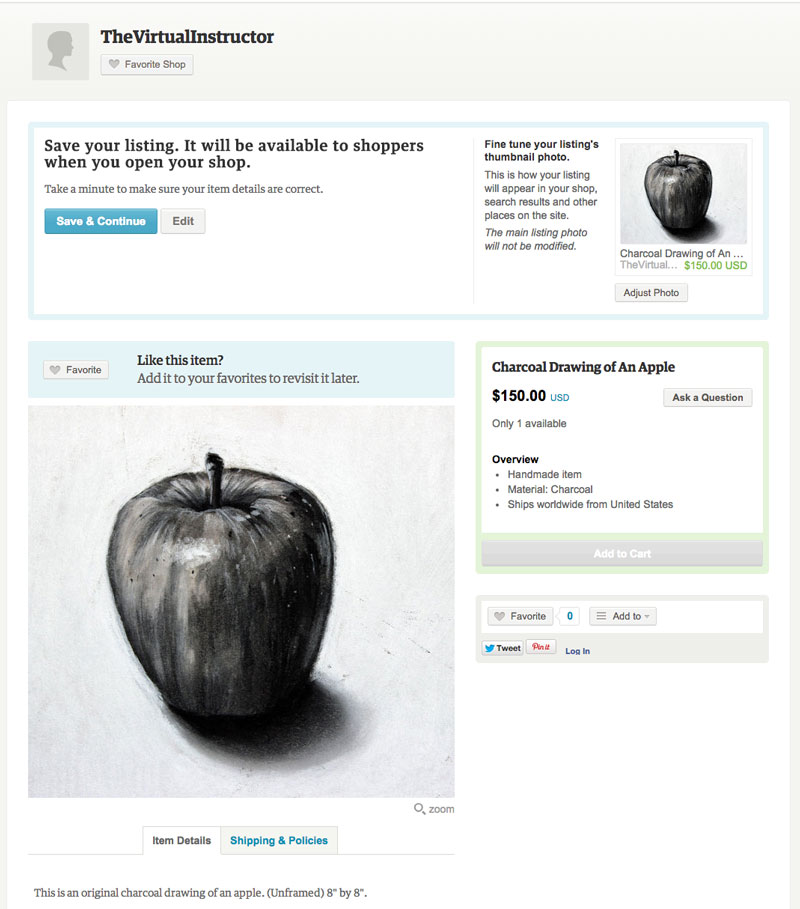 The last step is to put in your bank's information so that you can get paid when your work sells.  This is also the account in which Etsy will withdraw their modest fees.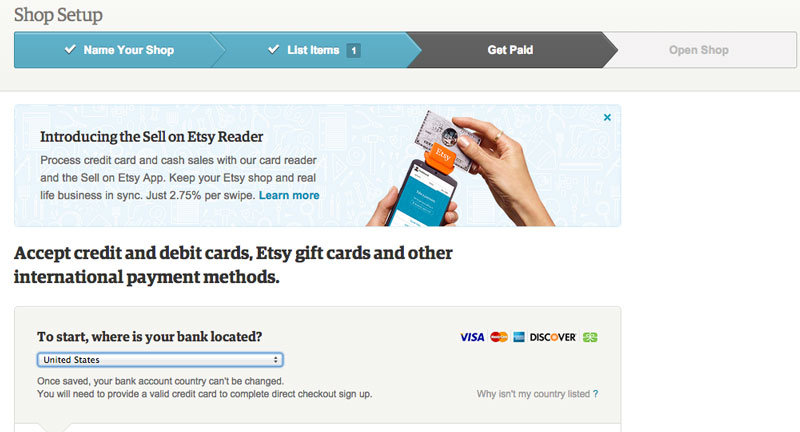 Once your bank info is stored, you can customize your shop and start selling.
A Few Suggestions For Selling on Etsy
Here are few suggestions to help you find more success with your selling…
Take a Look at What's Out There – Do a little "shopping" on Etsy and see what people are buying.  This will give you an idea of what you can make and what people are willing to pay for.
Do a Price Check – While you're "shopping", check the prices that others are charging.  Are you pricing your work too high – or worse, too low?
Consider Selling Prints –  Many Etsy sellers create prints of their work.  The benefit of doing this is that you get to keep the original while charging far less for the work.  Most Etsy shoppers won't mind buying a print.  An added benefit is that you can resize the image and offer various sizes and versions, increasing the chance that someone will make a purchase.
If you do decide to sell prints, make sure to have high-quality prints made by a professional printing company.  You need to be sure that the prints that you sell will "stand the test" of time.
Appeal to the Masses – Create art that centers around a specific theme or subject that appeals to a large number of people. Don't get too "deep" or personal with the art that you are wanting sell. Keep it light and universal.
Getting The Word Out
Once you've got great art to sell and your shop is live, you'll need to start sending customers to it.  In other words, you'll have to do a bit of marketing.  Fortunately, this isn't as hard or intimidating as it may sound.
Facebook – The first place to "market" is within your own networks.  Share your new shop with your friends on Facebook and encourage them to share it with their friends.  Many of them will do so and you will immediately have a small customer base.
Pinterest – Share your art on Pinterest. Create a board with your work and link back to your shop.
YouTube – Create a YouTube channel where you talk about your art, describe your process, and maybe show the steps that you took to create it.  In the description section of the video or in the video itself, link to your Etsy shop or product.
A word of caution…Don't be too "sales-y" in your videos. People will be turned off if you push too hard.
It will take some time to get YouTube followers, but overtime this can a great avenue to sell your work.
Never has it been so easy for artists to sell directly to their patrons. Why not take advantage of Etsy and start selling your work?
Are you already selling on Etsy?
Like This Lesson?
If so, join over 36,000 others that receive our newsletter with new drawing and painting lessons. Plus, check out three of our course videos and ebooks for free.
More Lessons You'll Love…