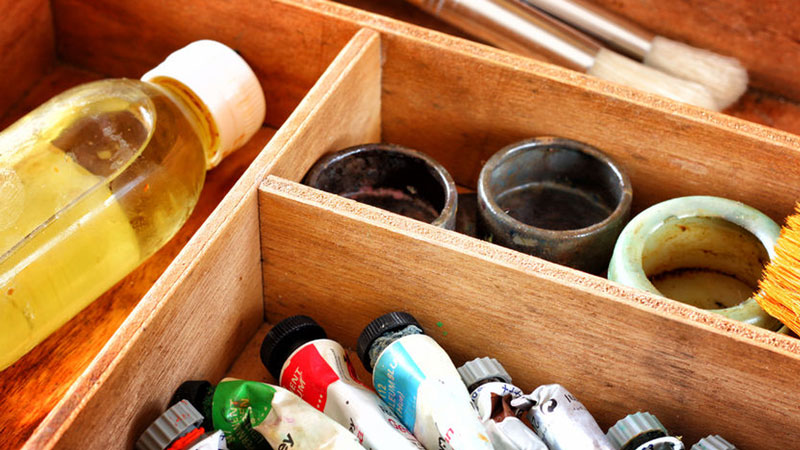 I was in my second year of art school when my life changed. Well, my artistic life anyway.
It was in a special course for illustrators, appropriately named "Media and Methods". It was taught by a visiting professor who was just barely out of Grad school. Looking back, I think that he taught this course only because the other "established" professors didn't want to. They were "specialists" after all. How could a "painter" teach someone a drawing medium – absurd.
The course, as it names implies, was all about exposing students to different mediums and techniques. Students were required to produce works in ink, colored pencils, pastels, various forms of painting, and mixed media. In other words, many of us were to be forced from our "comfort zones", as each of us had our own strengths and liked to stay within them.
In the competitive environment of art school, this was quite concerning for me. You see, I was an artist that worked exclusively in black and white. Graphite, charcoal, and pen and ink were my specialities. I had decided way back that this was the artist that I was meant to be. Color and I just didn't get along. So, even in my second year of art school, colored pencils and pastels were a bit scary for me.
---
"So, even in my second year of art school, colored pencils and pastels were a bit scary for me."
---
Scary or not, I was required to work in these mediums. But unlike so many of the other classes I had been in thus far, this experience was to be different.
None of my previous instructors, to this point, ever took the time to actually show us how to use a medium. Instead, they would just give us an assignment, a few days to complete it, and then tell us in the critique how we did it all wrong. Needless to say, this is not an effective way to "teach". But that new, young, visiting professor took a different approach in his class.
On the first day of the class, he had us fill out a form. On it he asked, "What is your strongest medium?" Without hesitation, I wrote in "Graphite".
The next day that class was in session, we were all given a schedule. Specific to our strengths, we were to teach the class a drawing or painting medium. I was to teach graphite. Others were assigned other mediums.
How I Found My New Loves
The class functioned in a unique way. Each artist shared their strongest medium and we all benefited by tips and techniques that we each had picked up along the way. Soon, the competitive nature of the class dissipated as we all collectively shared and grew together. No longer were we on "an island" of experimentation. We were learning together.
It was in this class that I grew the most during art school. I discovered a love for color, colored pencils, and pastels. One that would have never been found because of my stubborn obstinance against them prior to this experience.
But because I was forced to explore other mediums, and get serious with them, I was able to grow artistically. Without this exposure, I would have spent the rest of my time in art school and beyond confined to the mediums that I thought were "right" for me. Essentially, I would have not only limited my own breadth as an artist, but also the enjoyment that I have found in creating with the color mediums of pastel and colored pencils.
---
"Your artistic voice is found in your message, not in the medium that you use. When you expose yourself to other mediums, you may find that you actually have a lot more to say."
---
So why do we as artists limit ourselves? Why do we feel that we must find our identity in the medium that we use?
Leonardo didn't feel this way, neither did Michelangelo. These guys did not restrict their creativity to one drawing medium. So why should we?

It's Good to Be Uncomfortable
It's easy to get comfortable. It's nice to be reinforced by success. When we try something new, we forego these things. I think that this is what stops many of us from exploring. Or perhaps, we've tried it before and failed.
Maybe it's time for you to branch out as well. Maybe it's time to try out that medium (or try it again) that is "scary" for you.
Here are a few tips to help ensure a better chance of success…
1. Educate Yourself on the Medium – Before diving in, read and watch everything that you can about the new medium that are about to undertake. Be careful that you aren't overconfident and allow yourself to be open to other's instruction. When you do this, you find that "Ah-Ha" experiences are plentiful. However, don't go "overboard" with educating yourself without actually making marks and experimenting.
2. Let Your Style Shine – Our artistic style is as unique as our handwriting. You'll find that your style will show itself in the new medium. Embrace it. Don't get caught up in making your art look like someone else's. Your style is yours and nobody else's.
3. Be Open to Failure – Seldom will your first work in a new medium be a "Masterpiece". In fact, in most circumstances that first work may look like a "failure". But it isn't a failure, because that work embodies growth and a learning experience. Recognize that this is part of it. Too many people try a new medium and expect immediate results. They hastily determine that they "can't" and never try again. This is a mistake.
Your artistic voice is found in your message, not in the medium that you use. When you expose yourself to other mediums, you may find that you actually have a lot more to say.
So, what about you? What new medium are you going to try today?
Like This Lesson?
If so, join over 36,000 others that receive our newsletter with new drawing and painting lessons. Plus, check out three of our course videos and ebooks for free.
More Lessons You'll Love…