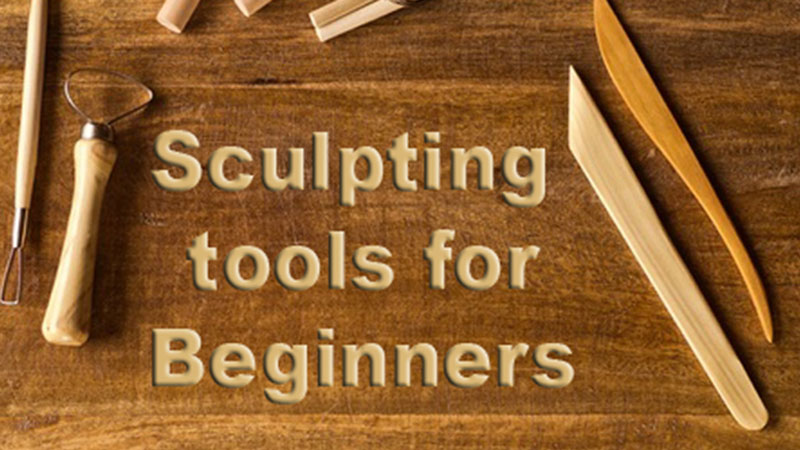 Sculpting can be a rewarding and therapeutic form of art making. Working with hands directly with medium is a unique experience. Unfortunately, many sculpting materials are expensive or not conducive for use by beginners. In this post, we'll take a look at some sculpting materials that are easy to find, inexpensive, and most importantly – appropriate for beginners (and young artists).
Before we look at sculpting materials, let's briefly discuss sculpting processes. There are basically two "umbrellas" sculpting processes fall under. These two "umbrellas" are additive processes and subtractive processes.
Additive sculpting processes involve adding materials to "build up" the sculpture, where subtractive processes rely on the removal of the material to "reveal" the sculpture. Additive techniques include modeling and assemblage. Materials typically used for additive processes include clay, wax, and plasticine.
An example of a subtractive processes is carving. Typical materials used for subtractive processes include wood, plaster, and marble.
Obviously, some of these materials may not practical for beginners. So, let's take a look at a few that are.
Materials for Additive Sculpture Processes
Model Magic – Model Magic is made by Crayola. It is a non-toxic and inexpensive sculpting material that air dries. It can be painted with water-based paints when it is dry. It's fairly sticky stuff and will adhere to an armature pretty well. Art snobs may turn their nose up at Model Magic, but it's an interesting sculpting medium that's perfect for beginners that want to have an experience with modeling without the mess or the expense.
Plasticine Clay – Plasticine clay is colored, oil-based clay. It's what most of use think of when we think of modeling clay. Because it is oil-based, it will not dry out. Most plasticine clay is labeled as non-toxic, but I wouldn't recommend using it with smaller children. It's also pricey. If you are considering a larger sculpture, then plasticine clay may "break the bank". But for smaller sculptures, maquettes, or just playing around, plasticine may be the way to go.
Polymer Clay – Polymer clay is actually PVC. Liquid is added to make it pliable enough to be formed and shaped. Pigment is added to the clay to give it its color and it comes in a wide variety of them. The more you work the polymer clay, the easier it is to work with.
Small or weak hands may have some problems manipulating this modeling material when they first start working with it. Polymer clay can be baked in the oven to fix it into shape. This makes it a popular material for making small pieces of jewelry. Polymer clay, however is the most expensive modeling material on this list. You are pretty much limited to small sculptures with this material.
Air Dry Clay – There are a few companies that make air dry "clay". Each of these products vary greatly in quality and price. For children, your best bet may be with Crayola Air Dry Clay. It's very inexpensive, non-toxic, and can be painted when its dry. For more developed artists, AMACO Marblex Self-Hardening clay may be the way to go. It's relatively inexpensive and can result in professional results.

Home Made Play Dough – My mom made me homemade play dough all the time growing up and I loved it. It was warm and mushy and she would make it any color that I wanted. It's incredibly easy to make, non-toxic and fun. But this medium is pretty much for kids and open-minded adults. Don't expect professional results from homemade play dough. Here's a recipe.
Materials for Subtractive Sculpture
Soap Sculpture – Soap is a great material for carving. It's safe and well-very clean. Dull blades can be used and still create good details. Soap is also inexpensive and perfect for a class project. The best part is that the cheaper soaps are better suited for sculpture!
Plaster of Paris – Plaster of Paris is easy to find at most art stores. It's inexpensive and easy to mix. Pour it into empty paper milk cartons. Peel away the paper after it sets, and you're ready to create a sculpture. Use a rasp and sand paper to remove the plaster to reveal your sculpture.
Balsa Wood – Balsa wood is soft and pliable. It's extremely easy to carve. It makes a suitable wood for beginning carvers. Balsa wood can be picked up at most art stores, but larger pieces might have to be special ordered. Balsa wood is not very expensive, but it's not cheap either. Carving with Balsa wood might not be suitable for younger artists, since sharp knives are recommended for carving.
This list should get the beginning sculptor on their way.
Like This Lesson?
If so, join over 36,000 others that receive our newsletter with new drawing and painting lessons. Plus, check out three of our course videos and ebooks for free.
More Lessons You'll Love…