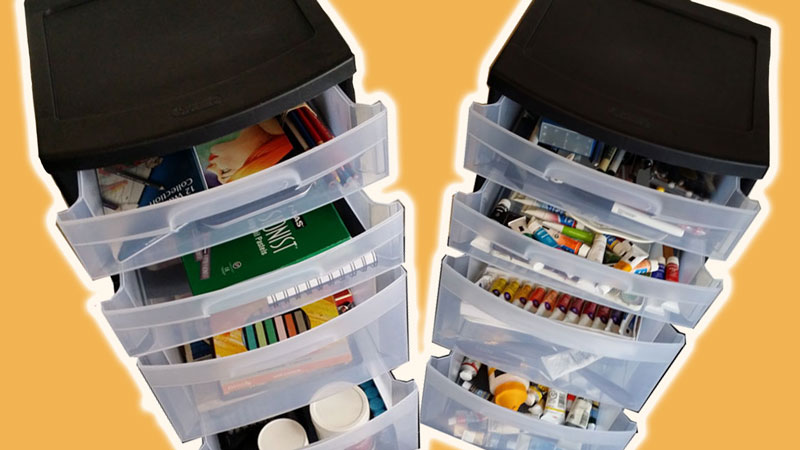 The care that goes into taking care of your art supplies is important. The last thing you want is to invest all of that money for high quality brushes, pencils, paint, etc. only to leave them lying around in a disorganized fashion.  Organization of your art materials is essential,  and storing them in a responsible manner is an absolute "must".  We all want to get the most out of the products that we purchase to make our art, so logically we have to take care of them when they are not in use.  
Considerations for Organizing
The reasons to organize your materials may be obvious, but I'll go ahead and mention them…
1. To know where your supplies are when you need them
2. Keep your supplies in good shape so they're ready for use when you need them
3. Keep materials dry, protected, and separate from each other
There are lots of ways this can be accomplished – even some incredibly creative ways – but most people choose to organize art materials in a container or bin.  Some of these containers are portable while others are more permanent solutions.
Here's a look at a few options for storing art materials…
Portable Art Supply Storage
There are quite a few products on the market for storing art materials for portability.  Manufacturers have created "tackle-box like" containers that feature multiple compartments, and the larger versions will hold a lot of stuff!  Different sizes of containers are available based on the need.  Smaller containers are best when you actually have to carry your materials around with you – like to a class or workshop.  The larger containers, while portable, can still work as complete organization solutions.
For quite a while I used a large portable container to hold much of my art supplies.  Here's a look at that container and how it's currently organized…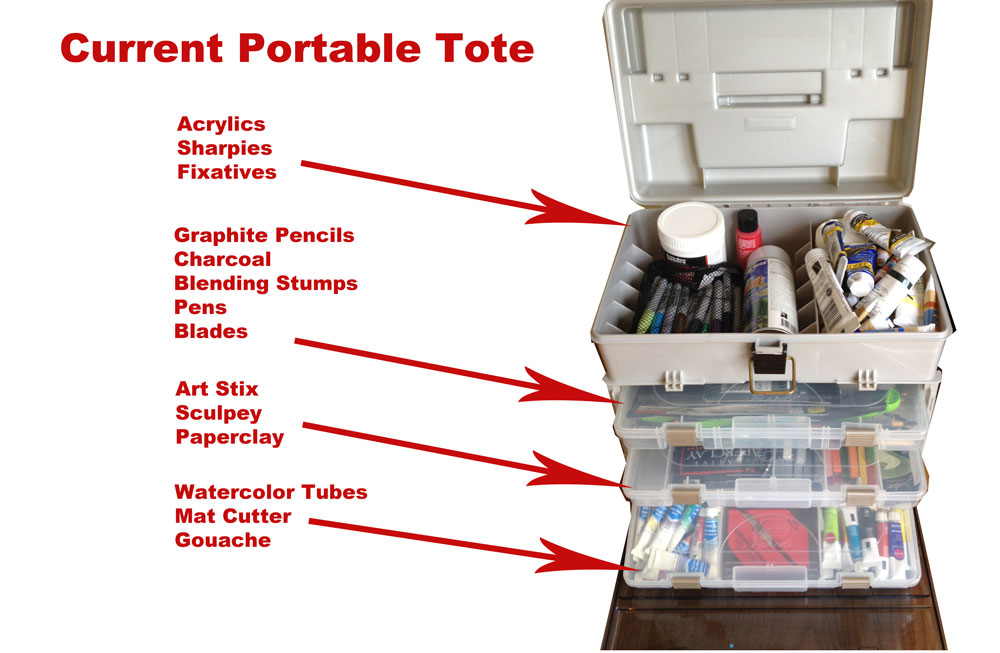 Each compartment keeps the materials dry and separate. This container is definitely one of the larger ones on the market. 
Since I don't currently have the need to tug around these supplies, I've switched over to a more permanent solution.

Art Supply Organization for Lots of Materials
If you have a large quantity of materials to organize, a portable container most likely will not be enough.  In this case, it's time to look for more permanent solutions.
I have my supplies organized in two vertical bins that are about 2.5′ tall.  The bins feature rollers so I can move them around if need be.
Here's a look at how I have them organized…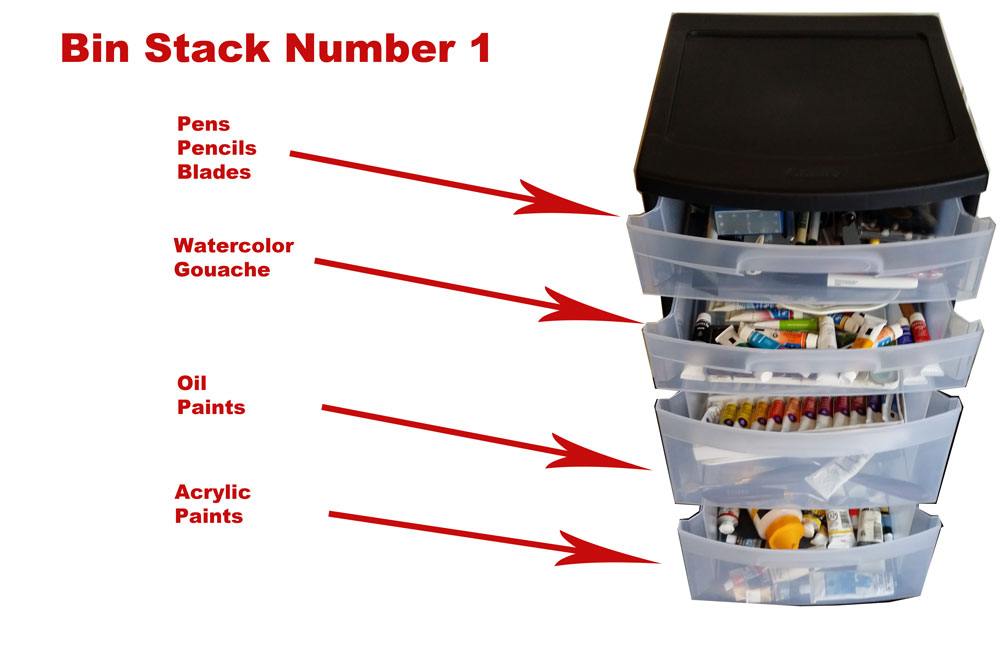 And here's a look at bin number 2…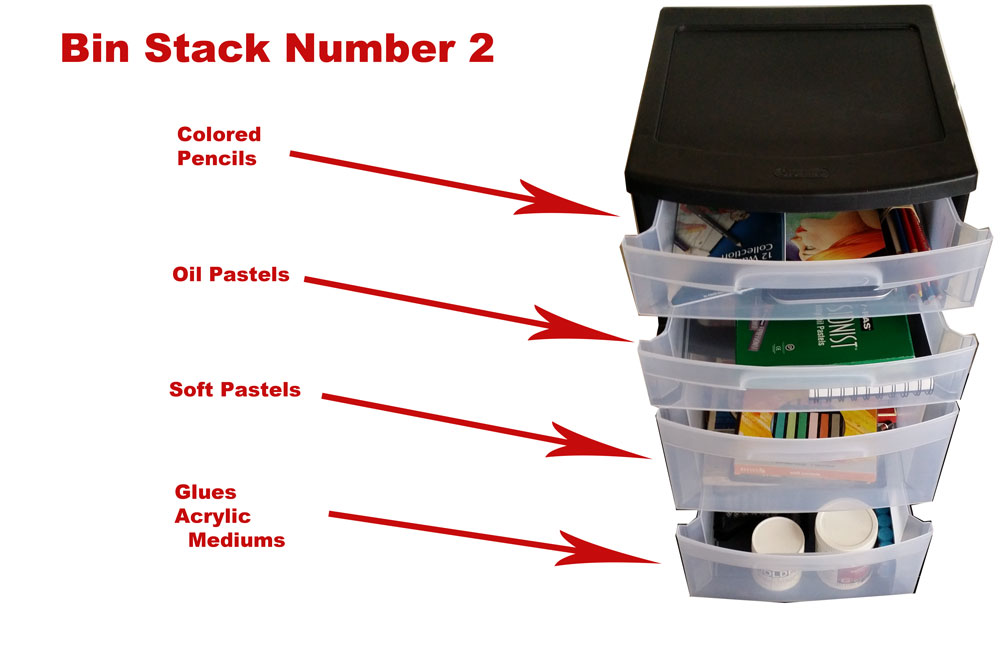 For pencils and brushes that I use often, I use a pencil and brush kiosk…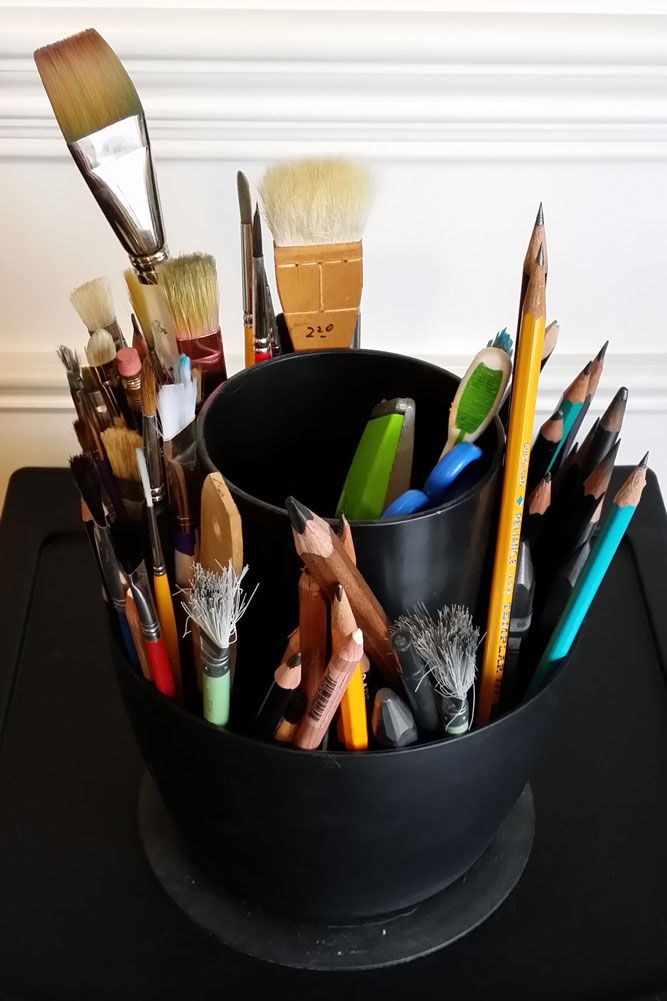 The solutions that I use for organization are inexpensive.  There are more expensive solutions available that are more attractive, but these do the trick just as well.
How do you organize your supplies?  Got any ideas to share?
Like This Lesson?
If so, join over 36,000 others that receive our newsletter with new drawing and painting lessons. Plus, check out three of our course videos and ebooks for free.
More Lessons You'll Love…