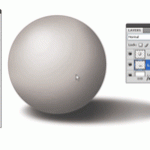 Don't have a tablet? So what! You can still create great drawings in Adobe Photoshop without a tablet. All it takes is a good understanding of the tools available for drawing in Photoshop, and a little bit of thinking. There are plenty of tools in Photoshop that will help you draw with a mouse. A new lesson posted on the site addresses this little issue of having no tablet. You can't use that as an excuse any longer because you can still create great drawings in Photoshop using only the mouse. It does take a little bit of practice but you will be amazed at how easy it can be. This lesson walks you through the steps of drawing a sphere using a mouse.
To see the full lesson click here-> How to Draw with the Mouse
You don't have to have Adobe Photoshop in order to draw with the mouse. There are plenty of online art pads for you explore and have fun with. Be sure to check those out. There are also a lot of free drawing programs that you can download as well.
Here's a couple of illustrations I created using only the mouse for drawing…