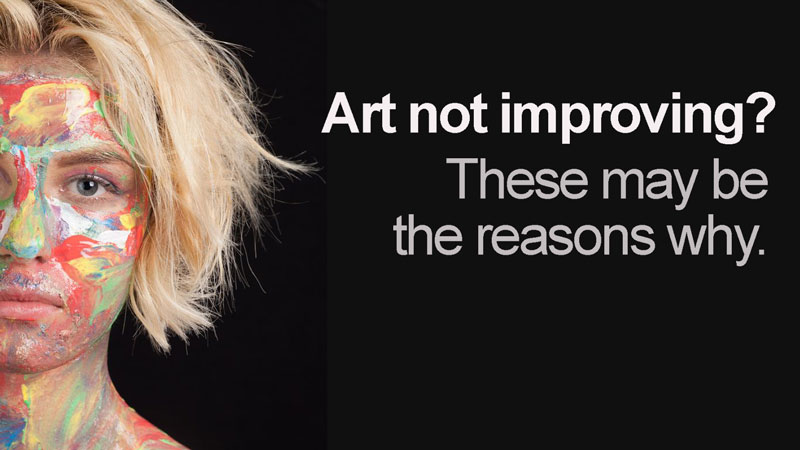 No matter your current skill level, we all want to improve as artists. Some of us are more interested in improving our drawing skills while some of us are more interested in developing our painting skills. We may have a specific medium that we'd like to master or a style that we'd like to develop. Or perhaps, we want to improve upon our artistic voice.
It can be frustrating when we want to see improvement, but it just doesn't seem to happen. We look at our drawings and paintings and don't notice any changes.
Frustration starts to eat at us and we begin to believe that maybe this just isn't for us. We begin to doubt ourselves and before long – we've completely pushed our art off to the side.
We make excuses like, "I just don't have the time for this right now". Or we may say, "I'd like to do this, but I just don't have this talent."
Deep down, we feel bad because we know that we are denying ourselves something that we love. Our "internal compass" is trying to guide us, but like too many other things in life, we make excuses for why we can't do it.
The truth is that we all have felt this way at some point. It doesn't matter if you are an absolute beginner or if you're a seasoned professional – we've all felt this resistance. It can be strong and for far too many folks – it is debilitating.
I've taught thousands of students over the years and counseled artists of all ages. Over this period, I've noticed several commonalities with students that don't seem to be improving. They express a desire to improve, but it just doesn't seem to be happening for them.
If you're struggling to see improvement in your art, read on to see if any of these pitfalls are holding you back.
You're Not Invested in Your Art
When we have "skin in the game", we give a bit more of ourselves. When we are invested financially, then we are more likely to see an endeavor through. We have something to lose if we don't.
We may like free things, but we really don't value them – no matter how wonderful or life changing they potentially may be.
If improving your art is really important to you, then you must invest in it. Are you serious about improving your skills or are you just a "dabbler"?
Purchase higher quality materials, invest in art courses, and spend some real, quality time studying and practicing.
You'll never learn how to swim if you just dip your toe in the pool. At some point, you have to jump in.

You Think You Have to be Talented
Drawing and painting are skills that can be learned – by anyone. It doesn't matter your background. It doesn't matter what anyone has said to you before. If you really want to draw and paint well, then you can – no matter how "talentless" you think you are.
Anyone can learn to read music and play an instrument. Sure, some of us may learn faster and some may have to work a little harder – but we all can do this if we want. Learning how to draw and paint is no different.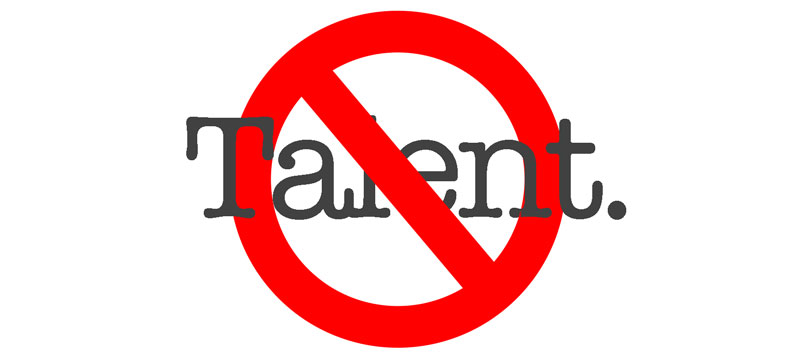 We can learn how to see as an artist, practice our skills to improve and eventually become a "master" – if we want. But this only happens if we believe that it's possible.
If we believe that it takes talent – that you either have or you don't, then we are likely to make excuses for why we can't. Instead, we should be looking at all of the reasons why we can. And we ALL can. But – it must start with a belief that you can, not a belief that it takes talent. The way most of think about talent is just wrong.
If you're willing to work hard, commit to improvement, and believe that it will happen – you will improve.
You Aren't Being Patient Enough
We have all become accustomed to "instant gratification". We eat "fast" food. We have an encyclopedia of information at our finger tips. We can communicate with people instantly and share our photos and videos without delay with anyone in the world. All of this is fantastic, but as a side effect, we have begun to believe that all things should happen quickly. We have become impatient.
The most meaningful accomplishments in life happen slowly. They don't happen quickly. They require a time investment. They require commitment.
Just think about your finest accomplishments – the ones that you are most proud of. I willing to bet that they took time to accomplish. They didn't happen overnight and they didn't come easily. If they did, then you wouldn't be proud of them.
When it comes to drawing and painting, improvement happens slowly. We have "aha" moments along the way, but the real improvement is gradual. Sometimes the improvement is so gradual, that we fail to notice it. And if we fail to notice it then we think that it's not happening.
Sometimes you just have to "stick to it". You have to keep going. After a period of time, you'll look back and see just how far you've come. But you'll only notice this if you stay on the path for long enough.
You're Expecting Perfection
Perfection is the goal of the artist, while perfectionism is the enemy. No work of art is "perfect", nor will any be. There are "mistakes" in every piece of art – some that we notice – others that are known only to the artist.
There's nothing wrong with striving for perfection. But there's something terribly wrong in believing that you'll achieve it.
You must allow the mistakes to happen. This is how we grow, and often – it's how a work of art evolves throughout the process. Each stroke of the pencil or brush is simply a solution to a problem – unique to the work, the subject, and the artist. None of the "solutions" alone are perfect, but as a whole – they engage us and satisfy us.
It's not about perfection. It's about how you as an artist presents solutions through the medium that you choose and the subject that you communicate. If you become too wrapped up in perfection and try to craft a perfect "solution" with every stroke, then you may lose what it means to be an artist.
You're Comparing Yourself to Others
You are unique. Of the billions of people on the planet, there is only one of you. No one thinks exactly like you. No one talks exactly like you and no one can create art exactly like you.
We all learn, make marks, and speak visually in vastly different ways. It's what makes us unique as artists. We must be careful of comparing ourselves with others because we risk losing what makes us original when we do.
It's okay to admire the works of others, to study their works and processes. It's okay to feel pride in what you create and work to develop your skills. But it's dangerous to compare. Instead of being envious of another's skill, figure out what makes their work so successful. Study and learn. Then practice and grow. But never lose what makes you unique as an artist.
You're Not Allowing Yourself to Play
The best creative discoveries happen when our minds are in a state of "play". We have to create a little room for ideas to grow.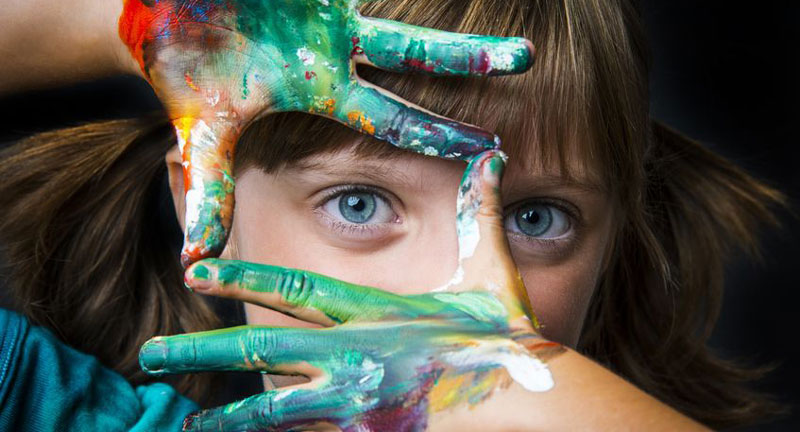 Photo Credit: Copyright: verastuchelova / 123RF Stock Photo
If you're approaching your art too rigidly or without an element of "fun", then you're likely to get frustrated and eventually quit over time. You're also likely not to find much improvement in your work because you're looking at it too closely.
Work hard to develop your skills, but make sure that you're having fun while doing so.
You're Not Taking Action
Improvement doesn't happen by watching. It happens through action. We can watch, learn, and gain knowledge but if we never actually put that knowledge into action, then nothing will happen.
We could watch hundreds of basketball games, but if we never go the court and actually play, we're not going to become good at basketball. Practice is essential.
Art making is no different. We can't watch time lapse video after time lapse video on YouTube and expect our art to improve. We have to seek out quality instruction and then actually take action to apply what we learn to our own work.
It's seems so obvious, yet so few actually take action. It doesn't have to happen all at one time and it certainly won't. But all action starts with one simple, deliberate step forward.
Like This Lesson?
If so, join over 36,000 others that receive our newsletter with new drawing and painting lessons. Plus, check out three of our course videos and ebooks for free.
More Lessons You'll Love…