Members of TheVirtualInstructor.com are able to vote on what courses are developed as part of the membership program. Voting takes place as the development and production of current courses conclude, the last being "The Watercolor Workshop". At the date of this writing, the membership program currently offers 5 complete courses and one mini-course.
As new courses are developed, they are added to the library of courses, recorded Live Lessons, lesson plans, and Member's Minute episodes that are already available to members. So, the library of educational content continues to grow over time.
Voting for the next member's course concluded on June 20, 2015 with some very interesting results. Here's a breakdown…
566 people took part in the voting. Participants were given the following choices:
Portrait Drawing
Figure Drawing
Acrylic Painting
Digital Drawing and Painting
Photoshop Crash Course
Art Marketing
Other (Participants were able to write in votes)
Here's a graphical breakdown how the voting went…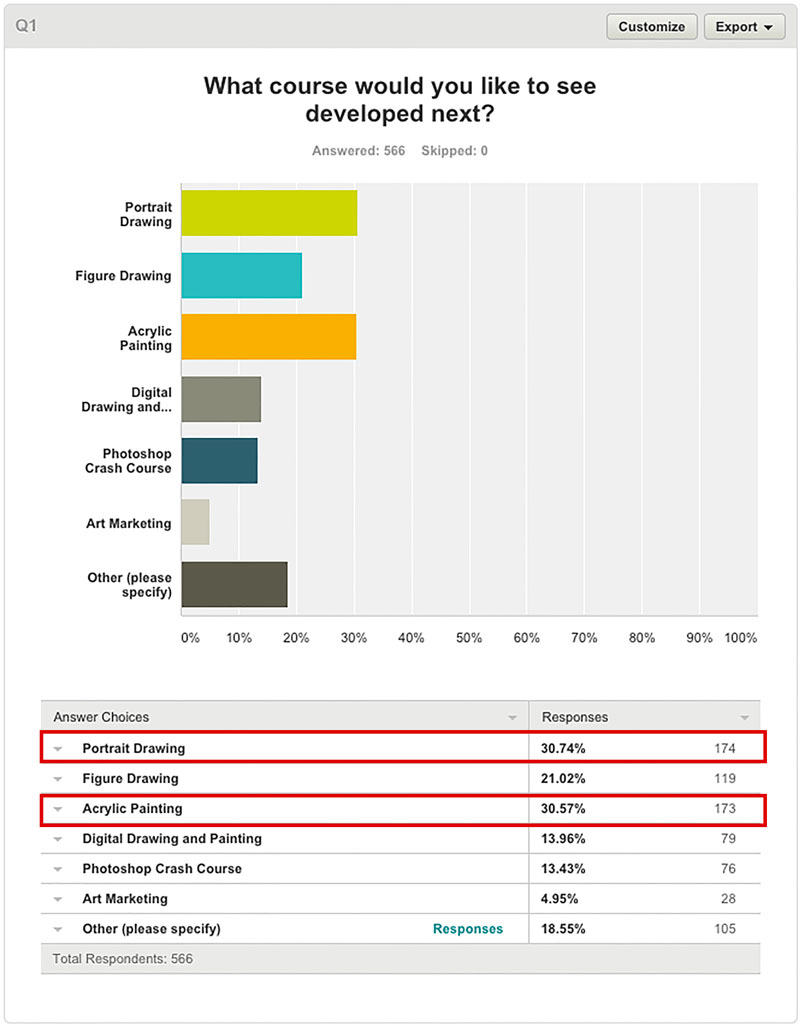 As you can see, the voting was very tight, with "Portrait Drawing" squeaking by "Acrylic Painting" by one single vote.
So, what does this mean?
Well, in considering how close the voting was, I don't think it's fair to just create the course for "Portrait Drawing" and completely ignore the acrylic painters out there that have been waiting on a course. So, I have made the decision to create BOTH courses. But wait there's more…(Always wanted to say that.)
Not only will I be releasing both of these new courses, but I will also be releasing a third!
I have been working behind the scenes to create a course on pen and ink drawing as well. So, starting mid-July, I will begin releasing course modules for all three courses as they are created.
A new course module (video and ebook) will be released every week or two for each course until all of the new courses are complete.
Here's an overview of what will be covered in each of the new courses…
"Portrait Drawing The Smart Way"
This course will be focused on drawing representational portraits with graphite. The goal of this course is to provide the learner with a practical approach to drawing portraits that accurately depict the subject.
Concepts covered include:
Facial proportions
Understanding the planes of the face
Drawing the head from multiple angles
Using triangulation and the grid technique for accuracy
Drawing the eye
Drawing the nose
Drawing the mouth
Drawing ears
Drawing hair
"The Acrylic Painting Academy"
This course will be focused on acrylic painting techniques. The goal of this course is to provide the learner with a comprehensive learning experience in acrylic painting.
Concepts covered include:
Materials and foundations
Surfaces and tools
Stretching and preparing canvas
Color theory and mixing
Using mediums
Underpainting
Glazing
Knife painting and Impasto
Scumbling
Composition
Still life painting
Landscape painting
Abstract painting
Varnishing and finishing techniques
"The Pen and Ink Experience"
This course will be focused on drawing with pen and ink, but will also include ink wash techniques. The goal of this course is to provide the learner with a comprehensive learning experience in drawing with pen and ink.
Concepts covered include:
Materials, tools, and surfaces
Using line and value
Shading techniques
Creating textures
Landscape drawing
Portrait drawing
Still Life drawing
Ink wash techniques
I expect to start releasing course modules for each of the new courses mid-July. Each module will be released as they are developed (every week or two). Of course, as each module is released, I'll be sure to let you know through the weekly newsletter. If you do not currently receive the newsletter, you can sign up here. (It's free.)
I am excited about the new additions to the library and I can't wait to get these new courses to you. As always, I'd love to hear what you think and what you'd like to see in each of the new courses. Just leave your comment below…
Like this lesson?
If so, join over 30,0000 others that receive our newsletter with new drawing and painting lessons. Plus, check out three of our course videos and ebooks for free.