Are you looking to purchase colored pencils, but are overwhelmed by the options? There are a lot of options out there for you. It can definitely be a little intimidating, especially if you're not really sure what you're looking for. It's important to realize that what's considered to be "the best pencil" to one artist may not be the best to another. There is so much variety in brands and forms of colored pencils that you have to find the brand that suites your style.
Since experimentation can become very expensive, I decided to put together a couple of comparison charts for you to help you make an informed decision about which colored pencils to buy. The pencil brands are sorted based on the binder used. Binder is the material that holds the pigment together.
Traditional colored pencils are held together by a wax-based or an oil-based binder. The binder affects how the pencils behave and what they are capable of. Most colored pencils are wax-based, but a few options exist for oil-based pencils. (More on the binder of colored pencils can be found a little further down this page.)
There are many different brands out there, but I chose to narrow the list to the best and most popular pencils that are in use. If there is a brand that you would like see, just contact me and let me know.
(Links below are affiliate links. This means we make a small commission if you purchase through these links at no additional cost to you.)
Wax-Based Colored Pencil Comparison Chart
The top choice in the chart below are the Prismacolor Premier colored pencils. They are super soft and buttery. They layer and burnish nicely. The only drawback is that they break easily, which can cause frustration for some. But this is a small price to pay to get high quality results.
Oil-Based Colored Pencil Comparison Chart
The top choice for oil-based colored pencils are the Polychromos pencils by Faber-Castell. They get my top recommendation because of quality and price. You'll get excellent results with this brand without paying too much. Oil-based pencils are not recommended for beginners, but are perfect for more experienced colored pencil artists.
What's considered in these charts…
These charts are compiled with the assumption that the colored pencils are to be used as a traditional drawing medium. Once considered more of an obscure medium for fine drawing, colored pencils have seen a recent surge in popularity. This new popularity is due in part to adult coloring books, new products and techniques, and a collection of highly-skilled colored pencil artists that are able to share what they create with folks around the world through the internet.
No matter how you plan to use colored pencils, the quality of the pencil remains indifferent. In other words, there isn't a perfect brand for adult coloring books compared to traditional drawing. If a pencil is of high quality, then it is considered high quality for both coloring and drawing.
Price
The first factor is obviously the price. For the most part with colored pencils, you get what you pay for. I understand that not everyone can afford the top quality pencils, but you'll see the difference in your work, if you can afford it. The range in price reflected in this chart is pretty wide – but so is the range in quality.
Binder Type
Binder is the material that holds the pigment together so that it can be applied to a drawing surface. The binder affects the marks and the way that the pencils behave on a surface. It also affects the tip of the pencil and the softness of the core. Most of the pencils evaluated here feature wax-based binders. The waxy binder allows them to be layered and burnished as additional layers are added. A drawback to wax-based binders is wax bloom. Wax bloom is what happens when a white surface appears on the drawing after a few weeks. It can be easily wiped away and potentially prevented using fixative. You can read more about wax bloom here.
Another option is oil-based binders. The binders in these pencils are different from wax-based binders. The difference in mark and layering is noticeable, especially if you are accustomed to a wax-based experience. Oil-based pencils layer nicely and provide rich color, just like their wax-based counterparts. Wax bloom is less of an issue with these pencils since they are oil-based.
Not all "colored pencils" are colored pencils. There are many specialty pencils that some people mistaken for traditional colored pencils. Watercolor pencils, for example, are different than traditional colored pencils and the manner in which they are used is also different.
If you want a bit more information on the differences between different types of colored pencils check out the following resources…
Qualities of the Colored Pencil
In my opinion, a quality colored pencil should possess a few qualities.
1. Rich color or pigmentation
2. Easily layered
3. Easy to burnish
4. Strong core (Doesn't break easily)
Of course, there are other considerations, but these four qualities are important to me. Unfortunately, no one pencil on the chart is the best in all of these categories. Prismacolor Premier pencils are easily layered and burnish easily, yet the core is very soft and brittle. Polychromos pencils feature a strong core, but Premier pencils are better for layering and burnishing.
My Recommendations
My recommendation for an artist quality wax colored pencil is Prismacolor Premier Colored Pencil. Premier pencils are super soft and buttery when layered. The colors can easily be worked together to create nice transitions between color and value. An incredible amount of colors are available and can be picked up at most art stores. The core is soft and breaks easily. These pencils are pricey, but well worth the investment.
My recommendation for an artist quality oil-based colored pencils is Faber-Castell Polychromos Colored Pencils . Polychromos pencils are simply awesome. These pencils are soft, yet keep a strong point. They layer nicely and mix easily. The core is very strong, so breaking is not an issue. Again, these pencils are expensive, but worth it.
My recommendation for Intermediate artists is the Prismacolor Scholar Pencil. You get a great value with this pencil. The pigment is not quite as strong as you'll find in the Premier series, but it's good enough to be a solid pencil. The colors blend and layer easily. Burnishing is also easily achieved. If you are learning and not quite ready to invest in the higher quality pencils, then this pencil is your best bet.
My recommendation for children and young artists are Prang Colored Pencils. These pencils are great for those on a budget or for those just starting out. There are lots of color options and the pencils are medium soft. They are difficult to blend and layer, but for the price – you can't do much better.
I hope this helps those of you out there that are looking for colored pencils and are unsure of where to start. If you have any other experiences with these pencils and want to share leave a comment below…
Check out the colored pencil tutorials.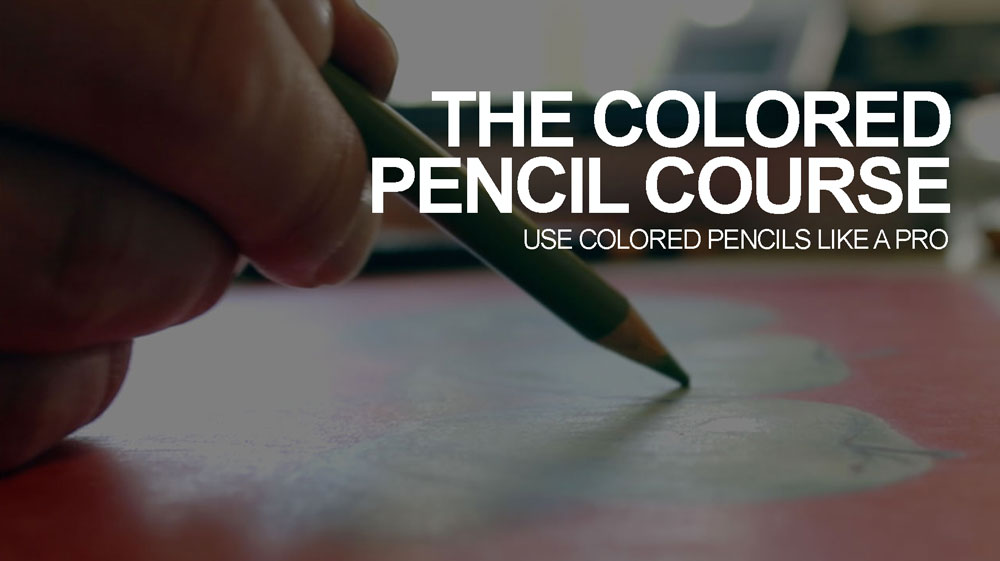 Like this lesson?
If so, join over 30,0000 others that recieve our newsletter with new drawing and painting lessons. Plus, check out three of our course videos and ebooks for free.
*I receive compensation for products or services that are purchased through this site.