Live Lessons:

"Winter Landscape" - Acrylics
This lesson series features:
9 Hours of Instruction
9 Videos
Lessons
About This Lesson Series...
In this 9 part lesson series, you'll create a winter scene with acrylics. Watch and learn as we cover every step of the process from start to finish.
Lesson 1 (1:02:48)
In lesson one, we develop a loose, graphite sketch of the composition and begin painting the background sky. We pull in a few purples and yellows as we start to define a color scheme. Since we're working with acrylics, we address the background first before moving on to the middle ground.
Lesson 2 (1:09:44)
In lesson two, we continue with the background, adding a few more indications of light and increasing the contrast. A larger brush is used for most of the applications as we lay on the colors quickly before refining the details. We also add a few more clouds and make the blues more intense.
Lesson 3 (1:01:01)
In lesson three, we work our way down to the middle ground and begin adding colors for the snow. A bit of blue is added to the white to create a more natural appearance. We also add a few indications of distant buildings with a just a few small shapes.
Lessons 4 - 6 (3:20:26)
With our base colors in place, we add the trees. By adjusting the viscosity of the paint, we create the intricate details of each tree. Branches gradually appear as our scene begins to develop into a more realistic painting. We also address the light, adding subtle highlights and shadows to each tree.
Lessons 7 - 8 (2:15:45)
Next we move down to the foreground, adding wisps of grass along the banks of the creek. The contrast created by the orange grass blades and the blue of the sky begins to make the painting pop. We also address the water by starting with a surprising color. We add highlights and shadows and create a subtle indication of ripples.
Lesson 9 (1:12:24)
In the last lesson, we add the final details and complete the painting. The water and the trees are refined along with the soft shadows found on the creek bank.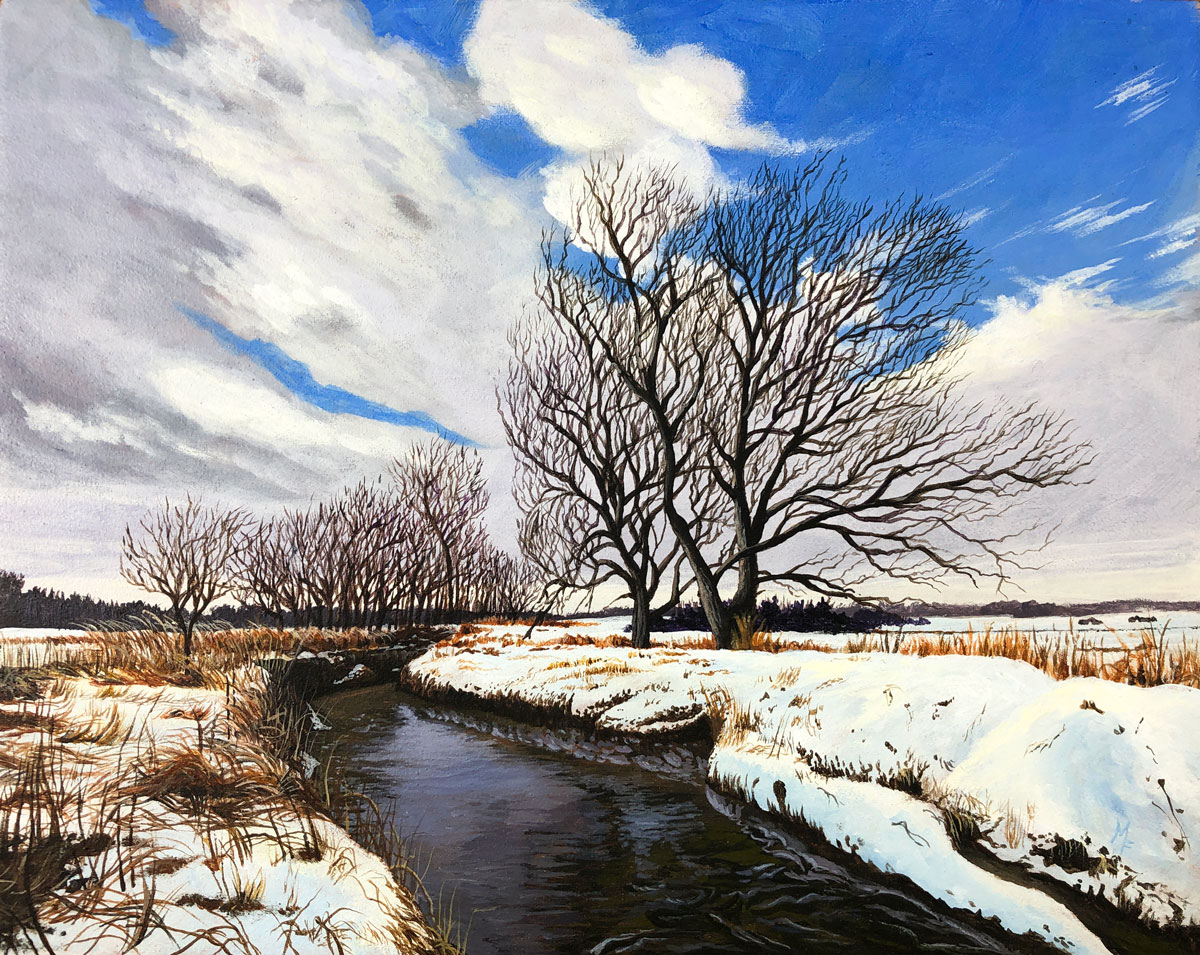 Resources for this Lesson...
References
Here's what you'll need...
Gessoed masonite
Acrylic paints
Graphite pencil
Nylon brushes
Water