GOUACHE PAINTING - "CANDY"
---
This lesson series includes:
8 HD videos • 9 hours of instruction
---
Your Membership Includes:
Unlimited access to all courses, ebooks, live instruction, lesson plans, and critiques.
Download all instructional videos to your computer to watch later without an internet connection.
30 day money back guarantee and easy cancellation.
Paint a Bag of Candy with Gouache (Opaque Watercolor)
In this lesson series, we'll develop a representational painting of a bag of candy with gouache, also known as opaque watercolor.
Lesson 1 (1:08:48)
In lesson one, we use a graphite transfer to position a contour line drawing of the subject in place on the painting surface. We discuss the properties of gouache and begin with our initial applications, filling in the shape of the bag.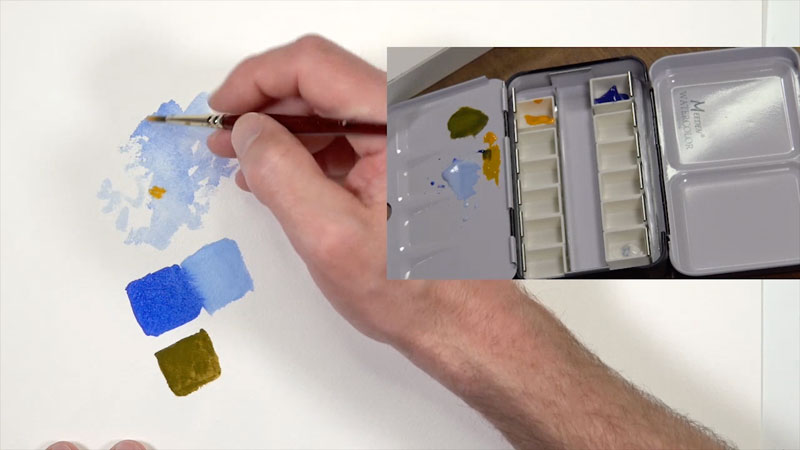 Lessons 2-3 (2:23:50)
In lesson two and three, we begin developing the relationships of value and tone to create the illusion of texture and the form of the bag. By working back and forth between shadow and highlight, the surface of the bag begins to look shiny and smooth.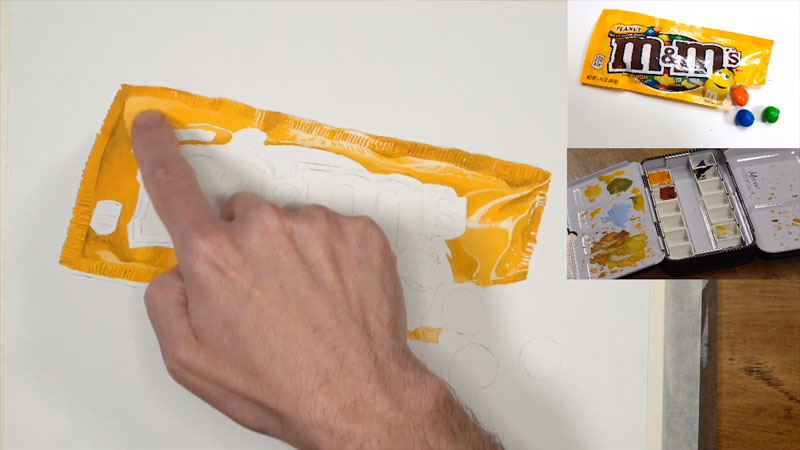 Lesson 4 (1:09:43)
In lesson four, we address the white parts of the bag. In this lesson, we see that "white" isn't usually white and is best addressed with variety of grays.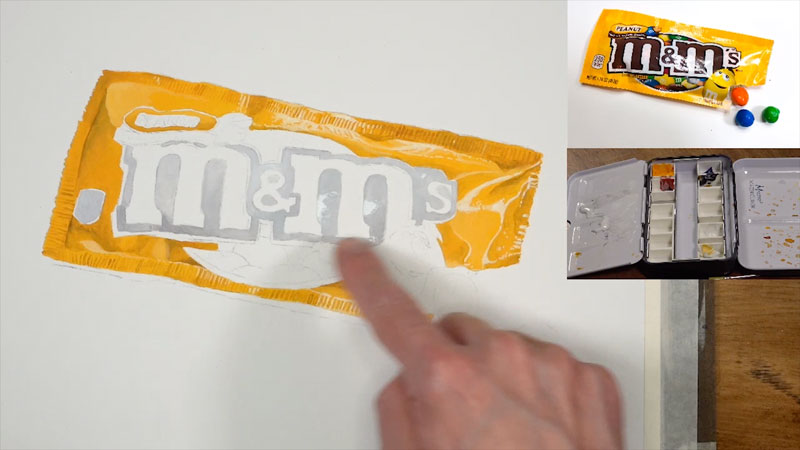 Lesson 5 (1:07:52)
In lesson five, we dive into the text. We mix a brown that matches the label and tackle the smaller text on the outer portions of the bag along with the larger text in the center.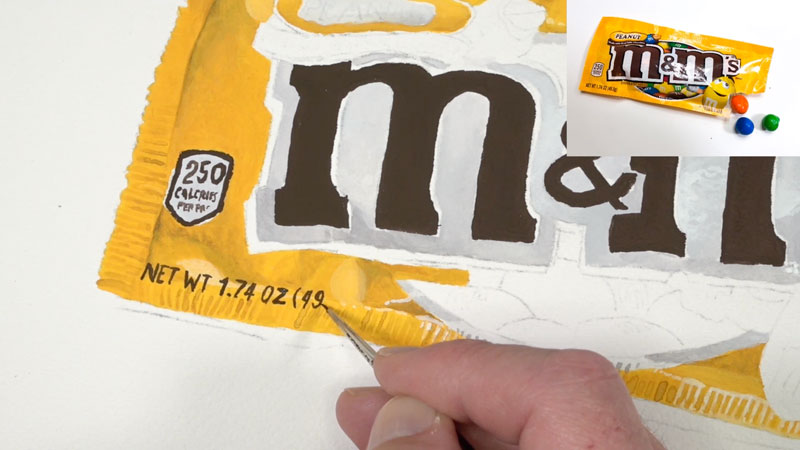 Lesson 6 (1:06:23)
In lesson six, we begin developing the pieces of candy on the label and the ones spilling out of the bag. You'll learn how to create the illusion of form by gradually building up lighter and darker versions of color and how to blend transitions of tone.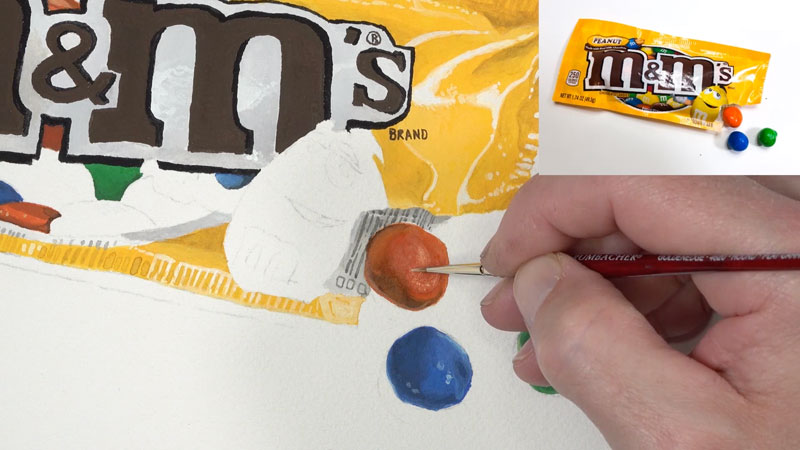 Lesson 7 (1:07:35)
In lesson seven, we continue developing the candies on the label and the remaining pieces on the outside of the bag, addressing each color individually.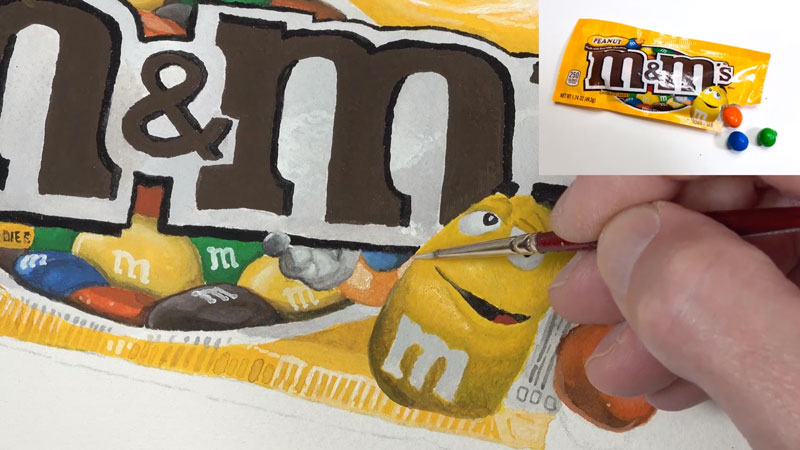 Lesson 8 (1:57:00)
In lesson eight, we complete the painting by addressing the character on the bag, the remaining sections of text on the label, and the cast shadow underneath the bag and candies.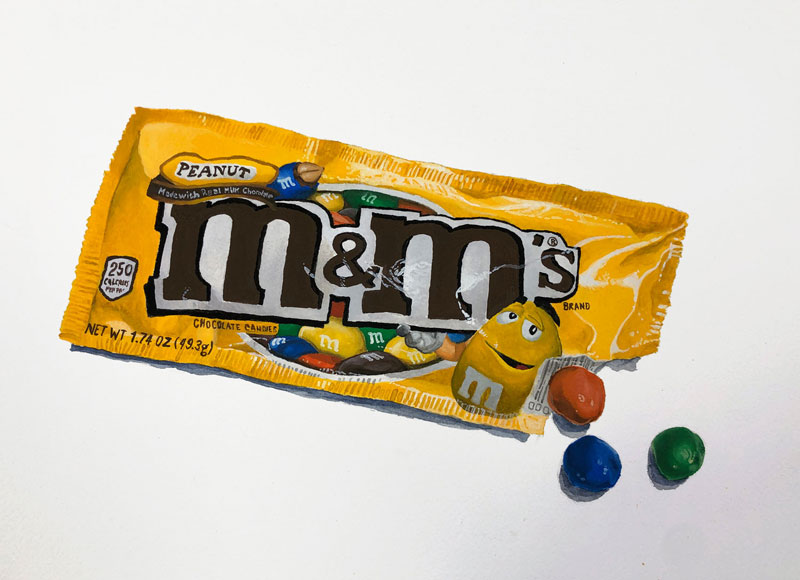 Ready to Get Started?
DESCRIPTION:
Learn and paint along as we develop a representational painting of a bag of candy with gouache (opaque watercolor) on color press watercolor paper.