Realistic Pencil Drawing:

Introduction and Materials
Over 5 Hours of Instruction
29 Videos
5 eBooks
30 Day Money Back Guarantee
Course Curriculum
Lesson Description
In this lesson series, we'll tackle our final challenge which comes in the form of a shiny sports car, a Porsche 911, surrounded by gravel and trees. A dizzying array of textures await us.
Lesson 1 - Materials and the Grid
In this lesson, we take a look at the materials used to complete the drawing. We set up our drawing surface with a grid and draw the contours.
Lesson 2 - Abstraction
In this lesson, we begin the process of developing the texture and value. We learn to look for the abstract shapes of value and include them in our drawing.
Lesson 3 - 77 Drawings
In this lesson, we continue working on the background and learn to approach our drawing one small square at a time.
Lesson 4 - Reflections
In this lesson, we work down into the body of the car and slowly develop the complex reflections.
Lesson 5 - Getting Grilled
In this lesson, we continue working down the body of the car and work our way to the grill where we find subtle transitions of value.
Lesson 6 - High Contrast
In this lesson, we address the front side panel of the car and develop the high contrasting reflections that face the light source.
Lesson 7 - Finishing Touches
In this lesson, we complete the drawing by addressing the wheels and tires, the rest of the body, and the surrounding textures.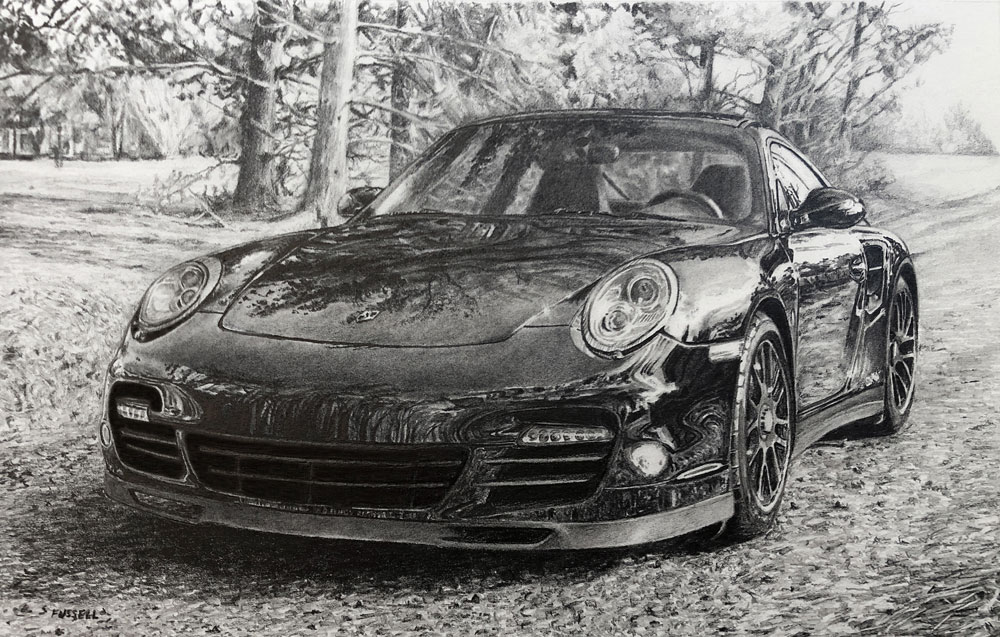 Lesson Materials
Stonehenge Warm White Drawing Paper
Lead Holder
Graphite Grades (2H, HB, 4B)
Blending Stumps
Precise Vinyl or Plastic Eraser (Tombow Mono)
Ruler
Electric Eraser (Optional)
Lesson Resources
References
Download eBook
Photo Reference
Gridded Photo Reference
Finished Drawing
Learn from ALL of our lessons.
Members get every course, live lesson, ebook, critique and lesson plan.