Live Lessons:

"Birch Trees" with Pastels
This lesson series features:
7 Hours of Instruction
7 Videos
Lessons
About This Lesson Series...
In this lesson series, we create a landscape that features birch trees and fall leaves with soft pastels on pastel paper.
Lesson 1 (1:10:52)
In lesson one, we discuss the materials and begin layering in darker tones and shadows.
Lesson 2 (1:11:04)
In lesson two, we begin refining the trees behind the main birch trees.
Lesson 3 (1:12:08)
In lesson three, we enhance the contrast and push color relationships to create depth on the left side of the picture plane. We also begin laying in tree branches with pastel pencils.
Lesson 4 (1:07:51)
In lesson four, we begin work on the trees on the right side of the picture plane.
Lesson 5 (1:02:44)
In lesson five, we complete the trees on the right side of the picture and add the overlapping branches and leaves.
Lesson 6 (1:07:53)
In lesson six, we redirect the path and address the grass and plants around it.
Lesson 7 (1:03:49)
In lesson seven, we complete the pastel painting and with the time remaining - we play a fun creativity boosting drawing game.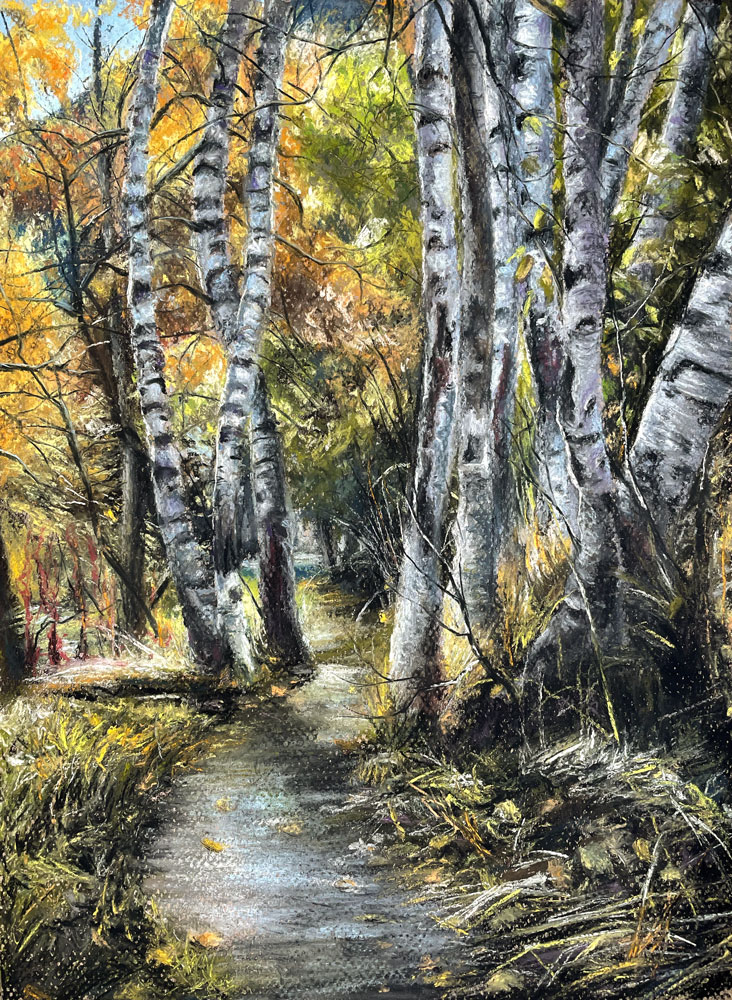 Resources for this Lesson...
Distributing any content downloaded from this site is strictly prohibited and against the terms and conditions of use.
References
Here's what you'll need...
Kneaded Eraser
Blending Stumps
(Disclosure: Links to art materials are affiliate links which means we make a small commission if you purchase at no additional cost to you.)