Many of you have asked for it and now it's here. Now you can save and print a personalized certificate of completion at the conclusion of any of our courses.
To save and print your certificate of completion, simply complete all of the modules from the course of your choosing and on the "Conclusion" page, click on the "Take the Quiz" button. After passing the quiz, you'll see a link to download your personalized certificate of completion.
Why Not Sooner?
You may be wondering why this feature hasn't been added sooner since other programs offer something similar. The answer is integrity. We wanted to make sure that there was a level of accountability associated with completing a course and that a certificate of completion from The Virtual Instructor held some credibility. We didn't want to offer a certificate for simply playing videos without the student retaining anything of substance.
To add this level of credibility, we created quizzes for each of the courses with questions taken directly from the videos and ebooks. Upon passing the timed quiz, you'll see a link to download your certificate.
CEUs for Art Teachers
CEUs, or "Continuing Education Units", are required for teachers to renew their licenses in most school districts. For some teachers, especially art teachers, these credits can be hard to come by.
With our new certificate system, we wanted to address the needs of the art teachers that use our program on a regular basis. On our certificates, we've included a suggested value for CEUs. In most circumstances, one hour of instruction is equivalent to .1 CEU. This means that courses like The Secrets to Drawing, which includes over 5 hours of course video, may be worth .5 CEUs.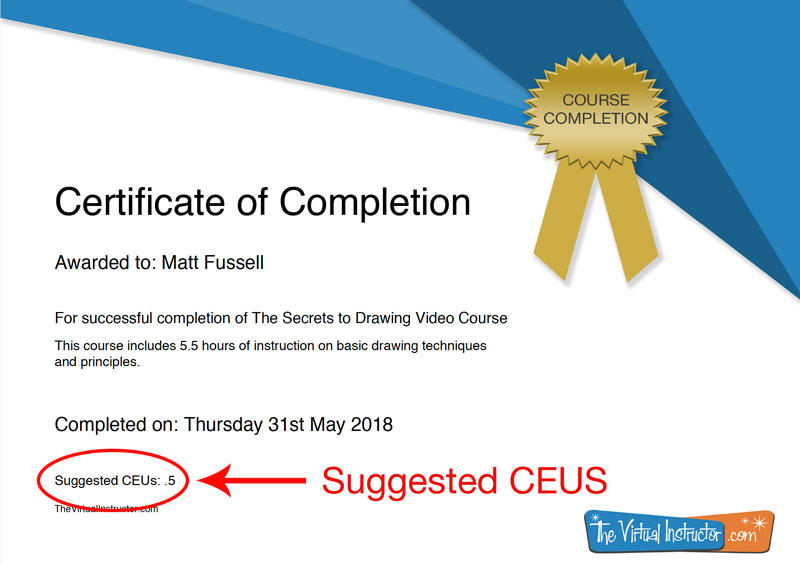 It's very important to note that every school system has their own system for tracking and evaluating CEUs. Some school districts have their own systems for issuing CEUs and as a result, may not consider courses that you take at The Virtual Instructor for CEUs. Please check with your system administrator to see if our courses qualify as credit for you.
However, since our courses are all taught by a qualified instructor and feature academic-based instruction that is used by art teachers across the world, our courses may provide the CEUs that you need for your subject area.
New Features Coming in the Future
We're committed to continue providing the best program for learning and teaching art. Over the years, we've continually worked hard to add new features, courses, and functions without compromising our core beliefs of affordability, quality, and integrity. We'll continue to do so as we innovate new features, learning experiences, and resources for artists and art teachers.
Like This Lesson?
If so, join over 36,000 others that receive our newsletter with new drawing and painting lessons. Plus, check out three of our course videos and ebooks for free.