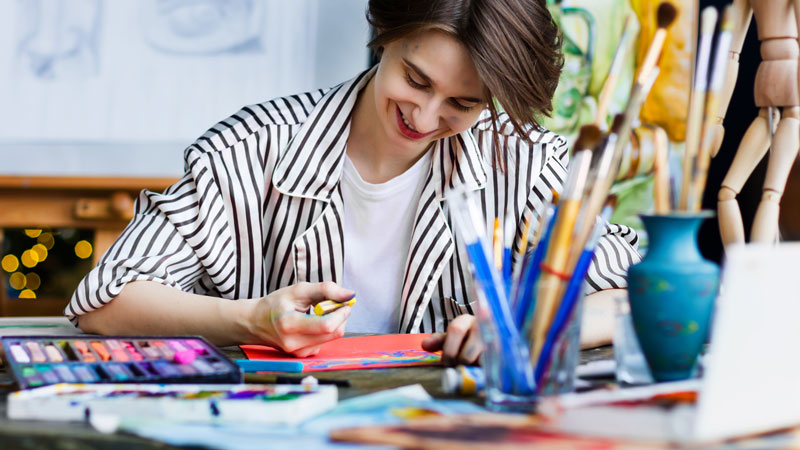 It can attack at any moment during the creation process. Many times, it sets in before you even start, when the concept is still fresh in your mind – before any marks are made, or the medium has been chosen. You are motivated to create but before you can even start, you tell yourself, "I can't".
It can also set in during the process itself while strokes are fresh. You second guess every decision, every mark, every color. The art-making process quickly becomes a mental struggle with yourself. The enjoyment of creating starts to fade along with your motivation.
You are losing the battle.
You decide that it's just not worth it and you put your paints away.
It affects all of us. Well, most of us anyway. A lack of confidence can kill our creativity and stifle our art-making.
Confidence is important in all aspects of life, but especially in art. The creation process comes from within, and if your self confidence is weak then you are destined to fail from the start.
I often admire the artists that exude their confidence in their mark, boldly laying down strong colors with the simplest stroke. The resulting mark just seems to be perfect, working in harmony with the composition. This level of confidence doesn't just happen.
So, how do we develop self-confidence? And more importantly, how to do we apply it to our art?
In this post, I'll offer my suggestions for overcoming, or at least battling the mire of under-confidence. It's something that I struggle with personally, so I don't profess to have all of the answers on this subject. But perhaps I can offer a few suggestions that may help.
Here's an infographic that outlines the highlights of growing your artistic confidence…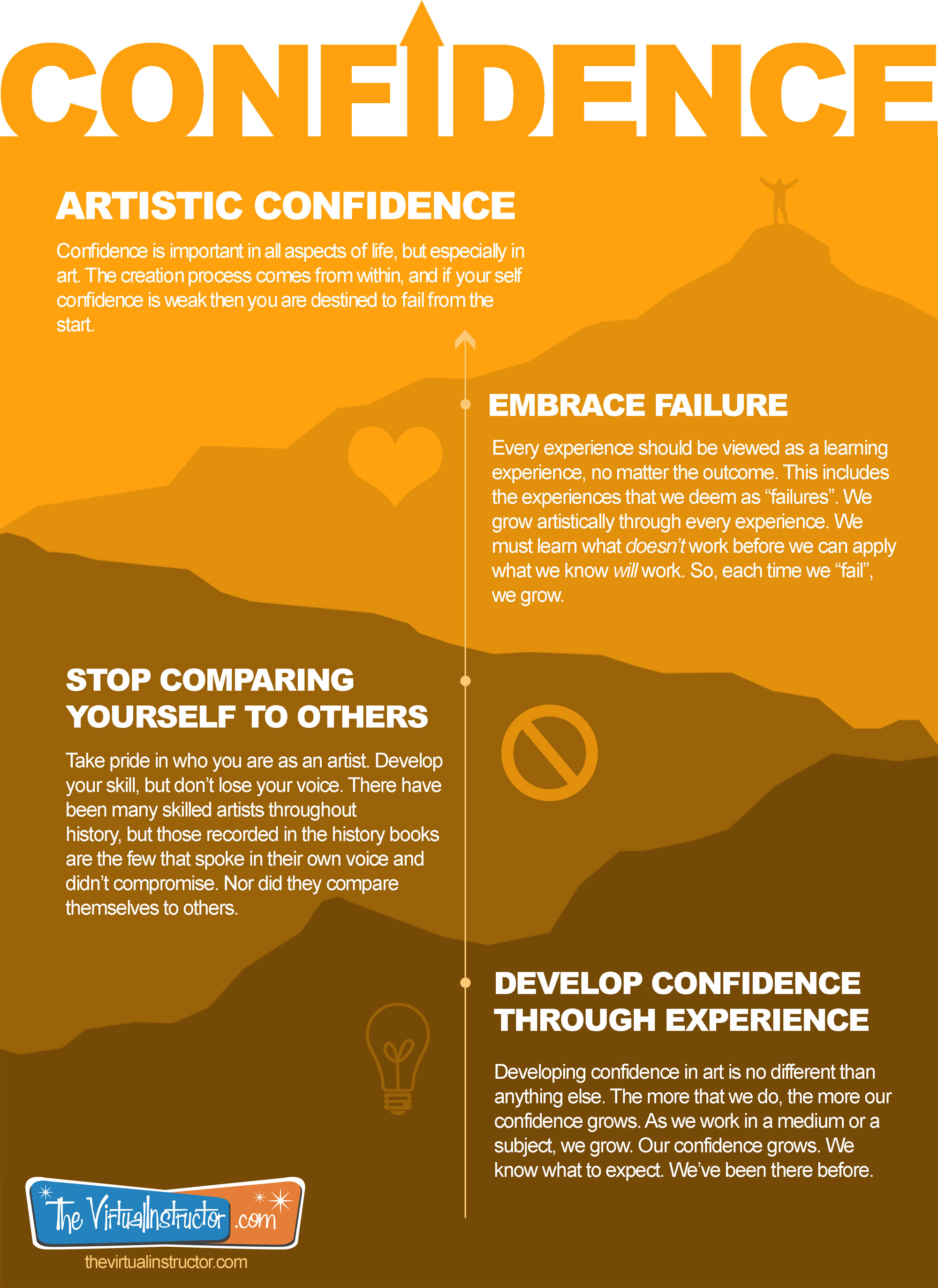 Embrace "Failure"
The word failure is in quotations because I don't really believe in failures when it comes to art. Many times we start a work with a specific vision and in the end, the result doesn't match the original vision.
We too often categorize these works as failures. Sometimes we don't even complete them because we feel that we cannot meet our own expectations, so why even bother.
Over time, after we have experienced multiple "failures", our confidence erodes. We begin to second guess our decisions and the enjoyment of art-making slowly dissipates. Our marks become timid and we are afraid to take chances. For some, the thought of drawing or painting even produces a feeling of anxiety.
With a simple shift in our thinking, however, we can view these experiences differently. And when we do, these "failures" can actually grow our confidence.
Let me explain what I mean…
No Experience is a "Failure"
Every experience should be viewed as a learning experience, no matter the outcome. This includes the experiences that we deem as "failures". We grow artistically through every experience. We must learn what doesn't work before we can apply what we know will work. So, each time we "fail", we grow.
And this takes time. Sometimes lots of it.
Michelangelo once stated, "If people knew how hard I had to work to get my mastery, it wouldn't seem so wonderful at all."
Mastery takes time – it requires failure. When we look at a master artist, we only see the end result and the confidence that he has developed. We don't see all of the "failures" that forged his confidence.
This is why "failures" should be embraced by the artist. The path to artistic success is often illuminated by the lessons learned through our "failures".
---
"Failures, repeated failures are finger posts on the road to achievement. One fails forward toward success."
– C. S. Lewis
---

Stop Comparing Yourself to Others
While it's perfectly acceptable to be influenced by other artists, it's important not to lose sight of the fact that you are not them. If you start to compare yourself to others, you quickly forfeit your unique artistic identity.
As individuals we should embrace our differences. As artists, we should do the same.
If we don't, we are in danger of losing confidence in ourselves and what we produce.
Instead, take pride in who you are as an artist. Develop your skill, but don't lose your voice. There have been many skilled artists throughout history, but those recorded in the history books are the few that spoke in their own voice and didn't compromise. Nor did they compare themselves to others.
Develop Your Confidence
I still remember the first time that I jumped from a high diving board into a pool. I was no more than 6 or 7 years old. I was terrified.
I remember inching myself to the edge, looking down to make sure that my mother was watching.
I held the right railing with two hands, my knees slightly bent. Each foot was carefully placed on the concrete as I worked my way to the edge.
After several moments of watching the light dance off of the water below, I closed my eyes, allowed my knees to buckle and my body fall.
I emerged from the water with a huge grin. I quietly swam to the edge of the pool, but this time with a renewed confidence.
My second jump was different from the first. I didn't close my eyes, and I didn't look down. I knew what to expect. I had confidence in how I would perform. I had been there before.
Our art is no different. The more that we do, the more our confidence grows.
As we work in a medium or a subject, we grow. Our confidence grows. We know what to expect. We've been there before.
It may take time and it will require "failures". In the end, artistic confidence is about perseverance.
Do you struggle with confidence? How do you overcome a lack of it?
Like This Lesson?
If so, join over 36,000 others that receive our newsletter with new drawing and painting lessons. Plus, check out three of our course videos and ebooks for free.
More Lessons You'll Love…