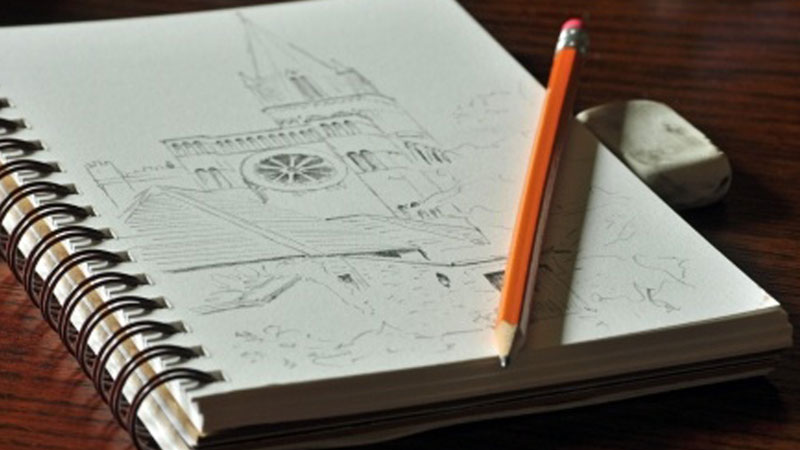 It's time again for the annual contest here at TheVirtualInstructor.com.  Each year, about this time, I host a contest.  Past contests include a book give away and an artist's postcard event.  This year's contest is…"The 30 Day Sketchbook Challenge".
The Challenge
The challenge is simple.  For the next 30 days commit to draw at least one sketch in your sketchbook from observation every day.  Each sketch should represent 20-30 minutes of attention (it can be more).  It can be any subject matter that you wish, but it should be drawn from observation.  Any medium is acceptable.
How it will Work…
If you chose to take on the challenge, draw a sketch in your sketchbook every day for the next 30 days. Choose one of your sketches and post it over at the forum.  I have created a special thread for you to do so here.  (If you are not registered at the forum, you will need to do so before posting – it's free.)
You do not have to wait until the end of the contest to post your work.  If you complete a drawing today, and want to share it – go for it.  You can share as many of your sketches as you like. (But please keep them clean and appropriate.  I will remove any images that violate the terms and conditions of this site.)
On September 10, 2014 the contest will end and I will choose one winner at random from the posts on the thread.
The winner, which could be you, will be notified by September 15, 2014.
What You May Win
If you are the winner, you will get the following…
Lifetime Membership at TheVirtualInstructor.com (If you are already a member, you will become a lifetime member and all recurring fees will be canceled.)
TheVirtualInstructor.com T-shirt
Sanford Prismacolor Premier Drawing Kit
Hardbound Sketchbook
Prismacolor NuPastels set of 24
Like This Lesson?
If so, join over 36,000 others that receive our newsletter with new drawing and painting lessons. Plus, check out three of our course videos and ebooks for free.
More Lessons You'll Love…