High School and Middle School ART LESSON PLANS
Art Lesson Plans For Beginning Artists- Level One High School
Art Lesson Plans for Intermediate Artists- Level Two or Three High School
Art Lesson Plans for Advanced Students- Level Four or Advanced Placement
Planning Solutions for Teachers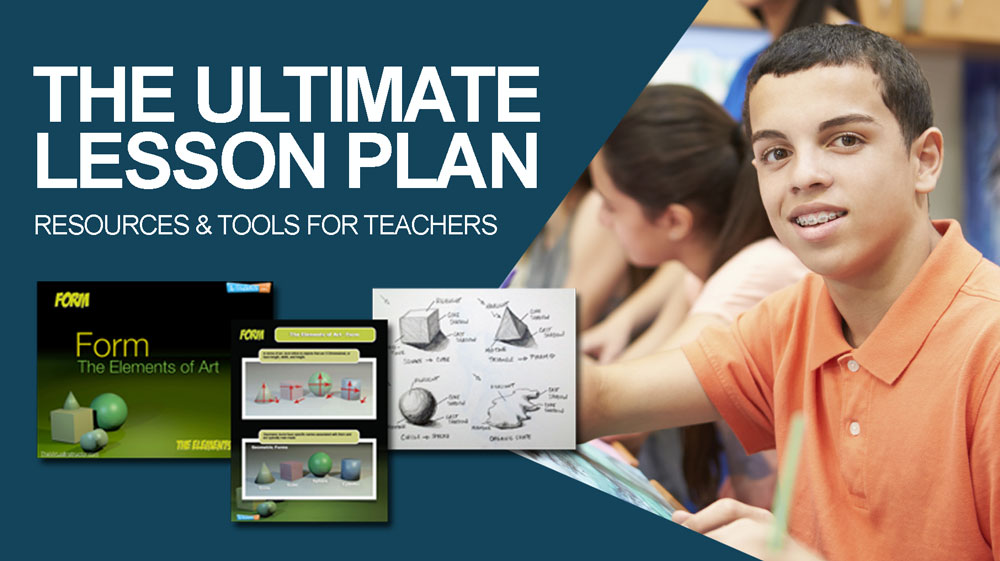 THE ULTIMATE LESSON PLAN
"The Ultimate Lesson Plan" is a complete classroom solution for art teachers that includes lesson plans, videos, handouts, quizzes and more. Each lesson is designed to emphasize the fundamentals of art by providing students with a rich multimedia experience followed by an art production activity that reinforces concepts. Each lesson builds upon the last, following a logical progression. Students make connections on concepts learned in prior lessons and are provided with a complete understanding of art production and appreciation. 
Why I Love Helping Teachers...
Teachers are special people. Teachers sacrifice their time, finances, sweat, and tears for their students. With 12 years under my belt as an educator, I know how hard teachers work. Often, it's work that isn't recognized.
But this is what makes teachers special people. They don't teach for the money, the accolades, or recognition - they teach for their students. They teach because it's important. They teach because it matters. I've had the honor to work alongside some of the best people on the planet - teachers.
I am an artist, but teaching is my passion and purpose in life.
There are a lot of sites that claim to have good art lesson plans. Only a few actually offer good art lessons. Here is a recommended list of valuable resources for art lesson plans on the internet...
Crayola Art Lesson Plans
KinderArt Art Lesson Plans
Ceramics and Pottery Art Lesson Plans
Incredible @rtDepartment Art Lesson Plans
National Gallery Art Lesson Plans