Live Lessons:

"Still Life" - Oil Paints
This lesson series features:
8 Hours of Instruction
8 Videos
Lessons
About This Lesson Series...
In this lesson series, we develop an oil painting of a still life arrangement.
Lesson 1 (1:10:38)
In lesson one, we discuss the materials and the strategy for this painting.
Lesson 2 (1:05:48)
In lesson two, we develop the drawing using a modified grid.
Lesson 3 (1:08:45)
In lesson three, we develop a monochromatic underpainting.
Lesson 4 (1:12:44)
In lesson four, we begin layering local color over the underpainting.
Lesson 5 (1:12:40)
In lesson five, we continue adding local color and begin work on the bottle.
Lesson 6 (1:17:52)
In lesson six, we begin work on the red fabric background.
Lesson 7 (1:09:19)
In lesson seven, we complete the fabric background.
Lesson 8 (1:14:30)
In lesson eight, we complete the painting by applying a series of glazes.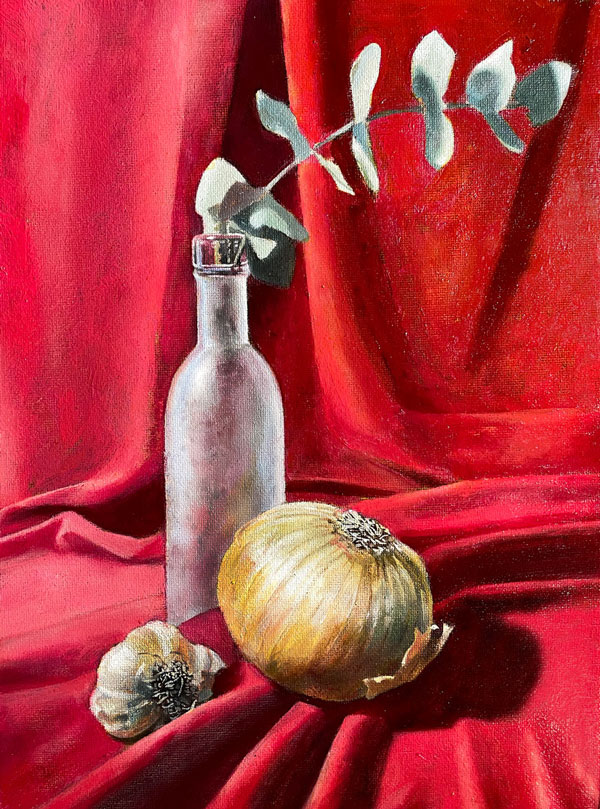 Resources for this Lesson...
Distributing any content downloaded from this site is strictly prohibited and against the terms and conditions of use.
References
Here's what you'll need...
Canvas or Panel
Bristle Brushes
Soft Nylon Brushes
Oil Paints
Medium or Thinner
(Disclosure: Links to art materials are affiliate links which means we make a small commission if you purchase at no additional cost to you.)