Live Lessons:

"Portrait" with Charcoal
This lesson series features:
9 Hours of Instruction
9 Videos
Lessons
About This Lesson Series...
In this lesson series, we develop a portrait with charcoal on gray paper.
Lesson 1 (1:10:38)
In lesson one, we discuss the materials and surface and begin adding vine charcoal to the surface.
Lesson 2 (1:02:25)
In lesson two, we continue work on the "underpainting", addressing the main features of the face.
Lesson 3 (1:12:56)
In lesson three, we complete the "underpainting" with vine charcoal.
Lesson 4 (1:04:54)
In lesson four, we begin refining the drawing and adding details by layering compressed charcoal. We begin this process with the hair.
Lesson 5 (1:09:51)
In lesson five, we begin working down the face, modeling the forehead and starting work on the left eye.
Lesson 6 (1:08:22)
In lesson six, we complete the eyes and work on the nose.
Lesson 7 (1:09:29)
In lesson seven, we address the mouth and lips.
Lesson 8 (1:10:49)
In lesson eight, we finish the cheek and the ear.
Lesson 9 (1:15:38)
In lesson nine, we address the clothing and complete the drawing.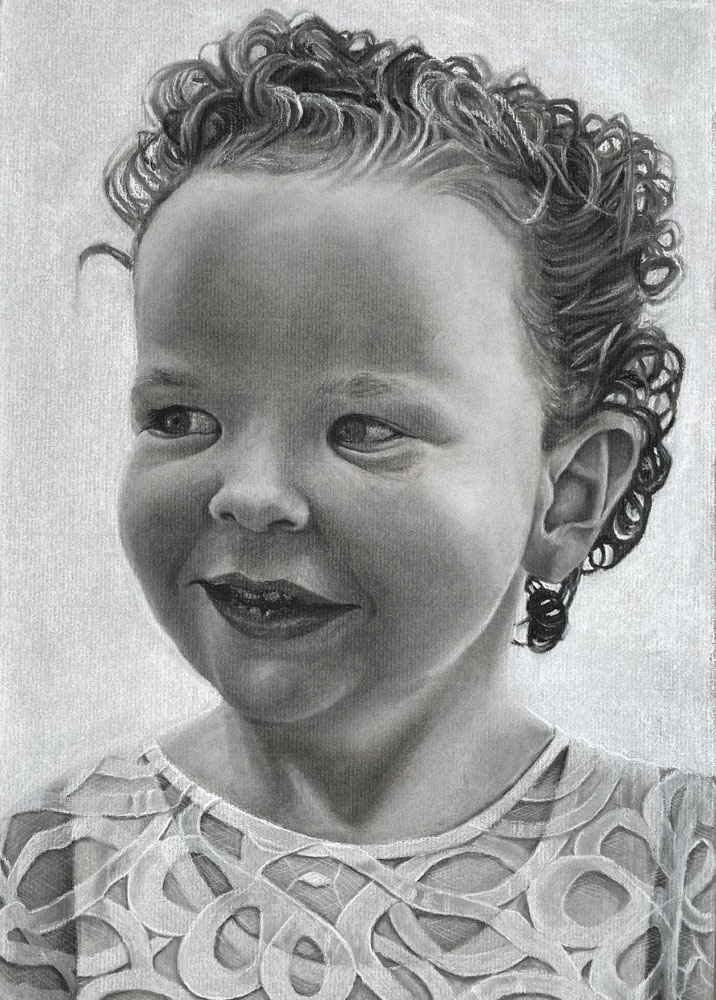 Resources for this Lesson...
Distributing any content downloaded from this site is strictly prohibited and against the terms and conditions of use.
References
Here's what you'll need...
Toned Gray Paper (Ingres)
Vine Charcoal
Compressed Charcoal and Charcoal Pencils
White Charcoal and White Charcoal Pencils
Kneaded Eraser
Blending Stumps or Tortillions
(Disclosure: Links to art materials are affiliate links which means we make a small commission if you purchase at no additional cost to you.)