Live Lessons:

"Peony Flower" - Colored Pencils
This lesson series features:
10 Hours of Instruction
10 Videos
Lessons
About This Lesson Series...
In this lesson series, we create a drawing of a peony flower with colored pencils on Stonehenge paper.
Lesson 1 (1:21:18)
In lesson one, we draw the contours of the flower with 2H graphite.
Lesson 2 (1:15:50)
In lesson two, we begin with colored pencil applications on the largest flower petal.
Lesson 3 (1:08:44)
In lesson three, we continue work on the flower petals.
Lesson 4 (1:23:28)
Work on the petals continues.
Lesson 5 (1:07:46)
In lesson five, we begin developing the leaves in the background.
Lesson 6 (1:14:48)
In lesson six, we address the center of the flower and continue working on the surrounding leaves.
Lesson 7 (1:12:11)
In lesson seven, we continue with the surrounding leaves.
Lesson 8 (1:13:19)
In lesson eight, we return to work on the lower flower petals.
Lesson 9 (59:53)
In lesson nine, we complete the flower petals at the bottom of the picture plane.
Lesson 10 (1:10:47)
In lesson ten, we complete the drawing.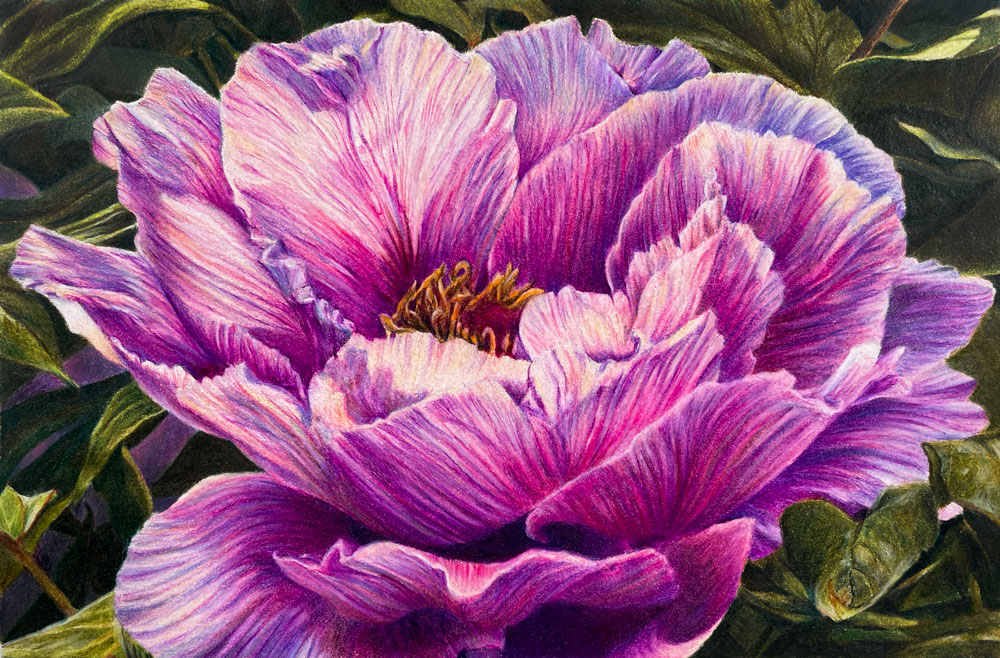 Resources for this Lesson...
Distributing any content downloaded from this site is strictly prohibited and against the terms and conditions of use.
References
Here's what you'll need...
2H or H Graphite Pencil
Ruler
(Disclosure: Links to art materials are affiliate links which means we make a small commission if you purchase at no additional cost to you.)