Pencils on Polyester:

A Different Way to Colored Pencil
Over 1.5 Hours of Instruction
7 Videos
1 eBooks
30 Day Money Back Guarantee
Course Description
In this course series, we take a look at using a unique surface for applying colored pencils. This special surface, called polyester film, allows for light, layered applications of colored pencils. Perhaps its most notable characteristic is that colored pencils can be erased or removed easily. After discussing the unique characteristics of the surface, we develop a colored pencil drawing of a challenging subject - a portrait of a spider.
Lesson 1 - Introduction and Materials (7:19)
In this lesson, we look at the unique characteristics of polyester film and compare it to traditional drawing surfaces. We also cover the materials used to create the colored pencil drawing to follow.
Lesson 2 - Drawing with a Grid (8:48)
In this lesson, we develop the pencil underdrawing using the grid technique.
Lesson 3: Applying Colored Pencils (15:11)
In this lesson, we begin with colored pencil applications gradually layering light applications of color.
Lesson 4: Developing Texture and Depth (15:51)
Colored pencil applications continue along the upper portion of the picture plane.
Lesson 5: The Eyes Have It (15:53)
In this lesson, we complete the eyes of the spider.
Lesson 6: A Furry Face (14:03)
In this lesson, we work across the middle of the picture plane addressing the overlapping hairs of the spider.
Lesson 7: Hairy Legs (15:45)
In this lesson, we complete the drawing by developing the complex hairy legs of the spider.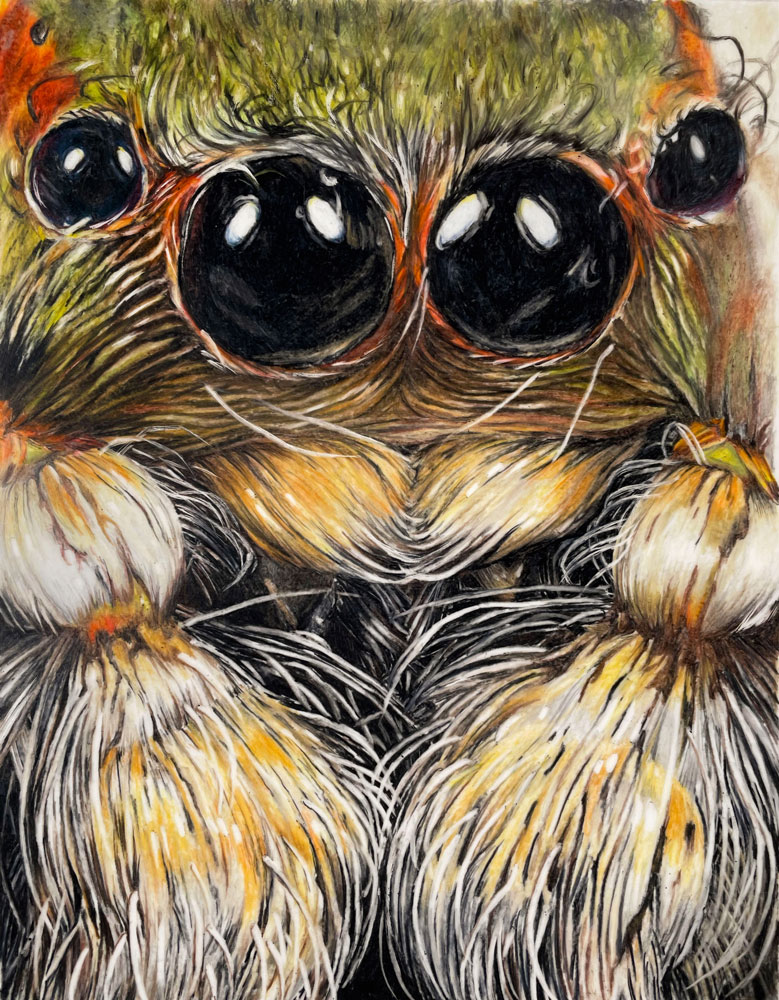 Lesson Materials
Polyester Film
Paper for Underlayment
Graphite Pencil
Eraser
Ruler
Drafting Brush (optional)
Colored Pencils
Lesson Resources
References
Photo Reference
Gridded Photo Reference
Finished Drawing
Download eBook
Learn from ALL of our lessons.
Members get every course, live lesson, ebook, critique and lesson plan.