Live Lessons:

"Sea Turtle" - Pen and Ink
This lesson series features:
6 Hours of Instruction
6 Videos
Lessons
About This Lesson Series...
In this 6 part lesson series, you'll create a pen and ink drawing of a sea turtle. Watch and learn as we cover every step of the process from start to finish.
Lesson 1 (1:12:12)
In lesson one, we sketch out the shape of the turtle with graphite. We start with large shapes to ensure accuracy and then define the contours with ease.
Lesson 2 (1:14:21)
In lesson two, we begin with pen and ink applications, starting with the head. We use dip pens for this lesson series, but technical drawing pens can be used as well.
Lesson 3 (1:14:50)
In lesson three, we work our way down the neck and on to the first fin. I'll show how to create different values and textures as we begin to create the illusion of form through hatching.
Lesson 4 (1:09:17)
In lesson four, we continue down the body, working from the left to the right. In this lesson, we discuss the importance of cross contour lines and how the directional strokes that you make communicate the form of the subject.
Lesson 5 (1:03:35)
In lesson five, we address the patterns on the shell, add the markings of the underbelly and continue to develop shading to develop the illusion of light.
Lesson 6 (58:59)
In lesson six, we complete the drawing by addressing the rear fin - adding the patterns and adjusting the contrast. We also enhance the line quality by adding some thicker lines in areas.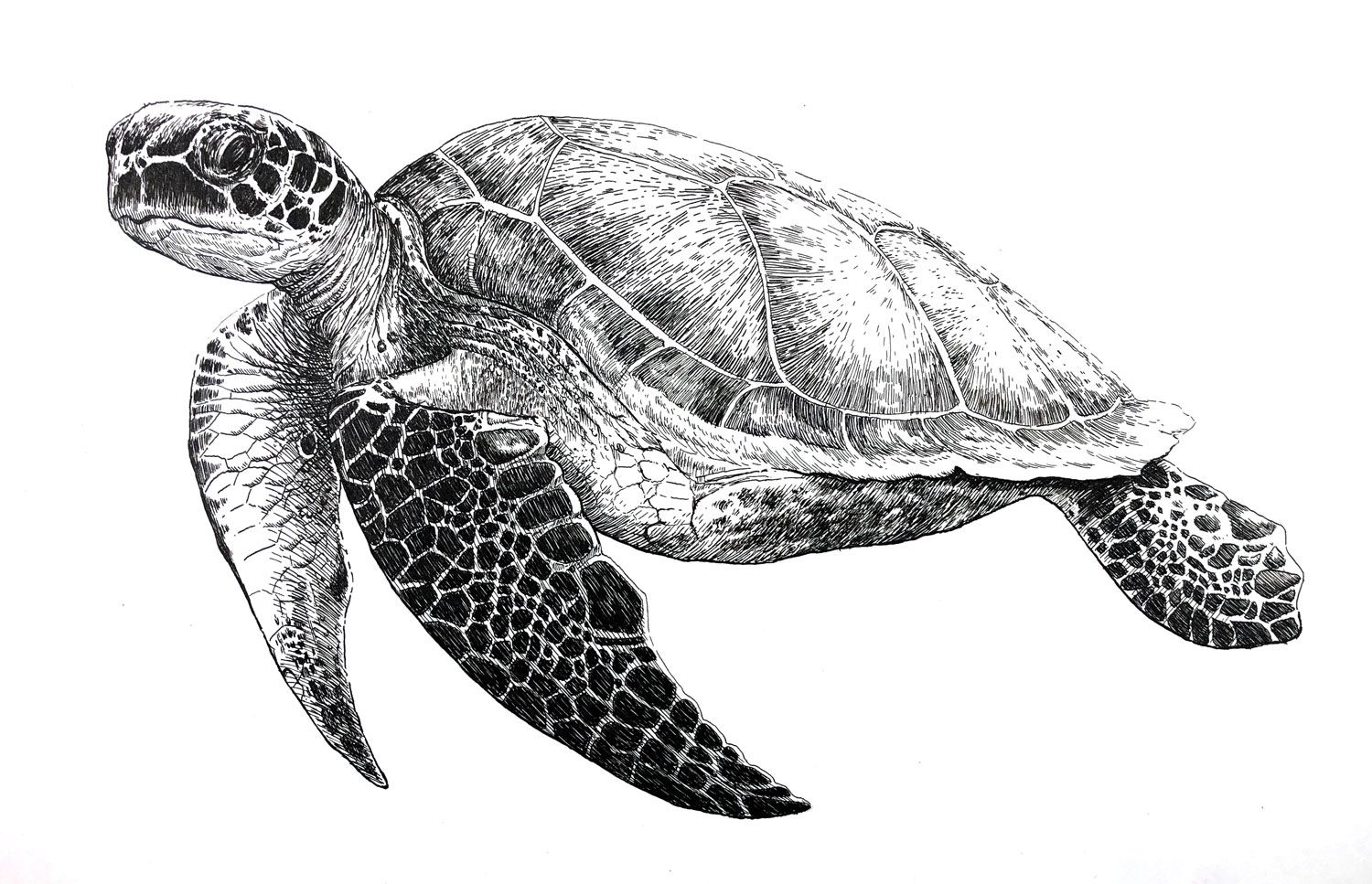 Resources for this Lesson...
References
Here's what you'll need...
Bristol paper
Graphite pencil
Dip (Nib) pens or technical drawing pens
Bottled ink (if using dip pens)
Kneaded eraser