Live Lessons:

"Lizard Man" - Pen and Ink
This lesson series features:
9 Hours of Instruction
9 Videos
Lessons
About This Lesson Series...
In this lesson series, we create a drawing of a composite image of a lizard man on a sofa with pen and ink.
Lesson 1 (1:07:17)
In lesson one, we look at how the photo reference was created and discuss our plan of action for this piece. We then begin drawing the subject with graphite using a grid.
Lesson 2 (1:04:41)
In lesson two, we begin with pen and ink applications starting with the head of the lizard man.
Lesson 3 (1:03:26)
In lesson three, we complete the head and begin work on the clothing.
Lesson 4 (1:09:23)
In lesson four, we continue work on the clothing.
Lesson 5 (1:05:30)
In lesson five, we work down the body and complete the clothing.
Lesson 6 (1:06:41)
In lesson six, we finish off the shoes and begin work on the couch.
Lesson 7 (1:08:13)
In lesson seven, we begin addressing the texture of the wall and the lamp.
Lesson 8 (1:03:38)
In lesson eight, we complete the lamp and begin work on the floor.
Lesson 9 (1:17:54)
In lesson nine, we complete the drawing by addressing the rug and the pictures on the wall.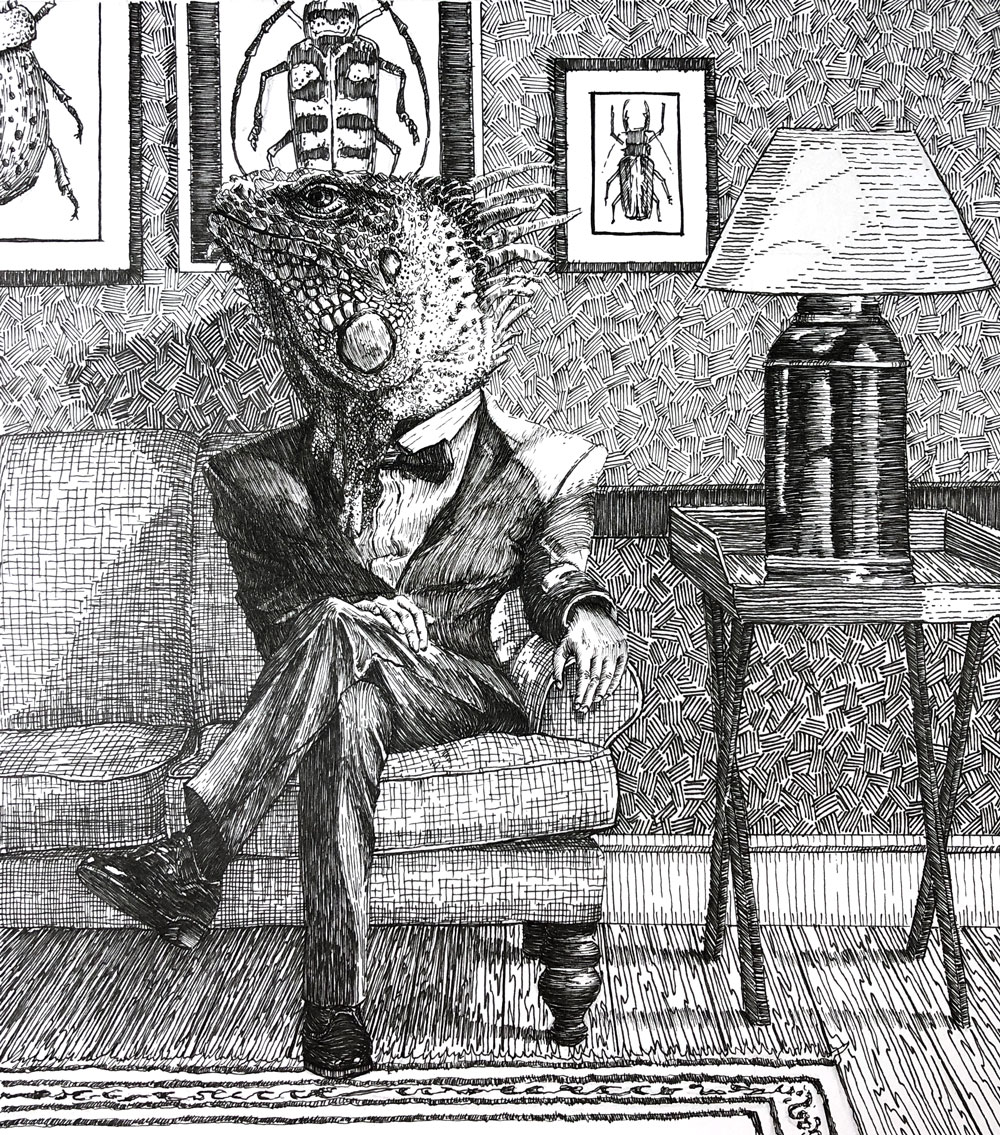 Resources for this Lesson...
Distributing any content downloaded from this site is strictly prohibited and against the terms and conditions of use.
References
Here's what you'll need...
Smooth Bristol Paper
2H or H Graphite Pencil
Technical Drawing Pens or Nib Pens
Bottled Ink (if using nib pens)
Kneaded Eraser