Live Lessons:

"Train" - Line and Wash
This lesson series features:
7 Hours of Instruction
7 Videos
Lessons
About This Lesson Series...
In this lesson series, we create a line and wash (pen and ink with watercolor) image of a unique train.
Lesson 1 (1:03:51)
In lesson one, we draw out the contours with a graphite pencil.
Lesson 2 (1:05:19)
In lesson two, we begin with pen and ink applications on the train.
Lesson 3 (1:02:20)
In lesson three, we complete the ink applications on the train and begin adding cast shadow underneath.
Lesson 4 (1:07:12)
In lesson four, we begin adding pen and ink applications to the background.
Lesson 5 (1:03:30)
In lesson five, we complete the pen and ink drawing and begin with light watercolor washes.
Lesson 6 (1:04:41)
In lesson six, we continue with watercolor washes, working our way down to the train and foreground.
Lesson 7 (1:15:15)
In lesson seven, we complete the image by addressing the people in front of the buildings.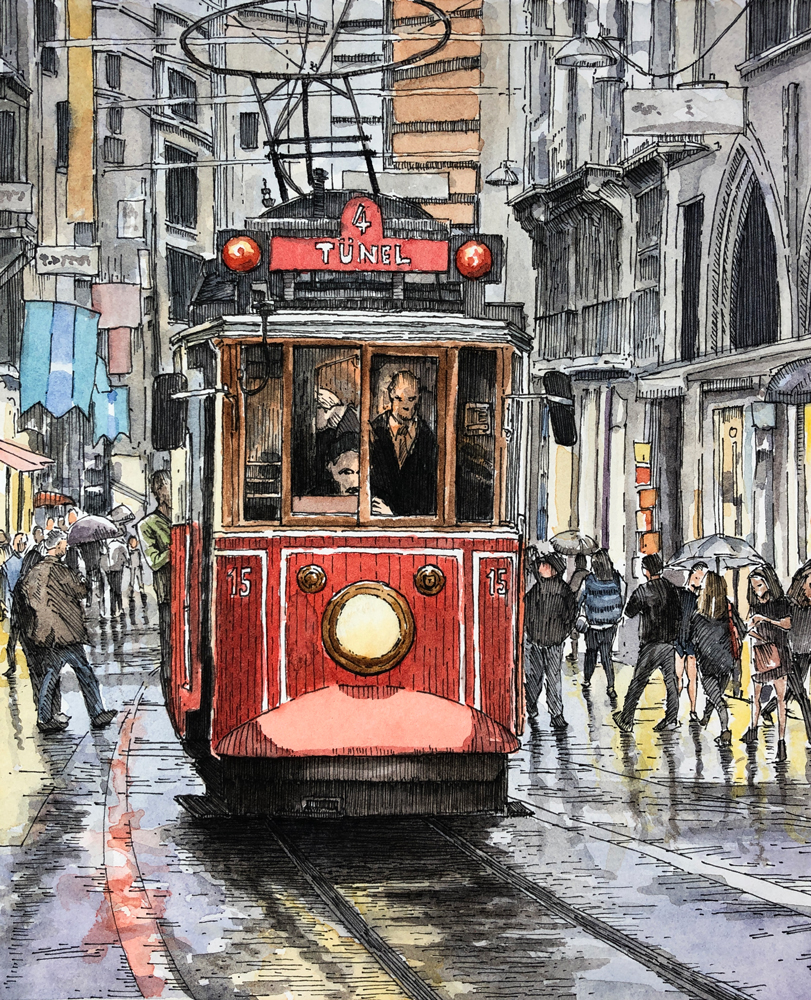 Resources for this Lesson...
Distributing any content downloaded from this site is strictly prohibited and against the terms and conditions of use.
References
Here's what you'll need...
Graphite Pencil (H)
140 lb Hot Press Watercolor Paper
Technical Drawing Pens or Nib Pens
Kneaded Eraser
Watercolor Paints
Nylon Brushes
Gouache (optional)