3 Little Birds with Colored Pencils:

3 Birds | 3 Brands of Colored Pencils | 3 Surfaces
3 Hours of Instruction
13 Videos
3 eBooks
30 Day Money Back Guarantee
About this Course
In this course, we take a look at drawing three small birds with different brands and types of colored pencils on three different surfaces. This course is a great way to learn the differences between types of colored pencils and how much the surface influences the finished drawing. Each lesson series includes instructional videos, photo references, and a downloadable ebook.
What You'll Learn:
The basic materials, tools, and surfaces for working with colored pencils.

The differences between different brands of colored pencils and how they affect the results.

How different drawing surfaces play a major role in your success.

How to plan out your sketches and ensure accuracy in your drawings.

How to draw a Kingfisher bird with Prismacolor Premier pencils.

How to layer colored pencils to create realistic colors and textures.

How to draw a Blue Jay with Polychromos colored pencils.

The differences between oil-based and wax-based colored pencils and how these differences affect the approach we should take.

How to create a painterly background with PanPastels.

How to draw a Hummingbird with Luminance colored pencils.

How working on black paper requires a different approach than white or toned paper.

How the intensity of color produced by the brand of colored pencil you choose affects the surface that you work on.

How to burnish wax-based colored pencils with a colorless blender.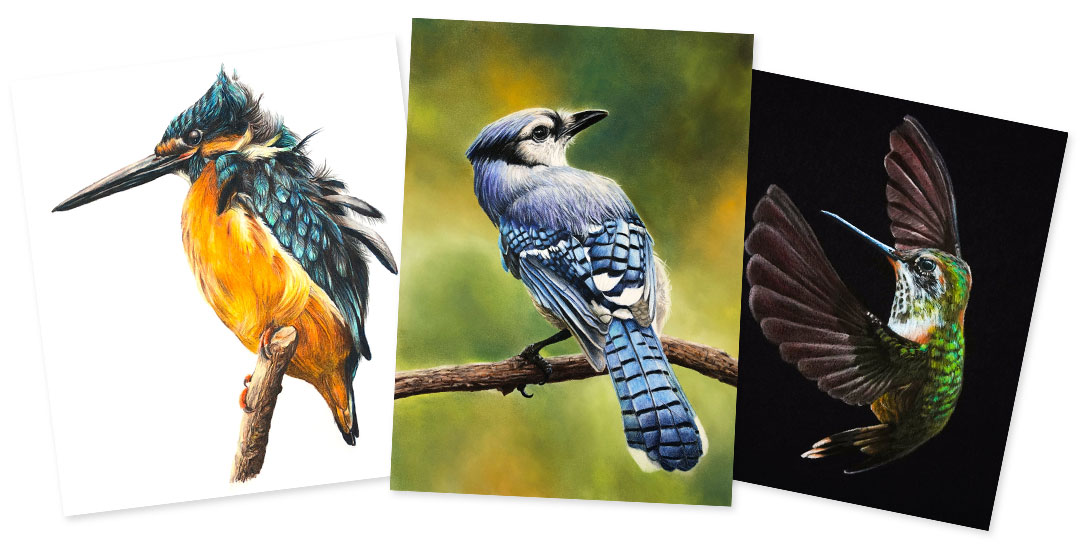 Course Curriculum
Ebooks
Not all of us prefer to learn from watching videos. Some of us prefer to learn from books as well as videos, so ebooks are included as well. This course has been developed to accelerate learning by teaching to many different learning styles. Each course module includes an illustrated ebook that corresponds with the video. Every step and concept is clearly illustrated and described in each ebook.

What Students Say
"Another amazing lesson. I continue to be blown away by all the education you provide in your site. Thanks so much for your hard work." -Susan
"Outstanding instruction! Thank you! I'm a new member and so glad I stumbled across your website. I've always loved drawing but never had a foundation so I'm very excited to have this available to me now. You are a very gifted artist and teacher." -Kathleen
"Excellent quality, presentation and information. I have a lot to learn!!! Thanks Matt!!" -Bob
"Thanks Matt. That was amazing experience. I've never done anything on black medium but I'm really happy how it looks." -Konrad
"I loved this video. I learned so much about shading and color applications, and making a realistic animal with shadow, texture and depth. Thank you for making this wonderful tutorial- you explain things very clearly and I appreciate that." -Tara
"Hi Matt! Love this project. I think you have a hit with these quick projects. The format is perfect. Thanks again for creating this option to your course line up. I am amazed at how much variety you continue to offer us." -Patricia