Ink Wash Techniques
What is Ink Wash?
Ink wash is a technique of drawing that falls somewhere between drawing and painting. Because the medium is wet when it is applied, many consider ink wash a painting technique. (We'll call it a art-making technique and try not to get too technical.) There a variety of colored inks that can be used to create ink washes.
Many illustrators and artists have created beautiful artworks over the years using many colors of ink. However, It should be pointed out that ink wash is Eastern in origin and is almost always completed in black ink.
Traditional ink wash in it's purest form requires years of discipline and practice. Eastern ink wash is applied with a special brush called a sumi brush.
Similarities to Watercolor
Many ink wash techniques are similar to watercolor painting techniques. Like with watercolor, lighter values of colors are created by thinning the ink with water. The more water present in the mixture, the lighter the value. Ink wash is also best applied in layers, much like in watercolor painting. Ink wash is best applied working from light values to dark values allowing time for the layers to dry before new layers are applied.
Many traditional watercolor techniques like wet on wet, produce similar results with ink wash. One major difference between ink wash and watercolor painting is that ink wash is a bit unforgiving. Mistakes made with ink wash are difficult to fix. It is a good idea to work with a test sheet handy. This way, you can minimize mistakes by making sure that you have the right value of ink before applying it to the surface.
Surfaces
Many different surfaces will accept ink wash. Popular ink wash surfaces include illustration board, watercolor paper, rice paper, and bristol paper. Drawing paper and canvas are considered unacceptable surfaces, although feel free to experiment.
The following video demonstrates how to paint with ink wash...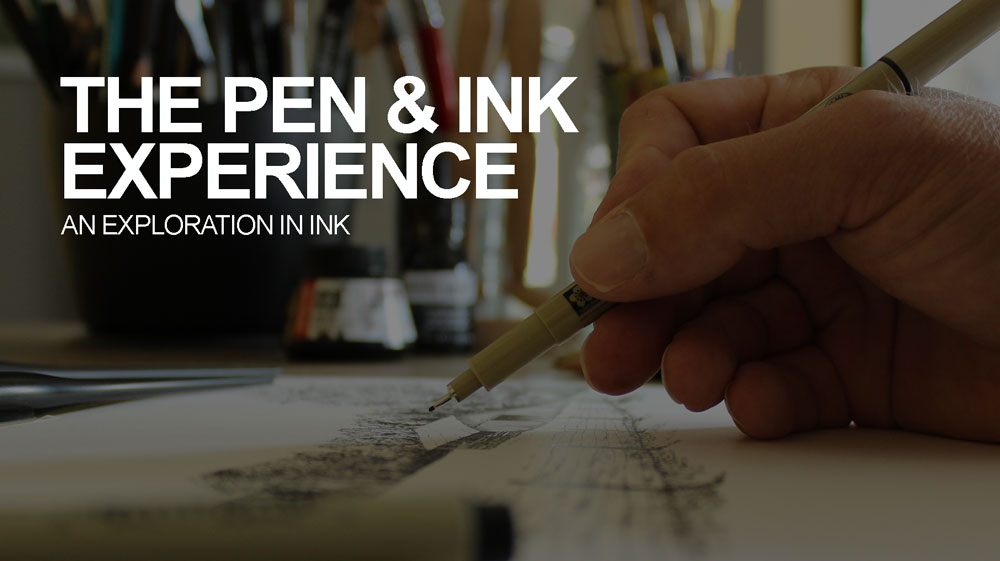 The Pen and Ink Experience
Learn pen and ink drawing techniques through a variety of subjects. Explore all of the possibilities of what can be created with ink.
LEARN MORE
Like this lesson?
If so, join over 30,0000 others that receive our newsletter with new drawing and painting lessons. Plus, check out three of our course videos and ebooks for free.
More Lessons You'll Love...