Gesture Drawing - Drawing the Human Figure Quickly
By Matt Fussell


The human figure has long been a traditional subject for drawings and paintings. Not only is the subject revered for its aesthetic qualities, but it also creates a welcome challenge for artists. The ever-changing positions and postures of the figure remove the possibilities for formulas and force the artist to focus on pure observational drawing.
Because of its unique qualities as a subject, figure drawing is a staple of college art programs and local art workshops. General drawing skills are naturally developed through the practice of drawing live models.

Speed and accuracy are two common themes in figure drawing courses and figure drawing practice. Live models obviously cannot hold poses forever, so it falls on the artist to capture the pose and proportions of the figure quickly. Details can added after the initial pose and after proportions are defined.
Gesture drawing is the process of drawing the human figure quickly and loosely.  Gesture drawing is done to accurately capture the pose of a figure quickly.  It is not about creating a finished drawing, but rather a drawing in which a finished painting or drawing can be developed.  Gesture drawings can be accomplished by using a variety of lines, shapes, or entirely blocked-in figures. These drawings can range in "completeness" and may take several minutes to just a few seconds to produce.

It is important to be "loose" with your drawing when drawing the human figure in this fashion. You may draw your gesture drawing a bit larger to help you accomplish this "looseness".  You also may want to draw from the shoulder instead of the wrist. Make purposeful marks on the surface and don't worry about stray marks. In the beginning stages of your drawing, you may make several "sketchy" lines to help you "find" the figure on your paper.  You can then make more deliberate marks as the drawing progresses, making them darker and varied. When your preliminary drawing is complete, you may choose to finish the drawing by adding details and erasing "mistakes".

Not all figurative gesture drawings are preliminary. Many drawings can stand on their own as finished works of art.

Understandably, some knowledge of human proportions will help with gesture drawing. For example a "perfect" figure is about 7-8 "heads tall.
The following video illustrates one approach to gesture drawing...
Steps in gesture drawing are outlined in the following images...
Step One- A line is drawn from the head to the feet.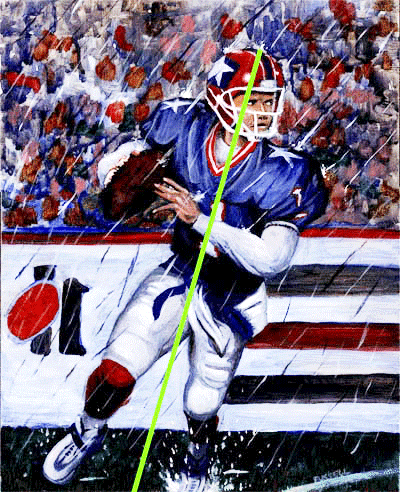 Step Two- Two lines are drawn- One line indicates the shoulder position, the second line indicates the waist position.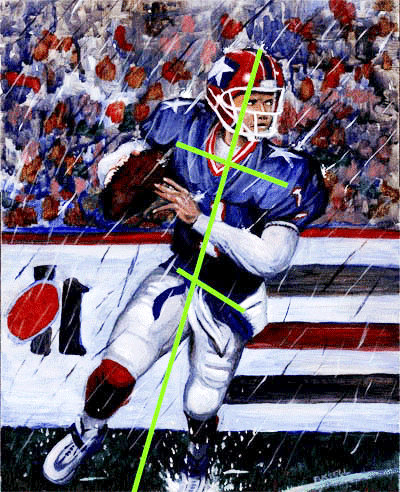 Step Three- A stick figure is drawn- with shapes for the torso, head, hands, and
feet.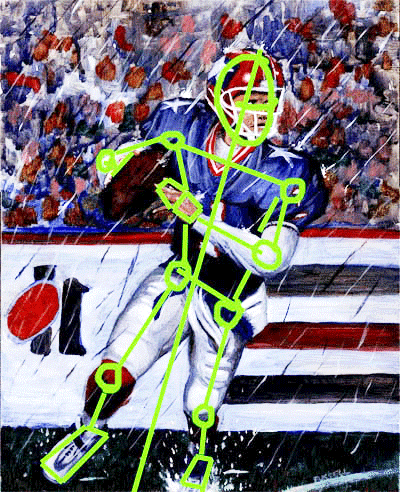 Step Four- "Thicken" the figure to complete the gesture drawing.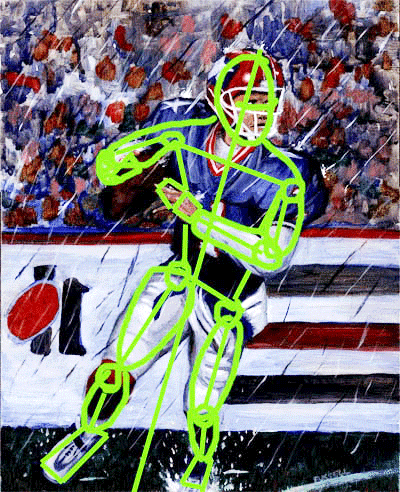 LIKE THIS TUTORIAL?
If so, please join over 16,000 people who receive weekly tutorials, articles, and 3 FREE COURSE VIDEOS and EBOOKS! Just click on the button below to add your name!
I'M IN!
Here are some more art lessons that you may like...