Jungle Path with Acrylics
LET'S PAINT TOGETHER
Become a member and get ALL of our courses and much, much more.
---
Just interested in this course?This course includes:
7 HD videos • 6 eBooks • 1.5 hours of instruction • 100% money back guarantee
LEARN BY DOING
In this course, we'll tackle a challenging landscape filled with interesting textures and complex shapes.

I'll show you every step of the process from start to finish so that you can follow along and create this painting as well.

If you want to enhance your painting skills, then this subject has it all. Strong contrast, challenging textures, and beautiful colors.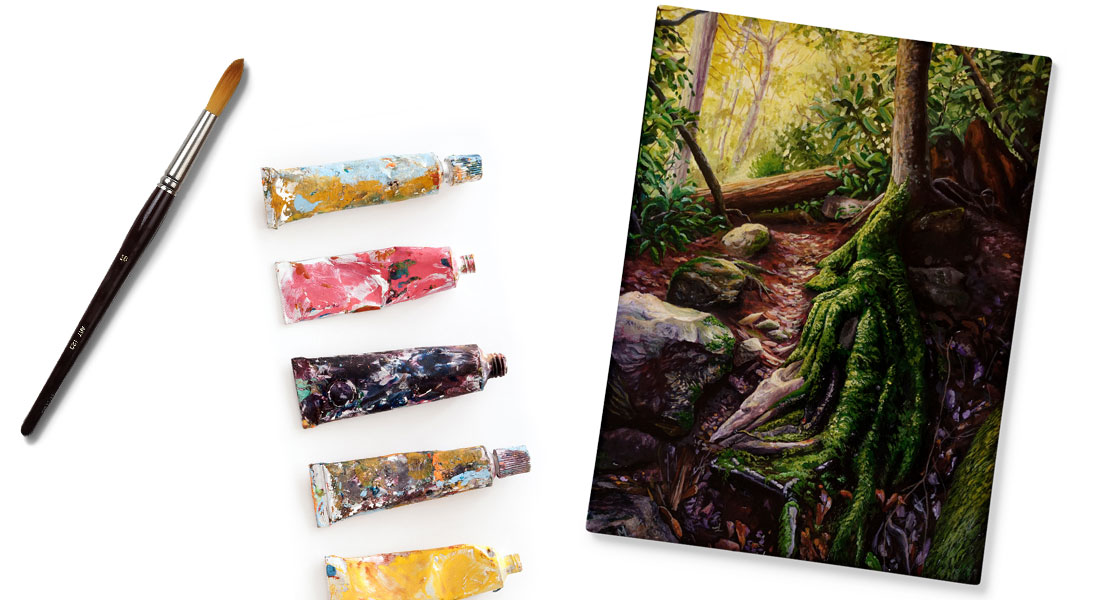 LEARNING SIMPLIFIED WITH EBOOKS
Not all of us prefer to learn from watching videos. Some of us prefer to learn from books as well as videos, so ebooks are included as well. This course has been developed to accelerate learning by teaching to many different learning styles. Each course module includes an illustrated ebook that corresponds with the video. Every step and concept is clearly illustrated and described in each ebook.

The 6 ebooks combine for a total of 42 pages.

COURSE MODULES
Here's what you can expect to learn in this course...
PROLOQUE – An introduction to the course and the mindset required for success.

LESSON 1 – We'll cover the materials used and create an underpainting.

LESSON 2 – We'll develop the background canopy of trees with light filtering in.

LESSON 3 – We'll work down to the upper middle ground adding rocks and the fallen tree.
LESSON 4 – Layer glazes of color as we work towards a specific color scheme.

LESSON 5 – We'll develop the moss covered root structure adding textures and glazes as we go.

LESSON 6 – We'll complete the painting by adjusting the contrast and color relationships.


Learn from ALL of our lessons.
Members get every course, live lesson, ebook, critique and lesson plan.
"Jungle Path with Acrylics" is included with membership, but if you are interested in the stand alone version of this course, it can be purchased here.