Ink Wash Still Life - Excerpts from Live Lesson
A still life is an organized composition of objects that are either drawn or painted by an artist by observation. Still life has long been a favorite subject of artists. Often the objects found in a still life have a specific theme, but many still life arrangements consist of objects that are completely unrelated. An artist may choose objects based on the challenge presented to the artist, or because of the aesthetic properties of the objects themselves. In either case, still life drawings will always be a great way for artists to practice their craft and experiment with composition.
Painting with Ink
When ink is used as a painting medium, the results are immediate and permanent. Many artists and illustrators have found ink wash to be a relatively "quick" medium to work with. The medium is established quickly on the surface and can be layered to produce deep, rich values. A simple nylon brush is used most often, but traditional sumi brushes are also suitable choices. A variety of surfaces accept ink wash including watercolor paper, gessoed masonite, illustration board, and bristol paper.
How it is Applied
Ink wash is applied to the surface of choice in a similar manner as watercolor paint. Layers of applications are built up to produce darker values. Each semi-transparent layer is referred to as a "wash". For more control, each wash is allowed to dry before layering the next wash. For a "looser" texture, wet ink can be applied directly onto areas that are still wet. As the ink mixes with the water, patterns and textures are created but are impossible to control.
Ink wash is less forgiving than watercolor. Ink is more permanent and dries very quickly. Mistakes are hard to correct. Washing mistakes with clean water and then lifting with a paper towel can help erase mistakes but probably will not entirely remove them.
The following video features excerpts from a 1 hour Live Lesson of an ink wash painting of a still life...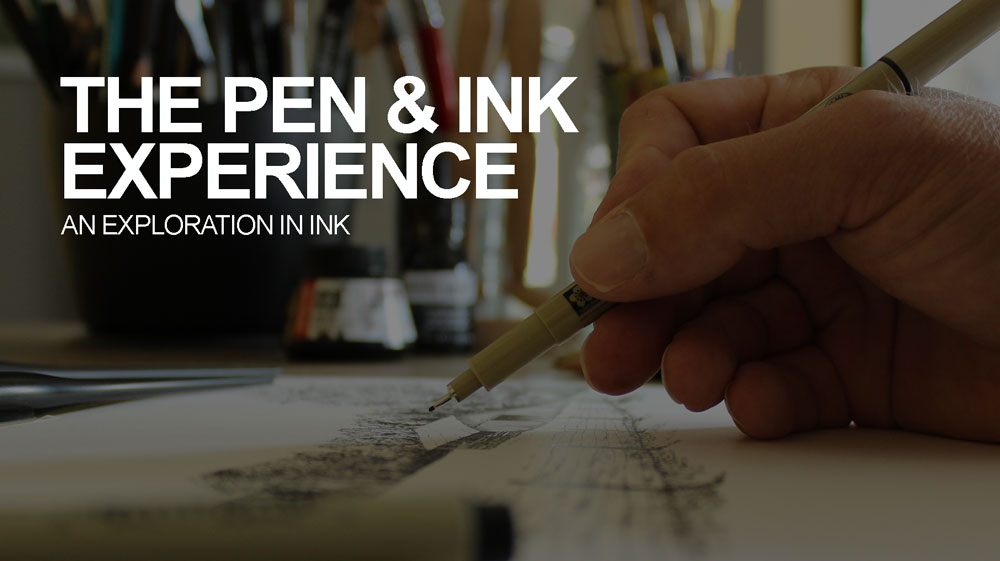 The Pen and Ink Experience
Learn pen and ink drawing techniques through a variety of subjects. Explore all of the possibilities of what can be created with ink.
LEARN MORE
Like this lesson?
If so, join over 30,0000 others that receive our newsletter with new drawing and painting lessons. Plus, check out three of our course videos and ebooks for free.
More Lessons You'll Love...