How to Paint a Rose- iPad Painting of a Rose
By Matt Fussell

The iPad is changing the way that I look at sketchbooks. It has become one of my sketchbooks and while I keep a traditional one with real paper, I find myself preferring the iPad as a sketchbook.
There are several apps that you can use on the iPad to create drawings. Among my favorites is "Brushes", which can be purchased from the Apple App store for $4.99. Pretty cheap considering that a tube of good paint will cost more than that.
What makes the "Brushes" app so appealing is the fact that it records your actions, so when your painting is finished, you can watch the whole process.

Get access to
ALL
of our courses today
...for just $1.
Recently I completed a painting of a rose in my digital sketchbook, if you will. The finished painting is here on the left. The video is presented below. One thing you may notice from this video is how important the directional lines are in determining the illusion of the form of the rose.
These types of lines are called cross contour lines and are incredibly important when painting. Understanding how we perceive form is important in creating the illusion of it. And applying brush strokes in the correct direction will help create the illusion of form that we are striving for.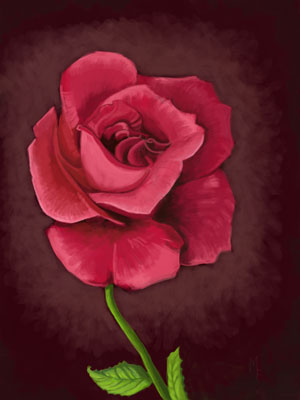 Although this painting of a rose was created on an iPad, the steps to the painting are remarkably similar to real painting, without all of the mixing and waiting for paints to dry. I also picked up a stylus to paint with. It was about $5.99 at the local tech store. It allows me to see what I am painting instead of just seeing the tip of my finger.
The featured video demonstrates how to paint a rose on the iPad. This painting was created using the app, "Brushes".
LIKE THIS TUTORIAL?
If so, please join over 36,000 people who receive tutorials and articles. PLUS get 3 FREE COURSE VIDEOS and EBOOKS! Just click on the button below to add your name!