Cut Paper Relief Image - Positive and Negative Space
There are, of course, more artful uses to paper other than drawing and painting. In fact, the uses for paper in an artwork are infinite. The only limitation on its use is the creativity of the artist. It's no wonder that countless artists have invented ingenious methods for creating art out of paper.
One such methodology involves using two levels of flat paper to create dimension and plays off of the relationships of the positive and negative shapes inherent in the image. Some refer to this process as "cut paper".

In this process, a drawing or image is cut out of a monotone sheet of paper.  The finished "cut paper" must be one piece in order for the finished product to appear floating. So, be careful when you cut in order to preserve unity.  The cutting of the paper can easily be completed by using an exacto knife or razor blade.  Be sure that your knife is sharp and don't forget to put down some protective material behind the paper.  It is not recommended to use scissors.
The completed cut paper image is then mounted on the inside of a window mat. This mat can be lightweight, but rigid board.  The mat is is then raised from another sheet of mat board using foam core.  The result is a floating image that works based on the positive and negative space relationships of the composition.
Planning is exceptionally important in this process, and mistakes like accidental cutting aren't easily forgiven.   Almost any type of paper will work for this process. Heavier papers work better, but are harder to cut.
It is recommended to use an image that has a lot of contrast as these types of images will translate better.  Simple images will work, but complex images are visually stunning. Complex images will require you to consider every cut carefully, but the reward of the finished work is well worth it.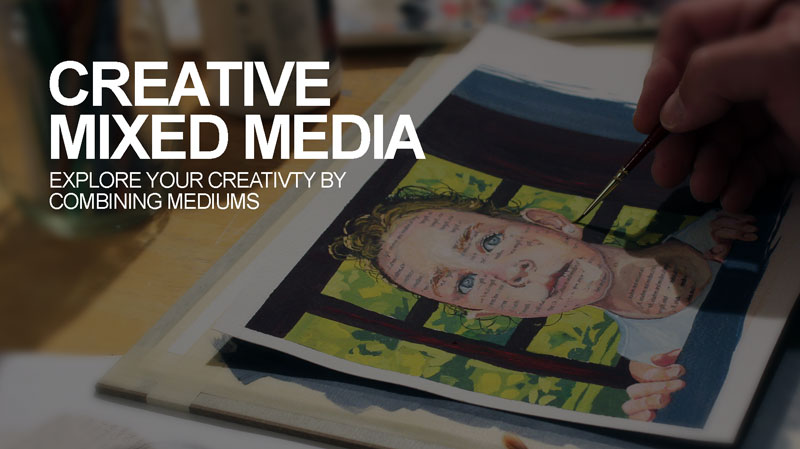 Creative Mixed Media
Get creative with a variety of art making mediums. Explore the possibilities of what you can create when mediums are mixed together.
LEARN MORE
Like this lesson?
If so, join over 30,0000 others that receive our newsletter with new drawing and painting lessons. Plus, check out three of our course videos and ebooks for free.
More Lessons You'll Love...