There are some great drawing websites out there. Many of them are unfortunately a little hard to find. I've come across some great drawing sites recently and I'd thought I'd share them. They aren't exactly easy to find in a standard search. They are all a little "off the beaten path", but are true gems for artists. Each one of the websites on this page are different from each other and offer different things to the artist that loves to draw. There is a gesture drawing tool, a huge collection of artist videos, a delightfully unique drawing blog, an eclectic online drawing community, and an art prompt generator. I hope that you'll take a look and I hope you'll find them useful.
Gesture Drawing Tool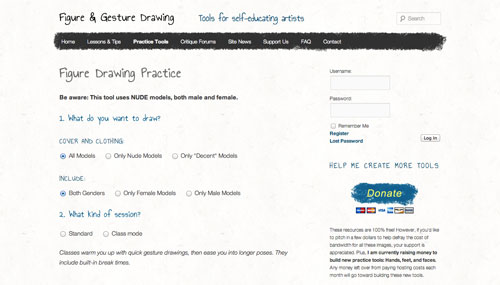 Figure drawing is one of the most important activities that you can do to improve your drawing skills. The figure is one of the most challenging subjects and by drawing challenging subjects, we naturally improve. One glaring drawback to figure drawing is the fact that you need models. Let's face it, figure models are hard to find. Not to mention how expensive it would be to hire your own figure models to pose for you. Luckily, there a couple resources that exist online that have taken care of this issue.
The best solution that I have come across is at Pixelovely.com. This site allows you to practice your figure drawing skills through gesture drawing by generating a series of photos of figure models in various poses. You can choose to have clothed figures as well. Gesture drawings are timed. After the elapsed time, a new model appears, leaving no break in the drawing action. Want to draw a complete drawing without being timed? You have that option as well. So grab that sketchbook, have a seat in front of the computer and start on that free online figure drawing class. Visit this site
Drawing Videos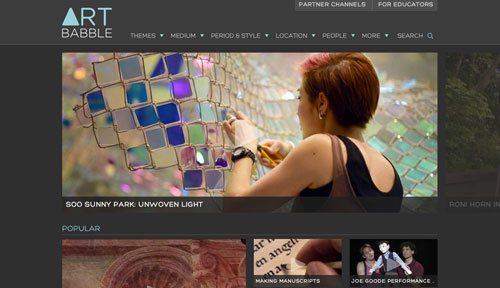 ArtBabble is an extensive website that is a collection of art videos by the Indianapolis Museum of Art. ArtBabble features videos that highlight the artist and their work. ArtBabble is a great place to find inspiration. You can search videos by theme, medium, or period. There's even a great section for teachers. Drawing is just one of the art processes covered on the site so you can expand your inspiration and perhaps deviate into a realm that you didn't even know that you loved. Visit ArtBabble and get inspired.
A Unique Drawing Website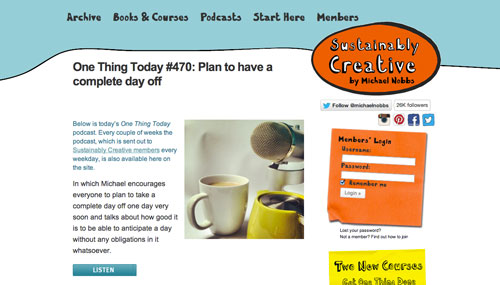 SustainablyCreative is the creation of Michael Nobbs. This is one of the most unique drawing websites that I've ever come across. His site is focused on creating a sustainable creative experience. After being diagnosed with a disease that leaves him without much energy, he began to journal his life through drawings. He encourages others to do the same thing. He has put all of this into a delightfully illustrated ebook that you can pick up on the website. It is a short read, but includes plenty of eye candy. His site is definitely worth a visit. Visit this site.
An Active Drawing Community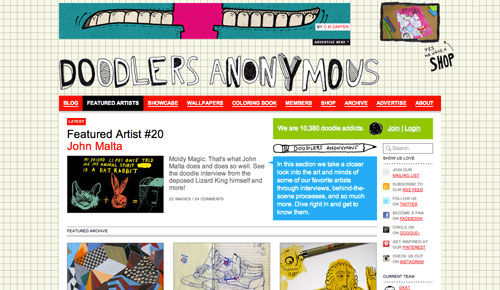 DoodlersAnonymous is website dedicated to drawing. It is a community of drawers that share some pretty amazing drawings. Line drawings dominate the site, each with their own character and style. Paper is only one acceptable surface, of course, so drawings are submitted on a variety of surfaces including concrete, eggs, balloons, and walls. Anyone can become a member (it's free). Membership allows you to post comments on other's work, have your own page, and share your drawings with everyone else. Creative themed contests happen throughout the year. I joined today and I'm looking forward to being a part of this eclectic community. Visit this site
Random Art Prompt Generator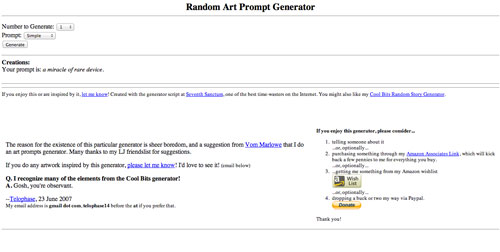 "Artist's block" got you stuck? It happens to all of us. You have that intense desire to draw and be creative, but no worthy subject matter seems to come to mind. No worries, this great drawing website helps alleviate "artist's block" by generating creative prompts for drawings or paintings. Although this site is simple, it is very useful. Especially, if you're looking to challenge your creativity. You have several variables to control the results of your generated prompt(s). You can choose to have 1, 5, or 10 prompts generated. You can also choose between simple or elaborate. (Simple is very simple, and elaborate is extremely elaborate) Once the "Generate" button is pushed, your prompt(s) appears and then it's time to start drawing. Visit this site.
Like this lesson?
If so, join over 30,0000 others that receive our newsletter with new drawing and painting lessons. Plus, check out three of our course videos and ebooks for free.