Art Instruction Videos
Welcome to TheVirtualInstructor.com's vault of art instruction videos and tutorials. All of these art instruction videos are original and are made with artists of all abilities in mind. At the moment, we offer you over 350 art instruction videos. Most of the videos are free to watch while others require membership. These videos cover a broad spectrum of media including painting, drawing, printmaking, fundamentals and theory, digital art and more.
The following art videos will help you become a better artist. Watch and follow along. Stop the videos as you work, if you like. Seeing an actual demonstration of the use of a medium or a concept makes a huge difference in your development. These videos are designed to give you an information-rich demonstration in a quick, easily digestible format. This list of art instruction videos is added to on a regular basis, so check back often. Links to ALL videos offered at TheVirtualInstructor.com are featured on this page.
Fundamentals...
All Drawing Videos by Medium...
All Painting Videos by Medium...
All Digital Art Videos by Program...
MEMBER COURSES...

This course is for beginner and intermediate artists and features over 300 minutes (5 Hours) of HD video instruction and 178 pages of ebooks covering the true essence of drawing including the elements and principles of art, and a variety of drawing media and techniques. (28 Modules)


"Pastel Landscape Mastery" is a members only video course on drawing landscapes using pastels. The goal of the course is to provide the student with the most comprehensive approach to drawing landscapes with pastels through easy to understand modules that include over 200 minutes (nearly 4 hours) of HD videos and 148 pages of ebooks. (15 Modules)


"Oil Painting Master Series" is a new video course taught by oil painter and teacher, Ashley Bane Hurst. This course is designed for beginner and intermediate artists looking to get started with oil painting. This course provides an overview of the medium of oil painting. Modules include downloadable videos and ebooks. (19 Modules)


"The Colored Pencil Course" is a members only video course that features over 5 hours of video instruction and 146 pages of eBooks on drawing with colored pencils. The goal of the course is to provide the student with a comprehensive experience with colored pencils. This course is designed to guide absolute beginners and intermediate artists to a level of producing professional quality colored pencil drawings through concise and "easy to digest" modules that include HD videos and Ebooks.  (22 Modules)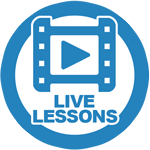 Members are able to tune in each week to watch and participate in a live streaming art lesson.  Each lesson is recorded, so if you can't make it, you still get access to the full 1 hour lesson. (Over 105 Full Length Videos)


The elements of art are the basic building blocks for creating art. They are the foundation in which all great works are built. Great artists masterfully use the elements in their work consistently and deliberately. This mini course looks at each element. (7 Modules)
More to Discover...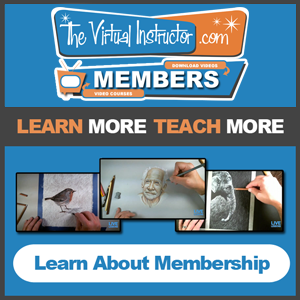 Sign Up for the Free Newsletter to Get Updates...
*And 3 Free course videos and eBooks from "The Secrets to Drawing", "Oil Painting Master Series", and "Pastel Landscape Mastery".